E. I. Du Pont De Nemours and Company (NYSE:DD) is a diversified chemical company operating in more than 80 countries. The operations of DuPont includes agriculture, electronics and communications, industrial bioscience, nutrition and health, performance chemicals, performance coatings, performance materials, safety and protection and pharmaceuticals. DD shares have increased 8.51% since our last article on December 13, 2012 and closed at $48.07 on January 24, 2013. New developments and updated fundamental analysis will be provided in the following article.
Q4 and 2012 Earnings and Recent Highlights
On January 22, 2013, DuPont reported a sharp drop in Q4 income. Q4 EPS from continuing operations, excluding significant items, was $0.11, which was lower than the prior year earnings of $0.26. However, the results still beat consensus estimate of Wall Street analysts of $0.07 per share. 2012 EPS from continuing operations, excluding significant items, was $3.33 (vs. $3.55 in 2011). Sales were $34.8 billion, up 3 percent with a 6 percent increase in developing markets. Free cash flow was $3.1 billion (vs. $3.3 billion in the prior year). The company also cited that agriculture pre-tax operating income, PTOI, increased 18% while performance chemicals PTOI decreased 16%. DD is well positioned in the agriculture segments. Lower demand for paint pigment and solar panel parts were responsible for the year-over-year slide in profits.
For 2013, the company's outlook for operating earnings is $3.85-$4.05 per share, while analysts are estimating an EPS of $3.88 on average. DuPont expects a "modest decline" in profit during the first two quarters of the year. DuPont's performance chemicals unit, the world's largest maker of titanium dioxide, a white pigment used in paint, should stabilize by the end of the first half as excess inventories are used up and demand hits bottom. DuPont's Chairman and CEO, Ellen Kullman, said "2013 is setting up to be a cautious year." The CEO sees two major hurdles to growth: one with U.S. deficit and the other with how China comes through the final changes in its government. DuPont's CEO discussion of Q4, 2012 results can be accessed here at Seeking Alpha.
On January 25, 2013, Ellen Kullman said that an acceleration in China would greatly support its performance chemicals unit, which makes titanium dioxide. Chinese government data shows gross domestic product accelerated to 7.9 percent in the fourth quarter after slowing for seven straight quarters. However, it is still too early for DuPont to conclude that the growth momentum will continue.
On January 23, 2013, CLSA downgraded DuPont from Outperform to Underperform with a price target of $50.00 post Q4 results.
Key Stats and Valuation
DD has an enterprise value of $52.42B and a market cap of $44.85B. DD has a total cash of $4.41B and a total debt of $11.74B. DD generates an operating cash flow of $4.85B with a levered free cash flow of -377.00M. DD has a higher revenue growth (3 year average) of 6.7, as compared to the industry average of 3.4. DD has lower operating margin of 9.9%, ttm, and net margin of 7.7%, comparing to the industry averages of 12.4% and 8.8%, ttm, respectively. DD generates a slightly higher ROE of 28.1, comparing to the average of 27.1. DD has a P/E of 14.6, which is lower than the industry average of 19.6 but higher than DD's 5 year average of 14.1. DD has a forward P/E of 10.2, which is lower than S&P 500's average of 13.3.
Technical Analysis
DD closed at $48.07 with 1.20% gain on January 24, 2013. The volume of 6.89M was 14.07% more than the 30 day average of 6.04M. DD had been trading in the range of $41.67-$57.50 in the past 52 weeks. The MACD (12, 26, 9) had been showing a bullish trend since November 19, 2013, and the MACD difference diverged on the last trading day. The momentum indicator, RSI (14), had been showing a strong bullish momentum at 72.33, where above 70 is considered as over-bought. DD sliced through and closed above its 200-day MA of $47.80 on the last trading day, as seen from the chart below.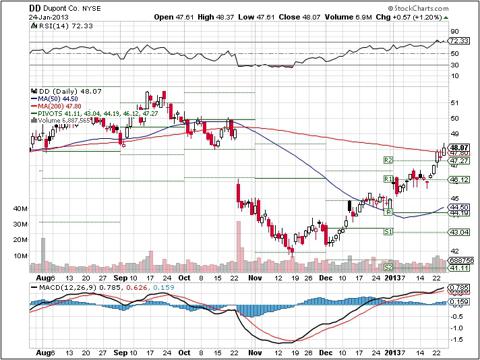 Source: StockCharts.com
Reviewing Options
The reviewed credit put spread of April 20, 2013 $35/$40 put is currently yielding 9.84% return on margin. The maximum return on margin of 11.86% can be gained if DD closes above $40 on April 20, 2013. However, with the recent run-up and the short-term over-bought situation, investors/traders may want to consider closing out the position with near 83% achieving rate (9.84%/11.86%). The credit put spread position can be reconsidered if DD pulls back to $45/$46 range.
Note: All prices are quoted from the closing of January 24, 2013 and all calculations are before fees and expenses. Investors and traders are recommended to do their own due diligence and research before making any trading/investing decisions.
Disclosure: I have no positions in any stocks mentioned, and no plans to initiate any positions within the next 72 hours. I wrote this article myself, and it expresses my own opinions. I am not receiving compensation for it (other than from Seeking Alpha). I have no business relationship with any company whose stock is mentioned in this article.