Whether or not you believe man's Earthly activities are responsible for warming the planet, one thing is clear: the Earth is warming. One of the simplest and obvious ways to profit from this trend is to invest in "cool air".
Globally, the ten hottest years on record have all been in the past 15 years. For the planet, 2012 was the 10th hottest year on record. The U.S. National Oceanic and Atmospheric Administration (NOAA) recently announced that 2012 was the country's hottest year yet. The average national temperature of 55.3°F was 1.0°F above that of the previous warmest year (1998). 2012 was also the second most extreme as measured by variables such as temperature, precipitation, hurricanes and tornados.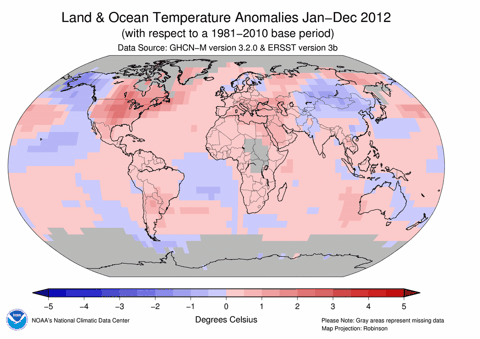 As the map show, rising thermometers are not confined to the U.S. Australia is currently experiencing an extreme heat wave. The country is caught in the grip of extreme heat and summer temperatures have hit new highs. Records have been set for the national average maximum (104.5°F) and the highest national average (90°F). Australian Bureau of Meteorology has added new colors to its map to denote a range up to 129°F.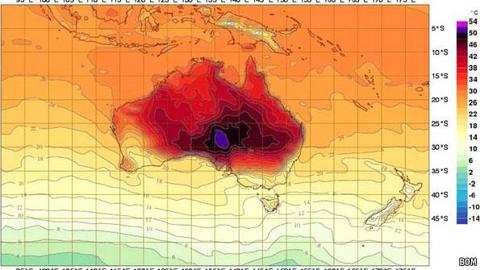 According to The Economist magazine, America uses more electricity for cooling than Africa uses for everything. Bigger homes and hotter summers have caused U.S. energy consumption for air conditioning ("AC") to double between 1993 and 2005.
Th AC market is also growing very fast in the Middle East and Asia. The proportion of homes in Chinese cities rose from 8% to 70% between 1995 and 2004. Asia accounts for more than half the global air-conditioning market. Global warming will further stoke demand. Research in the Netherlands (see chart) by Morna Isaac and Detlef van Vuuren reckons that energy demand for air conditioning will rise forty-fold this century.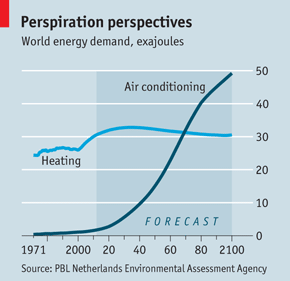 If the Isaac-van Vurren research is correct, it is clear global demand for AC units will begin rise dramatically in the near future. Focusing on the U.S., a list of the top-10 AC manufacturers is shown below.
Trane
Carrier
Goodman
Lennox
York
LG
Mitsubishi
Tempstar
Friedrich
Fedders
Whirlpool Corp (NYSE:WHR) makes both window units and large home HVAC systems. The stock went on a tear and doubled in 2012.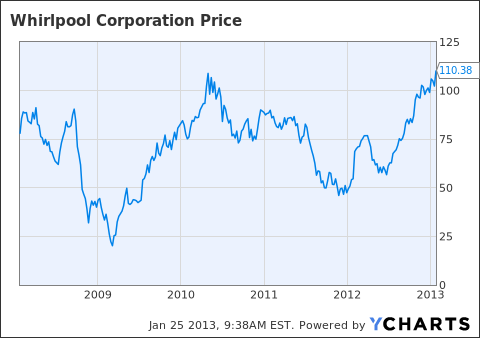 WHR = $110.38
Mkt Cap = $8.5 Billion
P/E ((ttm)) = 17.9
EPS ((ttm)) = $6.14
Div (Yield) = $2.00 (1.9%)
Whirlpool Corp. makes many other appliances besides air conditioners and is facing competition from Asian manufacturers. On that front, WHR recently won an International Trade Commission ("ITC") anti-dumping case involving washing machines. The decision means the U.S. government will impose duties on imports of the washing machines.
One of the biggest and most respected makers of AC units in the U.S. is Trane. Trane is owned by Ingersoll Rand (NYSE:IR).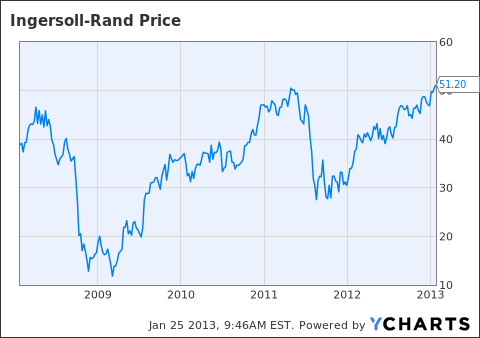 IR = $51.20
Mkt Cap = $15.4 Billion
P/E ((ttm)) = 15.6
EPS ((ttm)) = $3.27
Div (Yield) = $0.84 (1.7%)
Ingersoll Rand derives 66% of revenues in North America, 16% in Europe, 12% in Asia, and 6% in Latin America. Ingersoll Rand has other businesses besides air conditioning. The graphic below gives an overview of the company's revenues by sector.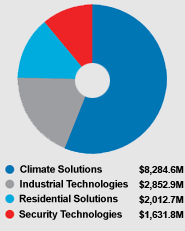 Earnings per share for IR were up 91% in 2011 versus 2010. Net operating margins were up 3.4%.
In December 2012, the company announced two initiatives to enhance shareholder value. They plan a tax-free spin-off the commercial and residential security businesses to shareholders into a new standalone global company. The spin-off is planned to be completed over the next 12 months.
In addition, the company announced a $2 billion share repurchase program and increased the quarterly dividend to $0.21/share.
Trane is part of IR's Residential Solutions division. For Q3 2012, revenues for the sector were up 11% year-over-year. The company will announce Q4 results before the market open on February 1, 2013.
Another potential investment in the AC market would be Johnson Controls (NYSE:JCI), which owns York Manufacturing. JCI reported Q1 2013 results on January 18 that were in-line with street expectations.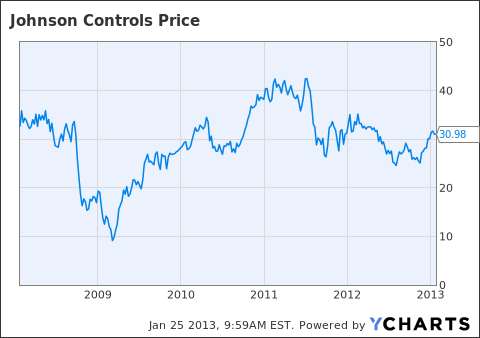 JCI = $30.98
Mkt Cap = $21.2 Billion
P/E ((ttm)) = 18.4
EPS ((ttm)) = $1.68
Div (Yield) = $0.76 (2.5%)
JCI operates in three business units:
Building Efficiency
Automotive
Power Solutions
According to the company, buildings consume 40% of the world's energy. Its Building Efficiency segment provides solutions to control rising energy costs, reduce environmental footprints, and increase the value and competitiveness of buildings. In the most recent quarter, the segment's revenues were roughly 35% of total revenues. Income of $172 million was up 19 percent compared with last year. Although overall orders were lower, the segment saw a double-digit increase in China.
Of my three picks, JCI pays the best dividend at 2.5%. However, it is the least leveraged to AC manufacturing as the Automotive segment of JCI is 50% of revenues. Ingersoll Rand is very well positioned to profit from rising global temperatures, but my favorite pick is WHR. Whirlpool's stock has excellent momentum. Although it doubled in 2012, it merely regained the peak made back in 2010. With the ITC decision, WHR should see increasing margins in its washing machine business. In the AC market, I expect WHR to profit from the improving U.S. housing market. WHR will also see increased AC sales as people continue to relocate to Texas and southern states in general. Rising temperatures in those regions will prove to be a cooling tailwind for Whirlpool Corp.
Investors who believe rising global temperatures will lead to increased AC demand should keep all three stocks on their radar list. The general market has made big gains so far this year after an excellent 2012. It may be wise to wait for a pullback before investing in the stocks mentioned in this article.
Disclosure: I have no positions in any stocks mentioned, and no plans to initiate any positions within the next 72 hours. I wrote this article myself, and it expresses my own opinions. I am not receiving compensation for it (other than from Seeking Alpha). I have no business relationship with any company whose stock is mentioned in this article.
Additional disclosure: I am an engineer, not a CFA. Please do your own research and contact your investment adviser. I am not responsible for investment decisions you make. Thanks for reading and good luck!