Even though Priceline.com (PCLN) had a strong third quarter, as forecast in my October 8, 2012 article, now could be a good time for investors to consider recognizing gains in the company's shares. The main reasons are the company's acquisition of Kayak Software (NASDAQ:KYAK), new developments in the car-rental business, a new lawsuit (and likelihood of future similar issues), and its high valuation. All this compounded together leaves a little margin of safety. Shares of Priceline are up about 8% from October 8, 2012, outperforming the Nasdaq Composite, which was relatively unchanged (mostly due to Apple's (NASDAQ:AAPL) decline of 30%), performing in line with competitor Orbitz (NYSE:OWW), and underperforming TripAdvisor (NASDAQ:TRIP) and Expedia (NASDAQ:EXPE), which were up 33% and 12%, respectively (see graph).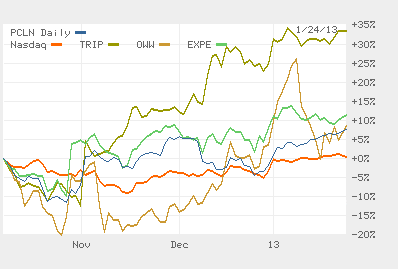 Kayak Acquisition
Kayak has a short but colorful history. The company was established in 2004 and went public in July of 2012, only to be bought by Priceline in November of 2012 for $1.65 billion (net of cash). The purchase price was 18 and 13 times Kayak's 2013 and 2014 projected earnings before interest, tax, depreciation and amortization (EBITDA). On a trailing twelve month basis, this purchase price translates to 25 and 5.8 times Kayak's EBITDA and revenue. This is a steep price. For comparison, Avis (NASDAQ:CAR) recently acquired Zipcar (ZIP) at about 14 times trailing EBITDA and 2 times trailing sales.
On the positive side, the acquisition provides Priceline with access to Kayak's software and its ability to search and compare flights across the Internet. Priceline's air flight business has been lagging compared to its hotel business, so this acquisition could strengthen the air travel segment. However, the high purchase price leaves little margin of safety for Priceline.com in surfacing value for its shareholders with this acquisition.
Car-Rental Business
Unlike the hotel (and to some extent the airline business), where there are hundreds of larger and smaller companies, the car rental business in the U.S. is dominated by Hertz (NYSE:HTZ), following the Dollar-Thrifty acquisition, and Avis , after the company merged with Budget. It will be difficult for Priceline.com to resell car rental services when there are only two major companies, since consumers can easily compare prices directly at the car-rental companies' web sites. In addition, there is a trend in the rental industry towards car sharing and, for now, Priceline seems left out of the car sharing segment. Interestingly, Priceline does not break down its revenue and margins by type of booking such as hotel, air, and car rental, so it is difficult to compare the performance of its car rental business. Given this lack of clarity and the unfavorable industry trends, Priceline will likely face stronger headwinds in its car rental business in the future.
Operational And Valuation Issues
Despite having an image of a friendly and somewhat nerdy company with its "negotiator" commercials, Priceline is involved in the following disputes:
Litigation related to hotel occupancy and other taxes -- the company is being sued by a number of local governments. As of September 30, 2012, Priceline has accrued a liability of $39 million related to these lawsuits.

UK's Office of Fair Trading is currently investigating Priceline's subsidiary Booking.com for breach of EU and UK competition laws. The outcome could be a fine of up to $50 million and business changes at booking.com.

Finally, a complaint was filed in a Federal Court in California on August 20, 2012, accusing Priceline.com of collusion over setting of hotel room prices.
In addition to uncertainties pertaining to lawsuits and competition, Priceline faces increased uncertainty from competitors. Recently, Google (NASDAQ:GOOG) launched its own hotel finder service. It is becoming increasingly likely that other Internet companies could follow suit. For example, Facebook (NASDAQ:FB) could offer its own travel service as the company tries to find more sources of revenues. Also, Amazon.com (NASDAQ:AMZN) could launch a travel business as, traditionally, travel business has been offered by retailers such Sears (NASDAQ:SHLD), with its Searsvacations.com offering, and Costco (NASDAQ:COST) with the costcotravel.com website.
Priceline faces uncertainties from lawsuits and competitors, but its shares are priced for an uninterrupted continuous growth (see table). In addition, its revenues is mostly commission based and while travel costs are rising, Priceline may not be able to increase its commissions. For example, Priceline's revenue and operating income rose by 20% and 31.8% for the nine months ending September 30, 2012, respectively, compared to the same period in 2011. This increase is lower than the increase in the number of hotel rooms booked of 40% over the comparable periods. Clearly, the rise in business does not translate to the same rise in revenues and even profits. The law of diminishing returns could be in force at Priceline. On the upside, Pricline will likely see increased revenues from its partnership with China's Ctrip.com (NASDAQ:CTRP).
Below is a table showing Priceline's valuation measures compared to some of its competitors and the S&P 500 Index:

| | | | | |
| --- | --- | --- | --- | --- |
| | PCLN | EXPE | OWW | S&P 500 |
| Market Capitalization* | 34.8 | 8.7 | 0.3 | 13,450 |
| Enterprise Value* | 30.7 | 7.4 | 0.6 | n/a |
| Price-to-earnings ratio (2013) | 18.2 | 17.3 | 12.2 | 13 |
| Price-to-earnings-to-growth ratio | 1.1 | 1.2 | 0.7 | 2.9 |
| EBITDA margin | 36.0% | 18.2% | 7.6% | 20.2% |
| Price-to-CFO | 21.7 | 6.7 | 2.8 | n/a |
| One year price change | 28.6% | 103.0% | -23% | 16.3% |
| Beta | 1.3 | 1.7 | 1.9 | 1 |
| Price to book value | 9.5 | 3.6 | 1.7 | 4.2 |
| % of shares held by officers and directors | <1.0% | 62.8% | 3.2% | n/a |
* In $ billions; CFO - Cash flow from operations; Source: SEC filings, author's calculations, and Reuters.
Conclusion
When the executive of a company says his company's common stock is not a good value, investors should listen. This was basically what Priceline's CEO, Jeffery Boyd, revealed during the third quarter conference call. When asked if management intends to utilize the $460 million of authorized buybacks, Boyd said: "And we continue to look from time-to-time, and we will buy back stock where we think there's an opportunity to do so at attractive prices." The share price at the time of this remark was about $575, or 18% lower than its recent level.
Finally, Priceline's acquisition of Kayak -- a company with less than 10 years of operational history, for an exorbitant price and the risks with its integration -- the relatively low barriers of entry in the travel distribution business, and uncertainties stemming from lawsuits and anti-competitive allegations, all warrant a valuation that is at par or below that of the market. It seems like Priceline shares are overvalued based on a number of measures, and the risks facing the company outweigh the possible stock appreciation from current levels.
Disclosure: I have no positions in any stocks mentioned, and no plans to initiate any positions within the next 72 hours. I wrote this article myself, and it expresses my own opinions. I am not receiving compensation for it (other than from Seeking Alpha). I have no business relationship with any company whose stock is mentioned in this article.