Introduction
With Ford (NYSE:F) reporting earnings next week, there's a lot of built up anticipation behind the company. The stock has recently surged higher on expectations that the Chinese economy will be able to lift the forward looking guidance. With Alcoa's recent earnings release further enforcing the bullish consensus behind the stock. As a result I am raising my price target on Ford going into 2013.
Qualitative Analysis
Source: Information pertaining to Ford came from the shareholder annual report, quarterly report, and Alcoa annual report.
Ford continues to come a long way under the leadership of Alan R. Mulally who took charge of Ford in 2006 as CEO. Alan Mulally is a former Vice President of Boeing (NYSE:BA). Alan's leadership is what has turned Ford from an uninspiring brand into a full blown luxury brand that spreads the globe.
Ford's management strategy is called the One Ford Plan. Ford's management strategy is to aggressively restructure the company in order to operate profitably, accelerate development of new products, make necessary improvements to the balance sheet, and leverage global assets.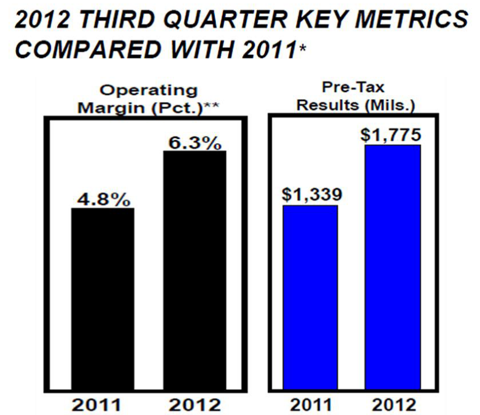 Ford has been able to accomplish many of the key-points behind the One Ford plan. The company has been able to operate at a higher profit (operating margin improved from 4.8% to 6.3%), along with improving its pre-tax income to levels unseen in many years.

Ford has been increasing its revenues in China, and anticipates further growth in foreign markets. The company has been able to increase its market share from 2.7% to 3.1%, all while improving net-profit margins within the same quarter.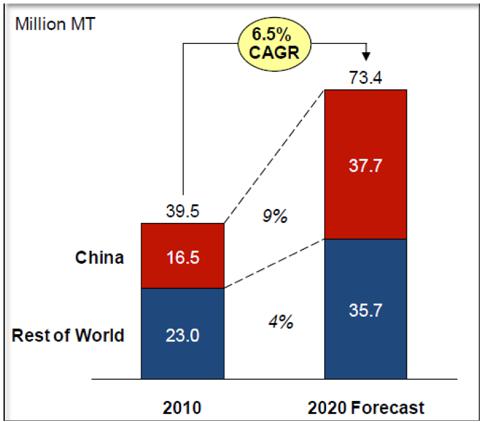 Alcoa (NYSE:AA) anticipated the demand for aluminum to roughly double by 2020. This bodes well for Ford because Ford uses aluminum in its cars. China is projected to increase consumption at a rate of 9% per year over the next ten years. Since Ford is currently expanding its footprint in China, the favorable economic back-drop further supports my suspicion that Ford will be able to generate outstanding returns due to its product roll-out in China. Since aluminum consumption is projected to double by 2020 it is easy for me to imagine even higher growth rates than the consensus five-year growth rate estimate of 5.77%.
Ford aggressively competes with General Motors (NYSE:GM), Toyota Motor Corp (NYSE:TM), Honda Motor Company (NYSE:HMC), Tesla Motors (NASDAQ:TSLA), among many others.
Technical Analysis
The stock has been on a continuous up-trend since August. The stock is starting to pull-back from my previous price target of $14.34.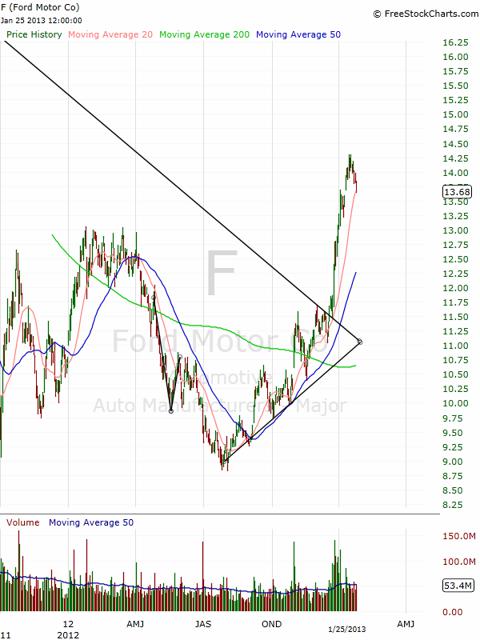 Source: Chart from freestockcharts.com
The stock is trading above the 20-, 50- , and 200- Day Moving Averages. The stock is currently holding onto the 20-day MA for support, but I anticipate that the stock will resume its up-trend going into 2013.
Notable support is $9.00, 10.00, and $11.00 per share.
Notable resistance is $14.50, $16.00, and $18.50 per share.
Street Assessment
Analysts on a consensus basis have reasonable expectations for the company going forward.
| | | | | |
| --- | --- | --- | --- | --- |
| Growth Est | F | Industry | Sector | S&P 500 |
| Current Qtr. | 25.00% | N/A | 108.10% | 9.60% |
| Next Qtr. | 5.10% | N/A | 51.20% | 15.20% |
| This Year | -11.30% | -7.30% | 67.80% | 7.20% |
| Next Year | 9.00% | 13.30% | -7.20% | 13.10% |
| Past 5 Years (per annum) | 6.66% | N/A | N/A | N/A |
| Next 5 Years (per annum) | 5.77% | 14.93% | 15.73% | 8.74% |
| Price/Earnings (avg. for comparison categories) | 8.85 | 9.95 | 19.18 | 14.76 |
| PEG Ratio (avg. for comparison categories) | 1.53 | 1.06 | 1.81 | 1.41 |
Source: Table and data from Yahoo Finance
The company shows reasonable growth as analysts on a consensus basis have a 5-year average growth rate forecast of 5.77% (based on the above table). This forecasted growth rate is below the industry average for the next 5-years (13.30%).
| | | | | |
| --- | --- | --- | --- | --- |
| Earnings History | 11-Dec | 12-Mar | 12-Jun | 12-Sep |
| EPS Est | 0.25 | 0.35 | 0.28 | 0.3 |
| EPS Actual | 0.2 | 0.39 | 0.3 | 0.4 |
| Difference | -0.05 | 0.04 | 0.02 | 0.1 |
| Surprise % | -20.00% | 11.40% | 7.10% | 33.30% |
Source: Table and data from Yahoo Finance
The average surprise percentage is 7.9% above analyst forecast earnings over the past four quarters (based on the above table).
Forecast and History
| | | |
| --- | --- | --- |
| Year | Basic EPS | P/E Multiple |
| 2005 | $ 1.10 | 6.66 |
| 2006 | $ (6.72) | - |
| 2007 | $ (1.38) | - |
| 2008 | $ (6.46) | - |
| 2009 | $ 0.86 | 11.42 |
| 2010 | $ 1.66 | 9.93 |
| 2011 | $ 4.94 | 2.13 |
| 2012 | $ 1.34 | 9.25 |
Source: Table created by Alex Cho, data from shareholder annual report, and price history is from Yahoo Finance.
The EPS figure shows that throughout the 2005-2008 period earnings were in the negative as the company was adversely affected by the great recession, and in the middle of restructuring prior to the recession. Once the United States economy exited the recession in 2010-2012 the company earnings have improved. The abnormal earnings of $4.94 in 2011 were due to a provisional benefit from taxes. This improvement in net income was $20.2 billion and is a one-time event and should not be considered a part of the long-term earnings growth trend.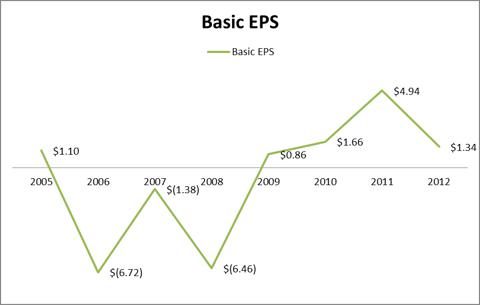 Source: Table created by Alex Cho, data from shareholder annual report, and price history from Yahoo Finance.
By observing the chart we can conclude that the business is somewhat cyclical and is affected by macroeconomics. Therefore one of the largest risk factors to Ford is the slowing of international gross domestic product growth. So as long as the global economy continues to grow, the company will generate reasonable returns over a 5-year time span based on the forecast below.

Source: Forecast and table by Alex Cho
By 2018 I anticipate the company to generate $3.37 in earnings per share. This is because of earnings growth, improving global outlook, earnings management and continued development overseas.
The forecast is proprietary, and below is a non-linear chart indicating the price of the stock over the next 5-years.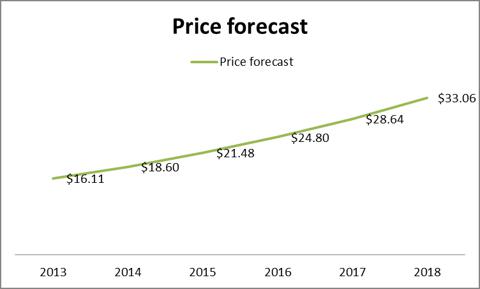 Source: Forecast and chart by Alex Cho
Below is a price chart incorporating the past 8 years and the next 5 years. Detailing 13 years in pricing based on my forecast and price history on December 31st of each year.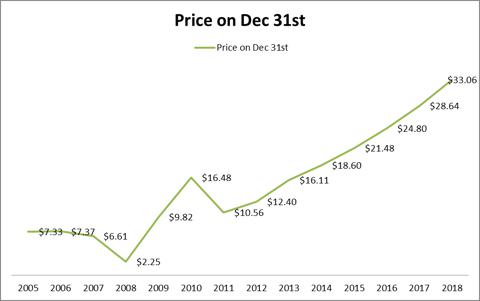 Source: Forecast and chart created by Alex Cho, data from shareholder annual report, and price history is from Yahoo Finance.
Investment Strategy
Ford currently trades at $13.68. I have a price forecast of $16.11 for 2013. Ford is in a long-term up-trend, and I anticipate a greater rate of appreciation from the stock as the underlying fundamentals has improved.
Short Term
Over the next twelve months, the stock is likely to appreciate from $13.68 to $16.11 per share. This implies 17.7% upside from current levels. The technical analysis indicates an up-trend (break above the symmetrical triangle formation). While the previously mentioned price forecast using fundamental analysis further supports the trade set-up.
Investors should buy Ford at $13.68 and sell at $16.11 to pocket short-term gains of 17.7% by March 2013.
Long Term
The company is an exceptional investment for the long-term. I anticipate Ford to deliver upon the price and earnings forecast despite the risk factors (competition and economic environment). Ford's primary upside catalyst is improving economics, international growth, and managing costs. I anticipate the company to deliver upon my forecasted price target of $33.06 by 2018. This implies a return of 141% by 2018. This is an exceptional return for a consumer cyclical.
A higher yielding investment opportunity albeit having higher risk is to buy the Jan 17, 2015 calls at the $15.00 strike. The call premiums trade at $1.50. The price forecast for the end of 2014 is $18.60. The rate of return if the calls expire at $18.60 is 140%, the option will break-even when the stock trades at $16.50.
The risk to reward ratio on the option strategy remains high. The high-returns comes with high risk (5-year beta of 2.3)
Ford has a market capitalization of $51.2 billion; the added liquidity makes this an investment opportunity appropriate for larger institutions that require added liquidity.
Conclusion
Ford is built tough. I anticipate that Ford's latest line up of cars will be a class act in China.
The conclusion remains simple: buy Ford.
Disclosure: I have no positions in any stocks mentioned, and no plans to initiate any positions within the next 72 hours. I wrote this article myself, and it expresses my own opinions. I am not receiving compensation for it (other than from Seeking Alpha). I have no business relationship with any company whose stock is mentioned in this article.