Intel (NASDAQ:INTC) is a tough stock to own. Not just because it seems to be trading in the "near 52-week low" penalty box for now, but because it is in the somewhat unenviable position of being the "leader" in the semiconductor space. In terms of revenues, operating profits, and gross margins, Intel is king, and almost every attempt to dethrone the company over the years has led to very bad things for its competitors. Remember how Advanced Micro Devices (NASDAQ:AMD) was on top of the world back in 2003 - 2006 when it managed to get one by Intel? Well, AMD is on its last breath. Remember Cyrix? How about Transmeta? Both defunct. Sun Microsystems? Bought by Oracle (NYSE:ORCL) and now designs very niche chips and does not play in the general purpose CPU market. Let's also not forget [[IBM]]. While it still does big-iron chips, most of its server systems ship with Intel-inside.
In short, Intel wins all of the important, profit-generating battles, and the company thinks long term and strategically -- which is exactly what a company that is focused on running a strong business should do.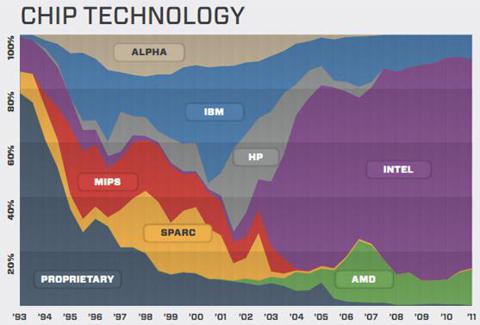 But that's the problem, isn't it? Once you're the king, and once you're on top, not only is it extremely difficult to move the needle to give investors the growth they need to keep hanging on to your stock, but you run the risk of a bunch of new, smaller competitors making a lot of noise about how they want a piece of your profit pie.
Example: ARM In Servers, Everyone Can Play, Only One Wins
While ARM (NASDAQ:ARMH) itself sits back and collects royalties on every chip that uses its IP (albeit small), it is in the excellent position of not having to care about which particular vendor wins. If one vendor goes bust and another takes its business, then ARM still wins, since ultimately ARM just collects a percentage of the chip's selling price. This is why ARM commands a premium multiple to every other semiconductor company -- its business is much "safer" than any one semiconductor company (although as the old saying goes: no risk, no reward -- ARM's revenues and ability to spend on R&D is quite limited)
While I am convinced that Intel's position in the high end of the server market is safe (the sheer amount of R&D Intel has spent and will continue to spend on high performance architectures is staggering), in the new low power/embedded segments of the server markets Intel will have to move quickly if it is to put an end to this threat in all but a few niche segments. I believe that the firm has a number of critical advantages that will ensure market leadership here:
The best process technology (22nm FinFET for the 2013 "Avoton" server part against the first competitor's 40nm part). This allows for more cores, more integration of connectivity, co-processors, etc.
Vendor relationshipsThe credibility that Intel has built with the data-center vendors is a tremendous asset that will not go ignored in the next generation of these systems. Server vendors cannot tolerate hardware that fails.
First to market. Intel ships 32nm Atom parts for micro-servers now and will have the 22nm Atoms available in 2013. The nearest competitor will be Applied Micro (NASDAQ:AMCC) with a 40nm part 64-bit X-Gene in late 2013/early 2014. It is unlikely that we will see the first attempts from other vendors until the 2015 - 2016 time-frame, and it is even less likely that Intel's momentum will slow, given how crucial the data-center business is to the top and bottom lines.
However, we cannot discount the presence of large players such as Qualcomm (NASDAQ:QCOM) and Samsung (OTC:SSNLF). While I do not believe that these companies will be able to necessarily produce a better product or cut all that significantly into Intel's volumes, this will create some pricing pressure for Intel's parts in the near term, and force Intel to pull out all of the stops in each generation. But more importantly, from a sentiment standpoint, there will be lingering fears that one of these companies will "one-up" Intel as AMD did back with the "Opteron". Intel managed to win through a combination of very focused/strong R&D as well as a relentless drive to win back the space. It did not have a universally better product until about 2008, but when it did, it was game over.
In short, Intel from a "sentiment" and perceived risk standpoint (this impacts P/E ratio), Intel has everything to lose and significantly less than everything to gain which will always be a psychological overhand. Even if the threat enabled by ARM in servers eventually turns out to be nothing but hot air (which I believe it will be for the most part), it will still weigh heavily on shares of Intel until such time as this fact is "proven".
What To Do If You Own The Stock?
Intel is not a stock for investors looking for massive growth, so don't sit there lamenting the fact that your Intel is up a penny when Netflix (NASDAQ:NFLX) is up $60/share -- you're buying a value play with a nice dividend and weekly options to play. The sentiment surrounding it right now stinks, and you should not buy into a major "rally". Sell weekly/monthly calls into strength to lower your cost basis -- this, coupled with the dividend, helps to generate a nice stream of income for your portfolio. The downside on the stock at these levels is limited (we saw a very, very solid floor at ~$19.3 which I believe will easily hold), and until 2H 2013 when Intel's next generation of Atoms and modems starts to generate some noise, the upside will be limited, too.
However, if Intel pulls off what it's saying it's going to do by 2H 2013, then I fully expect shares to "take off" and trade back in the $23 - $24 range. When people see the new Atoms in products on the shelves, it will give them confidence that Intel's mobile strategy is "real" and not just vaporware (although you can actually buy very good Atom based tablets today...). Further, by then, we will know who the new CEO of Intel will be (the announcement of this could be a nice upside catalyst by the Fall).
Conclusion
Intel is a great company that spends a lot on R&D and on capex to keep the lead in the chip world. It will continue to be a leader, and other companies will always be gunning for a piece of the pie. That's what makes this such a tough stock to own, especially with the media bias towards things such as "the PC is dead" and "Intel missed mobile". This is nonsense, especially as not being first doesn't mean you can't eventually dominate with a superior product (Apple (NASDAQ:AAPL) was not first to the smartphone game...nor was Samsung, but the Street prices in what people think today, not what is likely to happen by end of 2013/early 2014.
But it's a tough stock to own right now, just like Apple is. When you're on top of the world, you have much more to lose than to gain.
Disclosure: I am long INTC, AMD. I wrote this article myself, and it expresses my own opinions. I am not receiving compensation for it (other than from Seeking Alpha). I have no business relationship with any company whose stock is mentioned in this article.