This article is a follow up to one that I wrote previously about why I feel that Exelon (NYSE:EXC) is a poor investment at this time. Between a poor macro outlook, cash flow issues, and the sluggish absorption of their merger, I believe that the company's dividend yield and share price will fall in the near term, and that investors should either wait to initiate a position or better yet, turn their attention elsewhere. Exelon currently pays a first-rate annual dividend yield of about 7%.
Below I will describe preferable alternatives to investing in EXC, two of which are its competitors that are likely to perform well in 2013 and should be considered my favored utilities at this time. While either of these companies are fine investments in their own right, neither of them have as large a dividend yield as EXC. The other option will be constructing a high-yielding, low-beta alternative using several investments. The object is to find a similar sized yield and more secure dividend with less risk.
Utility Picks: Southern Company and NextEra Energy
Like Exelon, Atlanta based Southern Company (NYSE:SO) is a large, diversified utility company. But unlike its peer, there are no shortage of positives to write about.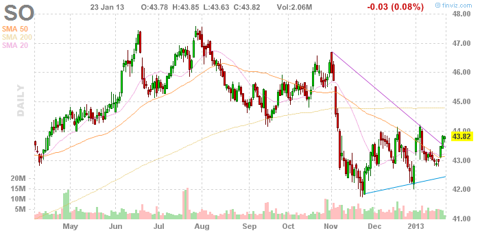 There is room for price appreciation despite Southern's current premium valuation. Its YoY quarterly earnings grew by 6.60%, it has considerably higher-than-industry gross margins and operating margins, and its forward P/E comes in at only 15.78.
Additionally, the most recent insider activity was a buy by director Wood E. Jenner III this past November. Although this transaction only involved a thousand shares (@ $42.30), it comes on the heels of a lot of insider selling of much larger chunks of stock. Notably, most of the selling occurred while the stock price was in a range of between $46-$49, which is considerably above its current share price.
Southern Company has a very strong financial position with $1.26B cash on hand, a current ratio of 1.02 and an S&P credit rating of A. Combined with steady earnings, there is no reason to worry about their finances or the security of their 4.5% annual dividend yield.
NextEra Energy (NYSE:NEE) is the other energy provider I would look into to initiate a position or replace EXC holdings with. The company is based in Juno, Florida, and has an emphasis on renewable energy, especially from wind and solar projects.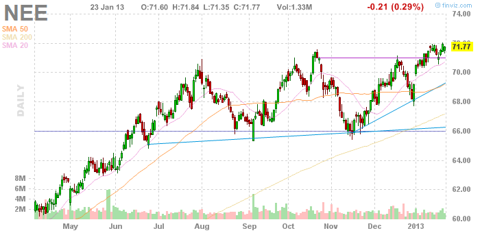 NEE has significantly cheaper P/E and P/B ratios than SO, but also has a smaller yield at 3.4%.
The main attraction here is that NextEra produces about 93% of its power from renewables, nuclear or natural gas. Thus it is well ahead of the curve as the industry trends towards investing in cleaner energy production. NextEra is also in an enviable position as far as clean energy subsidies and emission taxes go.
One final positive to consider is that NEE has a low payout ratio relative to its peers of only 46%. While the yield is not going to jump to over 5% overnight, this certainly increases the probability that the yield will continue to rise and hopefully attract more investors.
Beyond Utilities
Now that we have identified more fundamentally sound companies than EXC, we can use them as a basis for creating a small investment portfolio that will have a yield similar to EXC's 7%. The next step is to identify some very high yielders, let's say 10% or greater, that also have a low beta, say under 0.4.
If you were to run a stock screen on this criteria you would find that the majority of companies listed are REITs and rightly so. REITs are required to pay out 90% of their earnings to shareholders in exchange for preferential tax treatment. As a result they typically pay very high dividends, which, while often variable since they can be based on earnings, are very secure. Annaly Capital Management (NYSE:NLY) has a dividend yield of over 12% and a beta of 0.06 while American Capital Agency (NASDAQ:AGNC) yields 15.7% with only a 0.17 beta. In my mind, the only reason REITs exist are to increase the dividend rate of the portfolio that holds them.
For those that want further security through diversification, or perhaps do not feel like they are knowledgeable or experienced enough with REITs to make a good selection, there are the Market Vectors Mortgage REIT ETF (NYSEARCA:MORT) and the iShares FTSE NARIET Mortgage Plus Capped ETF (NYSEARCA:REM) to choose from.
So now, let's see what a combination of our chosen utilities with a high yielding REIT ETF might look like...
| | | | | |
| --- | --- | --- | --- | --- |
| Name | Percent | P/E | Dividend Yield | Beta |
| SO | 45% | 17.59 | 4.5% | .11 |
| NEE | 20% | 13.99 | 3.3% | .39 |
| REM | 35% | 8 | 12.6% | .51 |
| weighted total | 100% | 13.5135 | 7.095% | .306 |
... Which compares to a P/E of 16.82, yield of 7%, and beta of .49 for Exelon. Obviously, one could tinker with the selected securities and percentage weight to each to come up with a yield that they like while still have a strong fundamental position at the heart of their investments.
Conclusion
My hope is that by following up on my specific claim that Exelon was not worth holding, even for its yield, I have also demonstrated that there are ways of adding dividend income to a portfolio without adding excessive risk or taking stakes in troubled companies. An investor should never be in the position of overlooking troubling fundamentals because of an enticing dividend. I selected Southern Company and NextEra Energy because I see them as the most promising utility companies at this time. While these are fine investments in their own right, more income oriented investors should consider beefing up their yield returns by taking a limited stake in high yielding REITs or a REIT ETF. As ever, I encourage each individual investor to perform their own due diligence and determine their own investment goals.
Disclosure: I have no positions in any stocks mentioned, and no plans to initiate any positions within the next 72 hours. I wrote this article myself, and it expresses my own opinions. I am not receiving compensation for it (other than from Seeking Alpha). I have no business relationship with any company whose stock is mentioned in this article.