Investors wishing to supercharge their core of index investments might consider adding one or two "Piotroski Stocks." Two portfolios are laid out in the following screenshots, one including only ETFs and the second adds one stock. In the first portfolio we use the six ETFs presented in the "Swensen Six" portfolio nine months ago. Focus on four projections:
The projected return in this first portfolio is 7.77% or rounded to 7.8%.
The projected standard deviation or 13.8%.
The Diversification Metric (DM) is 33% where the goal is to reach a minimum level of 40%.
The least important of these metrics is the Portfolio Autocorrelation (PA) of 15.6%.
Quantext Portfolio Planner Analysis of "Swensen Portfolio": All the ETFs are commission-free instruments for TDAmeritrade clients. Sixty (60) months of data is used for the following analysis and the percentage allocated to each ETF follows recommendations by David Swensen in his book, Unconventional Success.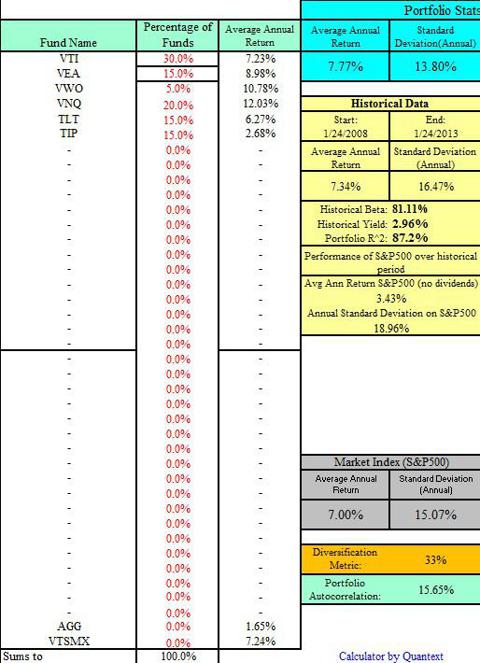 QPP With CRAI: In the following analysis, 5% is stripped away from VTI and assigned to CRA (NASDAQ:CRAI). To locate "Piotroski Stocks" I use a screening program from the American Association of Individual Investors known as Stock Investor Pro (SIP). Built into SIP is a Piotroski screen and it isolates stocks that have a Piotroski High F-Score of eight or greater. This past week, only CRAI passed the screen with a rating of 9. Check the first link in this article as a review of the nine Piotroski ratings or fundamentals.
Looking at the four metrics in the following analysis, one sees the projected return is higher (8.1% vs. 7.8%) while the projected return remains the same. With only a 5% shift to CRAI, DM jumps 4% points. Yes, PA moves up slightly, but this is not a major concern.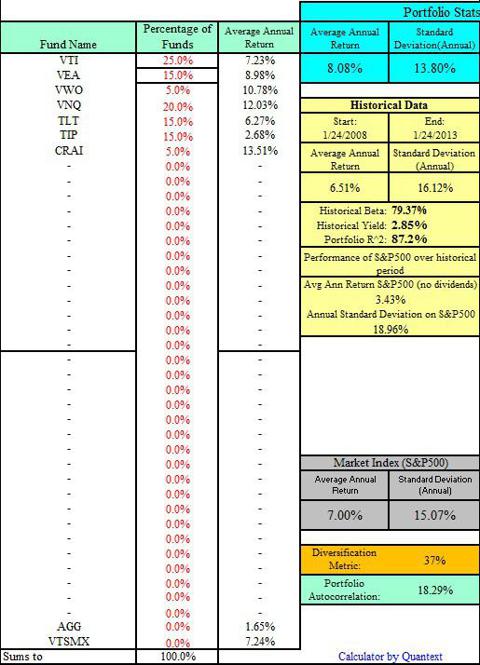 How might one use Piotroski Stocks with an existing portfolio?
Screen for stocks that have a High F-Score of 9 and add those stocks to the portfolio.
Hold the stock until the High F-Score drops below 7.
One needs to recognize these are thinly trade stocks and I recommend using limit orders.
Disclosure: I am long CRAI, VTI, VEA, VWO, TLT, TIP, VNQ. I wrote this article myself, and it expresses my own opinions. I am not receiving compensation for it (other than from Seeking Alpha). I have no business relationship with any company whose stock is mentioned in this article.