Driven higher over the last month due largely to the prospect of increasing central bank money printing, gold and silver challenged important price levels early last week but failed to hold them, spurring technical selling that led to their sharpest weekly declines since mid-December.
A short-term resolution to U.S. budget deficit troubles and yet another gold import tax hike in India were negative developments for precious metals, while central bank actions and strong demand for physical silver were positives, however, traders were clearly more influenced by the former than the latter.
It's getting hard to be a gold bull these days and even more difficult to be optimistic about mining stocks as noted in this article last week.
For the week, the gold price fell 1.5 percent, from $1,684.70 an ounce to $1,659.30, and silver dropped 2.2 percent, from $31.89 an ounce to $31.18. Gold is now down 0.9 percent this year, 13.7 percent below its 2011 high, and silver is up 2.7 percent in 2013, down 37.0 percent from its high almost two years ago.
Technical selling on Wednesday sent precious metals tumbling as the failure of the gold price to reach the important $1,700 an ounce mark and silver stalling below $32.50 an ounce reportedly caused speculators to liquidate long positions. This led to a tumbling silver price and the biggest one-day decline in three weeks for gold that, as shown below, is now well back of where it was at this point during the last three major corrections going back seven years.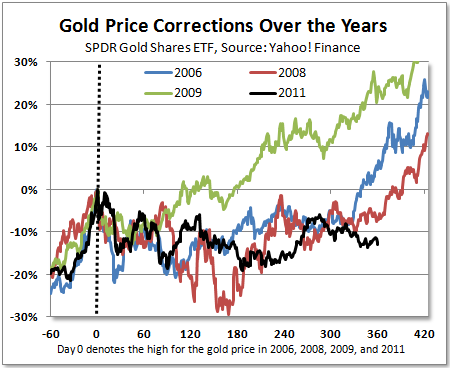 For some time now, I thought the current gold correction would run its course as other corrections have within about 18 months, but now I'm not so sure.
Simply put, with the intractable problem of the U.S. debt once again "kicked down the road" until sometime this spring, there are no short-term catalysts to drive metal prices higher.
Although anything is possible, it is now likely that credit rating agencies will defer judgment on U.S. credit worthiness until after the next round of negotiations gets underway and, while a government shutdown and spending cuts may disrupt financial markets a bit, they are not likely to have the same impact on precious metals markets as would another credit downgrade.
Though an out-of-the-blue announcement could push prices higher (e.g., China telling the world how much gold they've purchased since 2009), there is really nothing on the horizon to serve as a catalyst.
Important U.S. economic reports in the week ahead should provide more confirmation of what many investors already believe - that the U.S. economy is improving slowly. The Federal Reserve policy committee meets this week and, after announcing major initiatives last month, they are not likely to have much to say this month. In short, the prospect of an improving U.S. and global economy is now one of the precious metals market's biggest risks and, with nary a sign of rising prices in the government's official measure of inflation, few seem concerned about the rapid increase in global money printing.
Early last week, the Bank of Japan announced it will set a two percent inflation target and, in early-2014, start an open-ended money printing program of nearly $150 billion a month, almost double that of the U.S. But, since this effort is not expected to begin for a year, its impact on metal prices was fleeting.
The Russian Central Bank said it will continue to buy gold in an effort to diversify its foreign exchange reserves away from paper assets that it views as risky. After doubling their gold reserves over the last five years to amass the world's eighth largest gold holdings at 950 tonnes, including an increase of 80 tonnes last year, the central bank is expected to continue making purchases at this rate in 2013.
Central banks continue to provide support to metal prices, not just with their purchases, but with announcements such as the one by Germany earlier in the month that it will "bring home" almost 700 tonnes of its gold reserves currently held abroad. More than anything else, this sends the message that gold is relevant today and, as expected, other nations are also contemplating gold repatriation.
The Dutch are now considering bringing back 300+ tonnes of their gold reserves held in New York and, last week, Swiss newspapers reported that a campaign to repatriate the nation's gold reserves is close to reaching its target of 100,000 signatures that could trigger a referendum on the issue, similar to the sequence of events that led to the announcement by Germany. At over 1,000 tonnes, Switzerland has the world's seventh largest gold reserves and this initiative also calls for a doubling of their gold holdings and a prohibition on future sales.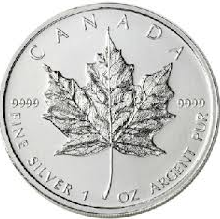 In North America, following news a week ago that the U.S. Mint had quickly exhausted their inventory of silver coins when sales began on January 7th, last week, the Royal Canadian Mint (OTCPK:RCM) reported that it too had experienced exceptionally high demand.
As a result, the RCM has begun rationing sales to authorized dealers, the same solution being implemented in the U.S. in the days ahead when silver coin sales are expected to resume. While futures traders may be in a selling mood after the silver price failed to advance past the $32.50 an ounce mark, physical demand in the form of coins appears to be stronger than ever, already setting records in January with a few days left to go.
The other big news for silver last week was that almost half of the huge January 16th addition to the holdings of the iShares Silver Trust ETF (NYSEARCA:SLV) was reversed as detailed in this article on Friday. The trust's holdings declined by 238 tonnes on Wednesday and Thursday following a massive 572 tonne addition a week earlier. This puts the holdings up over 700 tonnes in just the last seven weeks, another sign of strong physical demand.
Gold ETF holdings, however, have continued their recent slow steady decline as the SPDR Gold Shares ETF (NYSEARCA:GLD) saw its holdings dip by another 2.7 tonnes last week as prices fell. This follows outflows of 8.7 tonnes, 4.4 tonnes, and 5.1 tonnes during the first three weeks of the year, so, if ETF flows are any indication, investors are opting for silver over gold by a wide margin so far in 2013.
Of course, news from India that the government had once again hiked its gold import duties, this time from 4 percent to 6 percent, in order to curb demand there was not well received by the gold market. While this could be a positive development for silver bullion sales there, higher taxes are likely to dent gold demand, at least over the short term until smuggling ratchets up to fill the void.
I'll have more to say on this in an article this week as this is a fascinating development - a government taking steps to curb demand for what has served as a store of wealth and an important part of the culture for centuries in order to help bolster the government's paper money amid persistently high inflation.
Last week's price slump is said to have spurred increased buying in both India and China, the world's two largest gold consumers. After starting out the year with strong sales, rising prices led to slack demand, but the world's most cost-sensitive buyers are again reportedly "buying the dip."
More downward revisions to gold price forecasts were seen last week as Citigroup lowered their average 2013 gold price forecast by four percent to $1,675 and Morgan Stanley revised their forecasts down between two and six percent, though they remain quite bullish in predicting an $1,830 an ounce gold price by the fourth quarter, up from average prices of $1,715, $1,745, and $1,800 an ounce during the first three quarters.
Investment bank Goldman Sachs stands virtually alone in remaining wildly bullish over the near term, their analysts last week reiterating a call for an $1,825 an ounce gold price in the months ahead, due largely to the ongoing debate over the nation's debt.
Over the long term, the future remains quite bright for both gold and silver, though, absent some new catalyst, we're likely to be range bound for at least a month or two, perhaps longer. With what appears to be an improving global economy and few signs of inflation in developed nations, it will be hard for investors to get too excited about precious metals over the near term, despite central bank money printing on a scale never seen before.
Like many others, I remain convinced that monetary policy will ultimately send gold and silver prices much higher as central bankers will be unable to undo what they've done in recent years without causing either high inflation, a currency crisis, or some sort of a collapse somewhere in financial markets.
Disclosure: I am long GLD, SLV. I wrote this article myself, and it expresses my own opinions. I am not receiving compensation for it (other than from Seeking Alpha). I have no business relationship with any company whose stock is mentioned in this article.
Additional disclosure: I also own gold and silver coins and bars.