McDonald's (NYSE:MCD) has always faced competition over the years from other fast food chains. Wendy's (NYSE:WEN), Burger King (BKW), Yum! Brands (NYSE:YUM), Panera Bread (NASDAQ:PNRA), Chipotle Mexican Grill (NYSE:CMG), and others compete with McDonald's for the estimated $706.7 billion in 2012 global fast food revenue. McDonald's has been working diligently to maintain an edge on this competition to maximize its share of the market.
McDonald's beat its earnings estimates by 3.8% for Q4 2012 with an EPS of $1.38 vs. an estimate of $1.33. This follows two quarters that resulted in slight misses of earnings estimates. The stock underperformed the market in 2012 after a strong run from the low $50s in 2009 to around $100 at the beginning of 2012.
Comparable U.S. restaurant sales increased 0.3% for Q4 and 3.3% for the year. Total revenue growth for Q4 increased 1.9% year-over-year, while earnings growth increased 1.4% year-over-year. The company has laid out a few strategies in the Q4 2012 earnings report to maintain its edge in the market and to remain a step ahead of the competition.
Menu Strategy is one way MCD is addressing its competitive challenges. By updating the menu, McDonald's keeps customers interested with new products. The menu offers multiple price tiers, starting with the dollar menu on the low end, with mid-tier and higher-tier items encouraging higher customer receipts. The company is striving to maintain excitement with customers by keeping a fresh selection on the menu. For example, the new Cheddar Bacon Onion Sandwich was added to the menu and the popular McRib sandwich has returned. The Grilled Onion Cheddar Burger was added to the dollar menu. New products are expected to be introduced in 2013 such as: Fish McBites, new beef sandwiches, chicken entrees, and new breakfast and beverage items that had positive appeal in test markets.
Similar menu updates are also being implemented in other countries. Although comparable sales in Europe declined 60 basis points in Q4, they increased 2.4% for the year. The new Casse Croute sandwich is being marketed in France. The McDeal value bundle has been enhanced in Germany to include new entrée choices. Promotions for premium food such as the Bacon, Chicken, and Onion food event are taking place in the United Kingdom and are planned to be featured in France this year.
McDonald's continues to maximize the capacity of existing restaurants in Europe by extending hours and implementing technology such as self-order kiosks and handheld order takers. This allows workers to focus more on food preparation and less on order taking, thus making the process more efficient for customers.
Comparable sales in the Asia/Pacific, Middle East, and Africa regions decreased 1.7% for Q4, but increased 1.4% for the year. Consumer confidence remains low in this region with a choppy recovery in Japan and slower economic growth in China. To combat this, McDonald's has implemented more seasonal items and limited time offers to keep customers interested in returning to the restaurants.
The company is doing three things with its vast quantities of cash to increase shareholder value. One strategy is reinvesting in the business. McDonald's opened 1,439 new restaurants in 2012 and re-imaged about 2,400. The company is expected to open 1,500 to 1,600 new restaurants in 2013.
Shareholders are rewarded with another portion of cash with the company's 3.3% dividend. McDonald's dividend payments are something that investors can rely on as they have been increased every year since 1976.
The company also has a history of using its cash for share repurchases. This retires shares and thus contributes to increasing shareholder value. Although I haven't seen the actual twelve-month figures for 2012, total share repurchases for the first nine months of 2012 were $2.3 billion.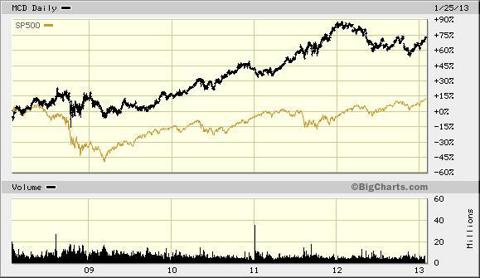 With 80% of stores franchised, most of McDonald's restaurants are operated by entrepreneurs who run the business as their own. With comprehensive corporate training the company-operated restaurants are run similarly. The company reaps the benefit of having the largest economies of scale in the restaurant industry, operating over 34,000 restaurants in 119 countries. The company's ability to remain nimble and continue to create excitement and value for customers should allow McDonald's to remain a step ahead of the competition.
Disclosure: I am long MCD. I wrote this article myself, and it expresses my own opinions. I am not receiving compensation for it (other than from Seeking Alpha). I have no business relationship with any company whose stock is mentioned in this article.