Most people who have read my other articles on Seeking Alpha or subscribed to my investment newsletter have figured out by now I believe the shale gas/oil revolution occurring within the United States is a big deal. It is probably, in my opinion, one of the largest investment opportunities currently available.
In past articles, I have explained my investment logic for my favorite natural gas infrastructure, transportation and production companies. The most important factor influencing my conclusion is the relative value of natural gas as compared to diesel fuel.
This value comparison is so important that I developed a proprietary chart (seen below) to help quantify my investment analysis.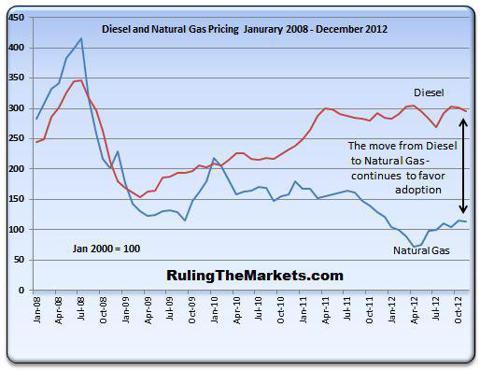 This pricing chart graphically illustrates the pricing differential between diesel and natural gas through December 2012. This pricing differential is the single most important factor for investing in natural gas related companies.
Obviously, natural gas pricing continues to favor adoption.
I am going to focus on one company that will benefit tremendously as long as pricing continues to favor adoption - Westport Innovations (NASDAQ:WPRT).

Westport Innovations
Current market capitalization - $1.5 billion
52-week range - $21.93 - $50.19
Current price - $28.50
The phrase "lynchpin" can be figuratively defined to mean; "something that holds various elements of a complicated structure together."
The lynchpin that makes the conversion to natural gas powered transportation vehicles possible is Westport Innovations. Westport is one of the companies that stands to benefit the most over the next several years from the migration to natural gas as a transportation fuel. They are a pure play on natural gas powered engines and current global leader in natural gas engine technology. The company controls technology that enables engines to run on alternative fuels without compromising performance, fuel economy, durability or reliability as compared to diesel engines. This fuel substitution to natural gas achieves a significant reduction in unwanted environmental pollution.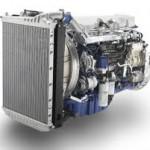 So what exactly is Westport's business?
Westport is a global leader in alternative fuel and low-emissions technologies, which allow combustion engines to have cleaner emissions through the reduction of greenhouse gases produced and lower levels of particulate matter. Its technologies allow engines to run on clean-burning fuels, such as compressed natural gas [CNG], liquefied natural gas - LNG, and biofuels (landfill gas).
WPRT leverages its proprietary technology by partnering with engine, truck and automotive equipment manufacturers (the OEMs) to develop, manufacture and distribute its engines to a wide group of global vehicle manufactures. The partnerships provide it with access to manufacturing capacity, supply chain infrastructure and world-wide distribution networks without incurring the investment associated with them.
The markets the company primarily focuses on include light, medium and heavy-duty engines. Recently the high-horsepower engines for large commercial applications have begun to garner attention. Westport addresses each market separately through the use of joint ventures or in-house development.
The light-duty market, or Westport LD, is focused on light-duty automotive systems and components. This area also includes industrial applications for smaller vehicles such as forklifts. Examples of LD vehicles are forklifts, passenger vehicles and small trucks.
The medium-duty and heavy-duty segments are currently dominated by the Cummins/Westport [CWI] and the Weichai/Westport joint ventures. They currently include a wide range of natural gas engine sizes depending on the JV. Examples of MD-HD vehicles are school buses, city buses, waste-haulers and delivery vans. Westport has developed a proprietary high-pressure direct-injection - HPDI for the HD market segment.
The high horsepower market, or HHP, is focused on large commercial applications for the marine, rail and mining environment. These engines all use millions of gallons of diesel fuel annually, and although this is not a high-volume market opportunity, this area is certainly a high-margin opportunity. Any time you can save a company millions of dollars in costs annually, your pricing power should be unparalleled in the market. Just consider how much money shipping companies or railroads could save in diesel costs by adopting natural gas engine technologies.
The valuable strategic and business alliances
First, I should mention that almost everyone who manufactures an engine is involved with or wants to be involved with Westport on one level or another. From tiny fork lift engines to the largest marine engines, just about every manufacturer on the planet is either talking with WPRT or has signed a more formalized agreement. The finalized contracts range from evaluation and feasibility projects to formal joint venture partnerships where parties are contractually bound together to perform. One thing is for sure - Westport is a first-mover in the area and everyone wants to be involved with the market leader.
Are the patents owned by Westport more valuable than others? Do they represent a long-term defendable intellectual property position that can benefit shareholders for years to come?
These are tough questions to answer. As time passes, a clear winner will emerge. Perhaps a relevant parallel can be drawn with Google and Yahoo. In the beginning, both were respected start-up companies but Google was able to differentiate itself through its patent portfolio and an ingenious way to rank web pages. As time has passed, Google is without a doubt the clear winner. Yet the original technologies were very similar and hard to differentiate. Perhaps the competition between HPDI and SI will play out similarly - only time will tell.
Westport has first-mover advantage in a category that could reshape how we use fossil fuels. A firm can gain first mover advantage when it has some sort of breakthrough in its research and development, resulting in a direct breakthrough in technology. A learning curve can provide a sustainable cost advantage for the early entrant if the learning can be kept proprietary (HPDI is owned by WPRT) and the firm can maintain leadership in market share. This advantage results from the fact that the first entrant can gain control over resources (patents) that followers may not be able to match. Sometimes first-movers are rewarded with huge profit margins and a monopoly-like status.
All of this is hard to quantify now to answer the question - Is the technology worth a few million or a few billion? A clear answer to this question is difficult to come up with, but Westport has the "structure" in place to have a significant impact on an enormous market segment, a defendable patent portfolio and key relationships with all the major players in the industry. In other words, the odds appear to be in Westport's favor, but only time will tell.
Final comment
In the market, you can always find stocks, bonds and options you can "trade" on various time-frames - trading or fast money is more Wall Street's style presently than it ever was in the past. Rarely are you presented with an "investment" opportunity that allows you to earn compounded returns over many years (sometimes decades) no matter what the economic situation. If the natural gas/diesel fuel pricing differential holds, Westport Innovations might just be a stock for the next decade.
Additionally, investors should look at other companies leveraged to the pricing differential seen in the chart above. I believe that now is the time to look at natural gas related investments in companies like: KBR Incorporated (NYSE:KBR), Golar LNG (NASDAQ:GLNG), Clean Energy Fuels (NASDAQ:CLNE) and Cheniere Energy (NYSEMKT:LNG) just to name just a few.
Disclosure: I am long WPRT. I wrote this article myself, and it expresses my own opinions. I am not receiving compensation for it. I have no business relationship with any company whose stock is mentioned in this article.
Disclaimer: This work is based on public filings, public events, interviews, corporate press releases, and what I have learned as financial journalists. It may contain errors and you shouldn't make any investment decision based solely on what you read here. It's your money and your responsibility.