Knowing the broad market had a strong move this week, what are the Bullish Percent Indicators showing for other indexes and sectors of the market. Are there any buying opportunities remaining or is this a time to prune holdings and build cash?
BPI of Indexes: Every major index tracked in the following table gained numerical ground this past week. In every case the offensive team has the ball as indicated by the X's in the right-hand side of the table. Of concern is the overbought condition of every index with exception of the NASDAQ.
An overbought condition is when the Bullish Percent Indicator is above the 70% mark. This week we have four indexes above the 80% line so it is difficult to conclude anything other than this is a very high market.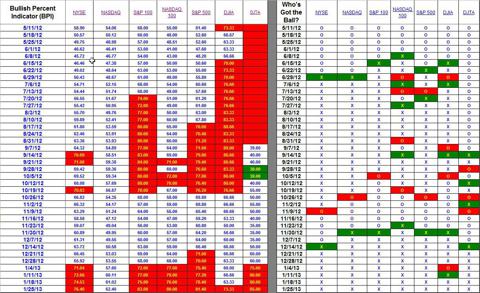 Sector Bullish Percent Indicators: Drilling down into individual sectors we see a similar situation of a very high market. Nine of the ten sectors tracked are above the 70% line. Only Telecom is not overbought. Despite the high BPI values, Staples and Utilities stubbornly place the ball with the defense. So far the number of stocks within these two sectors is insufficient to move the overall sector into an offensive situation.
The question still remains, are there any buying opportunities. To answer this question we look to a probability analysis known as the Delta Factor. Check the third screen shot for some answers.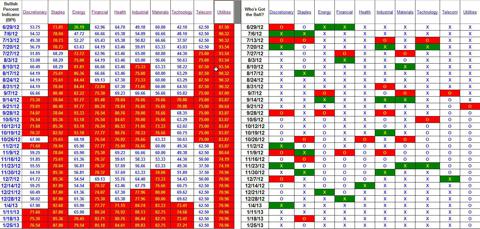 Delta Factors: Here we have the latest projections for the market sectors as defined by Vanguard. Real estate is included in this mix, whereas it is not included in the above BPI sector analysis.
The Delta column shows the difference between the performance over the last four years and what is projected over the next year. All but energy (NYSEARCA:VDE) and financials (NYSEARCA:VFH) are not expected to perform all that well compared to their historical performance.
Of the ten sectors ETFs, the best opportunity going forward is VFH, the financial sector. I would also pay close attention to REITs as VNQ is projected to gain an annualized 12.6% over the next six to twelve months.

Disclaimer: Take great care when examining extrapolated data. Note that the Delta Factor is a probability calculation, nothing more.
Disclosure: I am long VNQ. I wrote this article myself, and it expresses my own opinions. I am not receiving compensation for it (other than from Seeking Alpha). I have no business relationship with any company whose stock is mentioned in this article.