Since Nokia (NYSE:NOK) is a turnaround special situation play, it matters not what the company has done in the past, especially the past year, but what the company does sequentially on a q-o-q basis.
With that in mind, this short presentation places an emphasis on very recent data and especially q-o-q performance. Having said that, while Nokia had a horrible year, q-o-q group revenue was very satisfactory and that leads me to believe we are at a turning point.

Selected highlights from the company's Q4 Interim Report:
Nokia Group non-IFRS EPS in Q4 2012 was EUR 0.06; reported EPS was EUR 0.05.

Nokia Group achieves underlying operating profitability, with Q4 non-IFRS operating margin of 7.9%.

Nokia Group strengthened its net cash position by approximately EUR 800 million ($1,077 million U.S.) sequentially, of which approximately EUR 650 million ($875.16 U.S.) was generated by Nokia Siemens Networks.

Devices and Services Q4 non-IFRS operating margin improved quarter-on-quarter to 1.3%, due to an increase in gross margin as well as a decrease in operating expenses.

Nokia Siemens Networks non-IFRS operating margin improved quarter-on-quarter and year-on-year to a 14.4% in Q4, the highest level of underlying operating profitability since its formation in April 2007, primarily due to an increase in gross margin.
Nokia Group ends 2012 with a strong balance sheet and solid cash position. Gross cash was EUR 9.9 billion ($13.33 billion U.S.) and net cash was EUR 4.4 billion ($5.92 billion U.S.), after incurring cash outflows related to restructuring of approximately EUR 1.5 billion and dividend payment of approximately EUR 750 million.

To ensure strategic flexibility, the Nokia Board of Directors will propose that no dividend payment will be made for 2012 (EUR 0.20 per share for 2011). Nokia's Q4 financial performance combined with this dividend proposal further solidifies the company's strong liquidity position.
As per the device and services unit, North America was the biggest percent revenue gainer which came almost exclusive from Lumia 920 devices. It is also very interesting to note that North America was the only geographic area that produced both y-o-y and q-o-q growth. Europe and the Middle East also produced q-o-q growth.
As the chart below shows, Nokia sales in China were lower by 69% y-o-y and 21% q-o-q. But the recent agreement with China Mobile will more than compensate for that loss during 2013. China Mobile has opened the door to Nokia to 700 million potential buyers of Lumia phones. It will be very hard for Nokia not to get a substantial piece of the upscale phone buyer, because Apple's iPhone does not work with China Mobile's network. This means that if you are a China Mobile customer and you want an upscale phone, the Lumia 920T (a phone specially designed for China Mobile) is your only choice. So while Nokia has lost ground in China during 2012, I am confident that it will regain the business it lost in 2013.
As you can see form the above chart, only about 5% of total device and service sales come from the U.S.. This for one explains the miniscule market share that Windows phones have in North America. However this also means the market is wide open for Nokia in North America and with a little help from Microsoft, I think Nokia can take good size of the market. And since the market is dominated by Google's (NASDAQ:GOOG) Android and Apple's (NASDAQ:AAPL) iPhone, they will be the exclusive market-share losers as Nokia gains.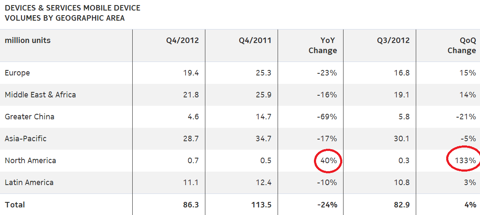 To illustrate my point, while the company sold 86.3 million devices of all sort, it sold less than 1% of that in the U.S.. So why am I bullish that the company will sell more phones in the U.S.? Because Nokia has a very powerful partner in the U.S. The paragraph below comes from the current report and tells us more about the financial relationship between Nokia and Microsoft:
Our agreement with Microsoft includes platform support payments from Microsoft to us as well as software royalty payments from us to Microsoft. In the fourth quarter 2012, we received a quarterly platform support payment of USD 250 million (approximately EUR 196 million). Under the terms of the agreement governing the platform support payments, the amount of each quarterly platform support payment is USD 250 million. We have a competitive software royalty structure, which includes annual minimum software royalty commitments. Minimum software royalty commitments are paid quarterly. Over the life of the agreement, both the platform support payments and the minimum software royalty commitments are expected to measure in the billions of US dollars.
My take: So besides the money Nokia is getting from Microsoft (NASDAQ:MSFT) to sell Windows 8 phones, it also means that Microsoft has a vested interest to see the Lumia platform succeed. Which in turn means that shareholders should feel very comfortable knowing that Microsoft will pay an arm and a leg to get these phones in people's hands. As such, I feel very comfortable knowing Nokia has such a strong partner. And seeing the miniscule sales in North America, the more Nokia can ramp-up its production of the Lumia 920 the better, because it will sell all the units it can produce in North America.
As per guidance, management continues to target to reduce its Devices and Services non-IFRS operating expenses to an annualized run rate of approximately 3.0 billion euros by the end of 2013. For the next quarter, management expects operating margin in the first quarter 2013 to be negative due to lower recognized revenue from internal sales, which carry higher gross margin, and to a lesser extent by a negative mix shift within external sales. Nothing to get excited about and just goes to show the company needs to do a lot more before we can say that the company has restructured.
I haven't heard many analysts commenting about Nokia, but Charlie Wolf from Needham & Co upgraded Nokia to a buy from a hold with a $7.30 target price from a previous target of $5.50.
Wolf is modeling 40.8 million smart device shipments this year, revenue of 35 billion euros (~$45 billion) and 16.6% gross margins with 35 euro cents ($0.45) EPS. I think these numbers are within the realm of possibility and if the company comes even close to this performance, I am more than confident that in 12 months from now Nokia's stock will double in price.
Bottom line
Investors have to keep in mind that Nokia is a special situation turn around play and that this turn around story is still ongoing. But because Nokia is a turn around story, and it is operating with depressed margins, gives it a very high risk/reward payout if the company executes well. And we have ample evidence that the company is turning around from the very good q-o-q performance.
So far the run up in the stock had to do with bankruptcy fears subsiding. In order for the stock to keep going north, it has to produce results. I have a feeling that the market will need hard earnings evidence before taking the stock to the next level. While I am confident the company will produce the required results, it might take some time.
Technical picture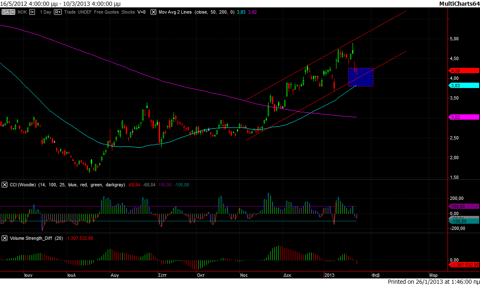 Longer term investors should not even bother with short term price action. I think in 12 months from now the recent correction will only be a blip on the chart.
But for those who are more short-term minded, if the stock trends below the bottom level of the channel as you see in the chart above, then the stock will probably move sideways for some time, even though I don't think the stock will correct much. But if it does not break the lower trend-line, then the stock will continue going higher.
Either way, I continue to very bullish on the stock and I think it is a very good long-term play with excellent appreciation potential, even at today's prices.
Disclosure: I have no positions in any stocks mentioned, and no plans to initiate any positions within the next 72 hours. I wrote this article myself, and it expresses my own opinions. I am not receiving compensation for it (other than from Seeking Alpha). I have no business relationship with any company whose stock is mentioned in this article.