Thursday marked a major turning point in the capital markets from what I can see. The S&P 500 (SPY) briefly touched 1500 before falling back, but ended the week above that level and within sight of a test of its all-time high near 1550 in February, assuming that the index closes near 1500. The early returns on fourth quarter earnings have been relatively strong, creating a strong bullish atmosphere on Wall St. It is certainly the narrative that is desired at this point - a strengthening U.S. economy with low interest rates and an improving earnings and a housing market that is supposed to be coming off its worst numbers.
Controlling the Narrative
There's only one problem. I don't buy any of it for a minute. So much of this rally in the S&P is credit and perception driven. And while I agree with the day and swing traders that markets in those time frames do not trade on fundamentals, they trade on sentiment. I do not agree that long-term fundamentals will pull the markets in the direction they wish to go unless they are being actively prevented from doing so.
And I don't think anyone would argue with me that the Fed has been attempting to keep the equity markets from falling, or the housing market, or the bond market. It's OK for commodities and gold (GLD) to fall. That makes the narrative stick in the minds of those gullible enough to believe that printing vast sums of money will not have an effect on prices.
The Fed's balance sheet topped $3 trillion this past week for the first time ever. It made headlines. By contrast the ECB announced stronger than expected repayments by banks to the LTRO, a lot more. This has had the effect of shrinking the ECB's balance sheet ever so slightly. After a massive 50% expansion it is now taking a time-out. It's the Fed's turn.
This has lit a fire under the Euro (FXE) pushing it through heavy resistance that had formed below $1.34 and it put in a weekly close of $1.346. I would consider buying the Euro heavily here for a run to $1.40 and since the ECB has stopped expanding its balance sheet in the short-term I would expect the Euro price of Gold to lag the U.S. Dollar price of Gold as this heats up.
Who's Yer Daddy?
And heat up they will. With Euro oil prices back to late 2011 levels further deterioration of the Eurozone economy can be avoided. A lot has been made of the increased supply of oil from the U.S. in 2013 pressuring Brent prices, and I've already written why I think that's the wrong read, but I'm not wildly bullish on it either, especially in Euro terms. The breakout in the Euro was accompanied by a weekly breakout in the U.S. Dollar price of Brent Crude (BNO) of $113.46. A weekly close over $112.88 is a strong technical breakout from its consolidation pattern that it's been in since October. This breakout is not confirmed in Euro terms.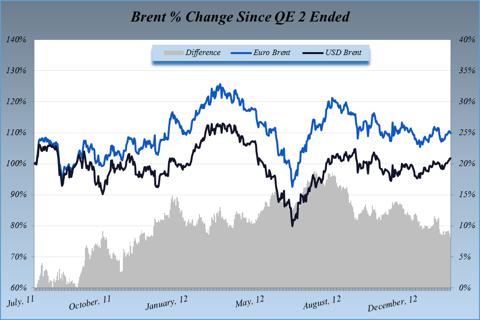 To me this signals that these moves are motivated by money supply changes, not necessarily fundamentals. But a strengthening Euro will make it easier for the periphery to restart their economies, or at least stabilize them.
So, the money printing has achieved everything the Fed wants with the exception of higher oil prices. It has ignited an equity rally which is what everyone seems to want. And who is the Fed if not Wall Street's sugar daddy? But more important than the equity rally is the incipient commodity rally that is in process. At this point the commodity and precious metals bears are trying to make the argument that since everything is fixed and energy supplies are cheap and plentiful we'll have a global economic rally that will overcome the debt deflation and budgetary problems faced by so many countries around the world. This is why gold is failing to respond to the situation.
Grease is the Word
Oil prices are the canary in the coal mine. Gold, Silver and Copper will lead the charge higher, but it looks like the debt ceiling postponement bill spooked traders in the short term into dollar assets. It may take through the end of the month for things to begin clearing. Not only was Gold sold but so were a number of the Asian currencies including the Singapore Dollar, Thai Baht and Chinese Yuan and TIPS (TIP) were sold hard, which pressured gold. Copper looks very bullish and is itching for an excuse to push through $3.72 on a weekly basis.
I leave you with the chart of the M2/M1 ratio. Since M2 is M1 plus savings, broadly speaking, a rise in this ratio is a signal that either the savings rate is rising or the currency base is. I'll let you decide what you see. Remember, QE is designed to punish/scare savers by pushing interest rates down and spending up - the Keynesian Multiplier Effect. What do you think Bernanke and the FOMC will do if the Savings Rate begins to rise again? Cut off the QE spigot or open it up wider?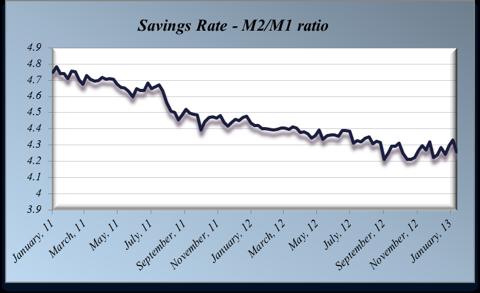 Disclosure: I have no positions in any stocks mentioned, and no plans to initiate any positions within the next 72 hours. I wrote this article myself, and it expresses my own opinions. I am not receiving compensation for it (other than from Seeking Alpha). I have no business relationship with any company whose stock is mentioned in this article.
Additional disclosure: I own physical gold and silver and a few goats