Microsoft (NASDAQ:MSFT) reported solid second-quarter fiscal 2013 results Thursday afternoon. Revenue jumped 3% year-over-year (5% non-GAAP) to $21.5 billion, roughly in line with consensus figures. Earnings per share declined 3% year-over-year (+4% non-GAAP) to $0.76 per share, a penny better than the consensus estimate.
The performance from the Windows Division was relatively strong, in our view. 60 million Windows 8 licenses sold is a pretty solid number (as the image below shows), though we think the company (and the industry) would have liked to see the new operating system perform better (Image Source: Microsoft 2Q Earnings Presentation).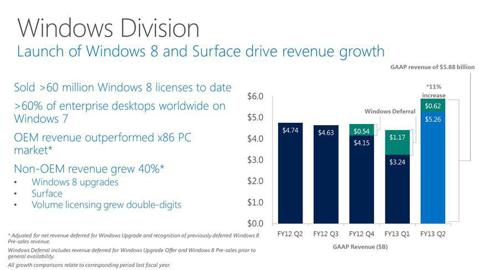 We place a lot of the blame on the OEMs such as Dell (NASDAQ:DELL) and HP (HPQ) for largely not having ample product rollouts soon enough. We think Microsoft and Intel (NASDAQ:INTC) are far more concerned about maintaining a strong position in the PC industry (which isn't going to 0) as the traditional OEM partners worry about transforming into software companies. This might be part of the reason why Microsoft could end up financing some of the Dell deal to go private. Microsoft would like to keep Dell fully engaged in the PC industry until Microsoft is able to build its own machines. Notice in the slide above the company broke out non-OEM revenues to show it plans on reducing its dependence on the other OEMs. However, seeing Microsoft not break out Surface sales seems a little bit suspicious, but we assume this is due to lackluster performance that put the device to shame compared to Apple's (NASDAQ:AAPL) iPad.
The firm's Servers and Tools revenue growth was strong, up 9% year-over-year, with bookings advancing 15%. This segment remains one of Microsoft's key growth drivers, as well as a division that gets little acknowledgement from the market (Image Source: Microsoft 2Q Earnings Presentation).
(click to enlarge)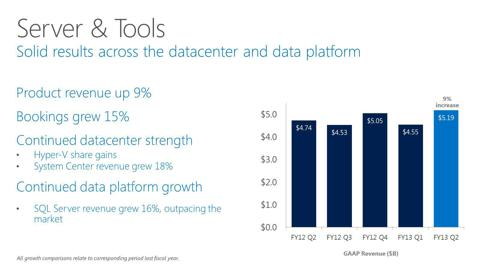 While all eyes are on Dell and HP as they try to build successful enterprise and data businesses, Microsoft already owns a strong datacenter business that we think would garner a double-digit price-to-earnings multiple were it a separate company (we do not think Microsoft should break up, however). Although many of Microsoft's consumer products are plagued by mediocre perception, SQL and other products have a strong reputation and are known as market-leading products.
Microsoft Business Division posted modest non-GAAP revenue growth of 4% year-over-year, though it mentioned retention rates are nearing all-time highs, and its new recurring revenue stream via Office 2013 should help increase (and smooth) total revenue. Bookings were up sharply, increasing 18% during the quarter, and the firm had strong growth across both developed and emerging markets. Google's (NASDAQ:GOOG) assault on Microsoft's document / spreadsheet / slideshow dominance is certainly real, but we think Microsoft's introduction of cloud services will help maintain market share. Nevertheless, we know Google doesn't mind lowering overall industry profits and will attempt to undercut Microsoft on pricing, so we do view it as a modest competitive threat.
The online business continues to hemorrhage money, but its operating loss narrowed during the quarter thanks to 15% advertising revenue growth. Bing continues to take search market share, albeit at a very modest pace. Entertainment, on the other hand, posted a fairly weak quarter as the Xbox 360 ages. We're fairly excited about the opportunity for Xbox 720 to revive console gaming, but the video game market remains weak at this time. Skype consumption continues to grow, but monetization efforts are still relatively unclear, though it does charge for some of its features that it did not previously.
Microsoft's outlook going into the back half of its fiscal year 2013 (shown below) remains solid, but we aren't anticipating a huge beat in the second half. Cost containment looks pretty strong, and the firm maintains a jaw-dropping cash balance that we expect to see returned to shareholders via increased dividends and share repurchases (Image Source: Microsoft 2Q Earnings Presentation).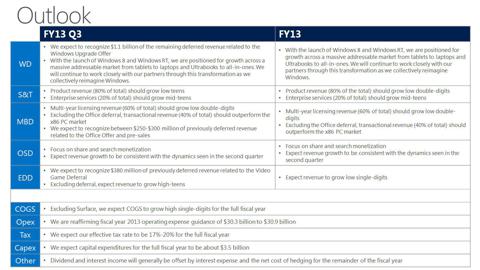 While we believe the firm's quarter was relatively solid, Microsoft largely remains a "show-me" story in the eyes of many investors who are awaiting evidence revealing it can successfully navigate the shift in the PC landscape to a new normal. Still, the company has a dirt-cheap valuation and generates fantastic cash flow, giving us all of the confidence we need to maintain our stake in the firm in the portfolio of our Dividend Growth Newsletter. The market may continue to ignore Microsoft's excellent core businesses and favorable capital structure, but in the meantime, we'll continue to clip ever-increasing dividend coupons. Microsoft remains a terrific company.
Disclosure: I have no positions in any stocks mentioned, and no plans to initiate any positions within the next 72 hours. I wrote this article myself, and it expresses my own opinions. I am not receiving compensation for it (other than from Seeking Alpha). I have no business relationship with any company whose stock is mentioned in this article.
Additional disclosure: Some of the firms mentioned in this article are included in our actively-managed portfolios.