In Amazon's (NASDAQ:AMZN) third quarter financial results press release, posted on its website on 10/25/2012, the company noted its $199 Kindle Fire HD is the company's best selling product and its Kindle Paperwhite and $69 Kindle are 2nd and 3rd - looks like Amazon's Fire products are on fire. Worthy of note, the Fifty Shades of Grey series came in at #4. Amazon started shipping its $299 Kindle Fire HD 8.9" on November 15, 2012 - just in time for the holiday rush. In the press release Amazon pulled no punches in differentiating its $299 Kindle Fire HD 8.9" to Apple's (NASDAQ:AAPL) iPad mini.
According to Amazon, the Kindle Fire HD 8.9" as compared to the iPad mini has 193% more pixels, 56% more pixels-per inch, provides capability to watch HD movies and TV, has better audio, provides Wi-Fi with dual band, dual antennas + MIMO and also costs $30 less than the iPad mini. It will be very interesting to see how Amazon performed during the third quarter when the company reports on Tuesday Jan 29, 2013 - whether the company was subject to anemic holiday sales like the majority of other retailers or was able to break the mold and have jolly holiday results.
Amazon has been aggressively building out its distribution capabilities - one could say the company is building a walled fortress with its distribution and logistical prowess. As an example, Amazon indicated it planned to have 19 new fulfillment centers opened in time to meet holiday demand. Not many companies could take on Amazon with respect to its distribution capabilities, Wal-Mart (NYSE:WMT) or maybe Target (NYSE:TGT).
The company has also been expanding internationally, and indicated it has invested heavily in video content through its European subsidiary LOVEFiLM. LOVEFiLM could be considered the Netflix (NASDAQ:NFLX) of Europe, providing access to more than 5,000 movies and TV episodes for a monthly fee. Amazon has also been investing in China for several years, but considers China a long-term investment.
Amazon has been able to field exclusive content such as best-selling author Stephen King publishing the Kindle single "Guns". It would not be surprising to see Amazon continue to get more aggressive with regard to exclusive content, as it would tend to attract new customers to its Kindle devices.
While Amazon's Price-to-Sales ratio of 2.2 doesn't place the company in the value range, it does give the appearance of a fairly valued stock. However, Amazon's trailing Price-to-Earnings ratio north of 3000 makes the company look barely profitable. When considering Amazon's large P/E, an investor must also realize the company is heavily investing its profits back into the company, and as long as the investments pan out in the future, the company and its stock will be rewarded later.
Amazon's stock price has been on a nice upward trajectory over the last year and took a sharp upward move over the last few days as shown below: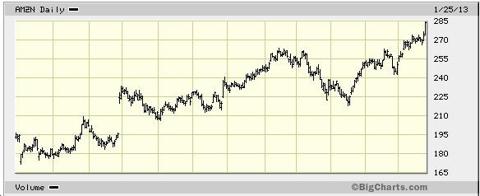 The recent sharp upward move is probably in anticipation of Amazon reporting a good holiday season, however, if Amazon doesn't have grand slam holiday results, the stock price could take a tumble. Whether Amazon reports good results or even mediocre results, the company's stock price looks set for a big movement upward or downward.
With Amazon's recent spike in price and its upcoming earnings release, an investor might consider a long straddle position which can be entered by purchasing a put option and a call option with the same strike price and the same month of expiration. If the price of the stock makes a large movement upward or downward, the position makes a profit. However, if the price of the stock doesn't make a move, then a loss will probably be experienced, and the loss could be substantial, so an investor should only consider "Vegas" money for a long straddle investment.
Using PowerOptions, a number of potential long straddle positions were found for Amazon as shown below: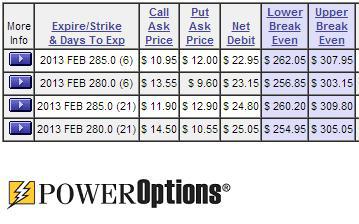 Since a downward movement is expected for Amazon, the straddle using the higher strike price will be considered, the $285 strike price in this situation. And, since there is only a couple of dollars difference between the short-term position and the longer-term position, the longer-term position will be selected - the AMZN 2013 FEB 285 straddle. The longer-term position will provide more time for the stock price to make its move. The details for entering the position are shown below:
Amazon Long Straddle Position:
Buy AMZN 2013 Feb 285 call option at $11.90
Buy AMZN 2013 Feb 285 put option at $12.90
The lower break-even for the position is at $260.20 and the upper break-even is at $309.80.
Look forward to hearing your comments below!
Disclosure: I have no positions in any stocks mentioned, and no plans to initiate any positions within the next 72 hours. I wrote this article myself, and it expresses my own opinions. I am not receiving compensation for it (other than from Seeking Alpha). I have no business relationship with any company whose stock is mentioned in this article.