Weekly Outlook: The market continued its upward charge last week on the back of some solid data and earnings throughout the week. The market got excited about Google (NASDAQ:GOOG), Procter & Gamble (NYSE:PG), and IBM (NYSE:IBM) earnings. All three companies beat EPS expectations and looked fairly solid moving into 2013. GOOG reported EPS at 10.64 vs. 10.52. PG beat EPS and revenue estimates. The company beat 1.11 expectations with EPS at 1.22. Revenue came in at $22.2B versus $21.9B. PG also forecast better than expected earnings, and said it would implement a $5B+ share repurchase program. Finally, IBM beat EPS expectations at 5.39 versus 5.22 expectations. Despite weak earnings from Apple (NASDAQ:AAPL), the market continued higher. Yet we are starting to wonder how much longer the market can continue this trend. We believe the market will need to continue to get positive news to continue its rise, but we worry that lack of positive news, or even negative news, could move the market lower.
Economic data will be the key, as a large number of reports are set to be released throughout the week. Important data will start on Monday with the Pending Home Sales report. Tuesday, the market will get a key Consumer Confidence report, followed by the ADP Employment Change on Wednesday. Additionally, the market will get a crucial Q4 GDP reading. Both reports should be very impactful on the market, as ADP Employment will be the first look at employment figures for the week. Q4 GDP is estimated to move down from 3.1% to 1.0%. Thursday, the market will get Challenger Job Cuts, Initial Jobless Claims, Personal Income/Spending, and Chicago PMI. Finally, we will finish up the week with Non-Farm Payrolls and the Unemployment Rate. NFP is supposed to come in at 180K for January vs. 155K reading for December. Michigan Consumer Sentiment, ISM Index, and Construction Spending are also on the docket. As we stated, employment information will be the key this week, as we believe meeting expectations or missing them will hurt the market.
Outside of the U.S., Europe and Asia have a lighter week. The major reports to watch are Thursday's German Unemployment Change, as well as the Chinese HSBC Manufacturing PMI on Friday. Those two reports are also likely to be key to the market this week. European markets have been quiet for some time, and as long as the markets stay quiet, that will be good for the American markets. The HSBC Manufacturing PMI is probably the most crucial overseas report, as it's widely regarded as a more exact indicator than Chinese government reports. Most recent data from China has been solid, so it needs to remain solid to keep the markets high.
Earnings have been solid for this season, and 2013 outlook has been decent. This week will continue to unveil some crucial earnings that can move the market. We have 19 companies with a market cap of $50B or more reporting earnings this week. Some of the key reports to watch are ExxonMobil (NYSE:XOM), Chevron (NYSE:CVX), Pfizer (NYSE:PFE), Merck (NYSE:MRK), Amazon.com (NASDAQ:AMZN), and Facebook (NASDAQ:FB). With how high the market has gotten, we will need very solid reports moving forward, and any signs of weakness could start to turn the market in the opposite direction.
The Federal Reserve will also release some important reports this week with the Dallas Manufacturing Report on Monday and the FOMC Rate Decision on Wednesday. The Fed's rate decision on Wednesday will be interesting to watch. Not much is expected to change with a lot of action happening last month, but the event will be a big deal.
So, where are we headed this week?
It appears the market is quite extended right now, so we will need some very strong earnings and outlook from companies, as well as great economic data to continue higher. If we do not get very solid reports, we may start to see some profit taking. The employment numbers will be the key to the market, and if that does not come in strong, we can see some correcting as well. We believe earnings will not be as impactful as in the past week, while data will be the crucial element.
Stocks To Trade:
The four stocks we are watching this week are longs in Lululemon (NASDAQ:LULU) and Sysco (NYSE:SYY), and shorts in Corning (NYSE:GLW) and Coach (NYSE:COH).
Lululemon is looking solid right now for a decent comeback. The apparel company has been hit over the past six months by growth concerns, customer complaints, and a strong valuation correction. The company, as of the writing this article, is trading for a 30+ future PE (not much of a value play). Yet we like the company because we think recent developments have allowed for some discounting that investors looking to add to a growth play can take advantage of. LULU recently commented that its growth for Q4 would likely be in the single digits compared to double-digit expectations. Analysts had been expecting revenue to come in at the high end of $475 - $480M. The discounting, though, is an opportunity. The reason is that LULU has tons of growth potential overseas. The company only has 201 stores at the end of Q3, and that number has doubled in three years. The company has tons of potential markets to enter, as it is only in Canada, the U.S., New Zealand and Australia right now. What might be even more exciting is the company's e-commerce business. Here is a note from Sharon Zackfia of William Blair via Bloomberg:
"It is important to remember that Lululemon's quickly growing e-commerce business is not included in reported comps, and we estimate the business grew more than 80 percent in 2012, to 14 percent of sales from 10 percent in 2011," said Zackfia, who has an outperform recommendation on the stock.
The company's online presence is crucial, as it continues to develop into a very important part of the marketplace. Further, it is not like demand is lacking. The company commented that it had such long lines of traffic at stores that staff/space could not handle demand. That issue is something LULU can correct, and is much better off than if it had no demand. While a rich valuation, we believe growth is still there for the stock, and we like buying on a break of the 50-day MA.
Trade #1: LULU, Long
Breakout: Break of 50-day MA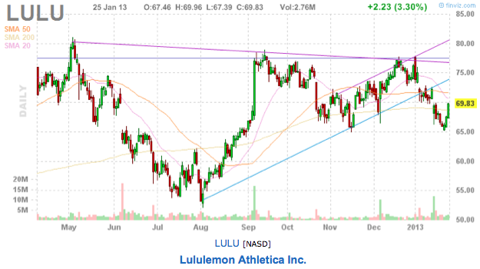 Another stock we like long is Sysco. The company is bouncing back after a sharp gap down near the beginning of the year. The hit came after Morgan Stanley (NYSE:MS) downgraded the stock from Equal weight to Underweight, as MS believes that the company will see margin pressure from rising food costs. The issue we see with this gap down is that it is not new news, and we believe that declining margins are priced into the stock. With a 15 future PE, the company is a nice value, and growth is on the way. The company is expected to see solid 5%+ growth in FY2013 and FY2014, along with its very attractive 3.5% yield. The stock has recovered from the gap down, and we like adding a small position in the stock complemented with an options hedge. The company gives a great yield, and its business has good economic moats and decent profitability. We can sell the May2013 29/27 bull put spread for an 8% gain if SYY stays above 29 through May expiration. The 200-day MA is above 29, and the company has not broken 29 for many months. With weakness priced in at this point, we like SYY for a solid investment moving forward.
Trade #2: SYY, Long and SYY, May2013, 29/27 Bull Put Spread
Max Gain: 8%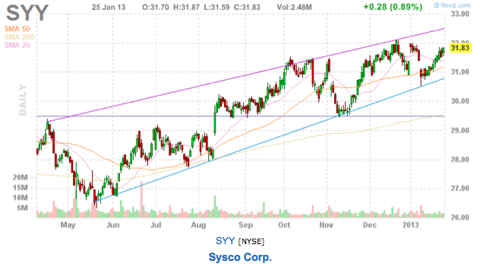 The bearish positions we like are Corning and Coach. The reason to look bearishly at Corning could be that we see near-term resistance on the back of Apple's earnings with weak iPhone sales. Corning's glass is used in the iPhone products, and the lack of success in this product could hurt GLW. Gorilla glass accounts for over 10%+ of Corning's current revenue portfolio, with a lot of the company's growth prospects coming from the fact that Gorilla glass is being used in a number of mobile phones and the phone market is growing quickly. The company is expected to see flat earnings growth, however, in 2013. The reason for this is that GLW has seen a drop in the price point on Gorilla glass and increases in the price of the goods used to produce it. Further, Oppenheimer commented that it believes GLW will miss Q1 estimates due to an oversupply of display glass and yen weakness, which is also hurting earnings. With a lot of negatives swirling around GLW, we worry about its upside into earnings this week. We could see a hit to shares if the stock does miss despite weak valuations. The company needs to prove profits/margins to really get going, and it has not done that.
Trade #3: Short, GLW
Breakout: Failure of $12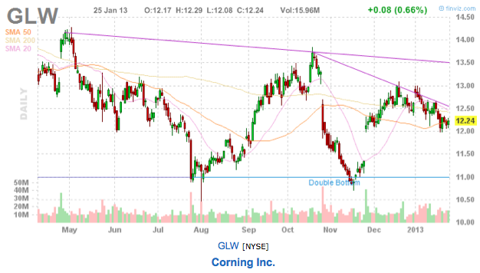 Finally, we like the looks of a bearish position in Coach. COH got hit hard after its latest round of earnings, and we believe that the report could keep shares in check for a while. The company reported that EPS came in at 1.23 vs. 1.28 expectations, and COH missed revenue estimates by $100M. Further, the company noted its holiday season was challenging in North America, and that it sees the yen as a continued hindrance to the stock. The problem we are seeing is that luxury spending is stuck right now. The short-term delay of spending from a fiscal cliff and Hurricane Sandy will alleviate in 2013, but the risks of spending cuts from the government, tax increases for wealthiest Americans, and problems with Japan's currency are all hindrances to the stock moving forward. We like a bear call spread for COH, as we believe some bounce back from the gap down could be in store over the next several weeks, but we cannot see significant upside with these earnings in mind. The company will need a catalyst to get going, and we worry that it won't get one until its next earnings report. The Mar16 55/57.50 bear call spread has nice potential, as the 50-day MA, which is below 55, is strong resistance. That position is worth 20% potential.
Trade #4: COH, Mar16, 55/57.50 Bear Call Spread
Max Gain: 20%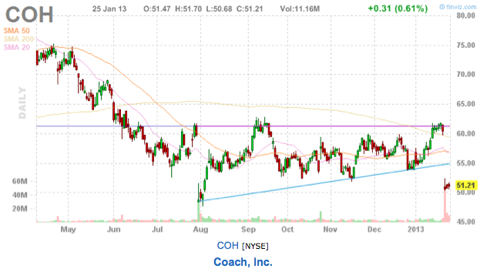 Charts courtesy of finviz.com.
Disclosure: I have no positions in any stocks mentioned, and no plans to initiate any positions within the next 72 hours.
Business relationship disclosure: The Oxen Group is a team of analysts. This article was written by David Ristau, one of our writers. We did not receive compensation for this article (other than from Seeking Alpha), and we have no business relationship with any company whose stock is mentioned in this article.