Recently, I was talking to a friend about new innovations coming out in regards to organic light-emitting diode (NASDAQ:OLED) technology. It dawned on me that the near-term future is going to be filled with an abundance of opportunities for glass surfaces. Just as the world has started to adapt to the introduction of personalized mobile devices, an even more digitized and integrated future appears promising in light of new applications which can leverage the benefits of OLEDs. More opportunities to use displays means more production of specialty glass. It's for this reason that I want to take another look at Corning (GLW).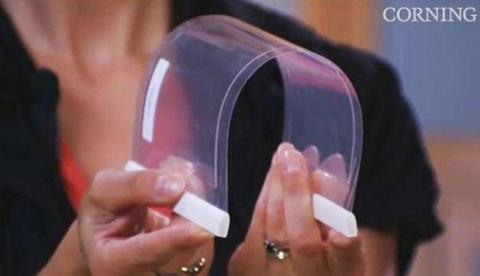 Corning isn't exactly shy in reminding the public of the intriguing outlook that lies ahead. Last year, the company's promotional video shown here went viral and even spawned a follow-up production found here. It intrigues me that the market appears to continually consider Corning more as a mere commodity manufacturer rather than the technology company it truly is. Last year I highlighted three new technologies coming out from the company as seen in my article found here. This year, those innovations are beginning to lead into commercial sales around the world.
With a history of more than 160 years old, Corning operates in an industry that has long been consolidated. In some areas Corning now competes against public companies like 3M (MMM) and PPG Industries (PPG), but there are also a few less recognized and more international names to consider such as Asahi Glass, Nippon Electric Glass, NGK Denso and Ibiden to name a few. Yet Corning has remained on the cutting edge when it comes to innovation. For instance, the company's brand of Gorilla Glass has become the standard when it comes to high-end mobile devices.
A quick look at the company's fundamentals continues to provide a pressing argument for the persistent undervaluation of the company. Overall, Corning has become a large cash generator as it took in operating cash flows of $3.12 billion in 2011. Even though the company's revenues have suffered in light of a poor economic environment, it has continued to build value. A look at the following chart shows that the company has been hard at work when it comes to increasing book value and buying back shares. Nevertheless, the market has apparently failed to recognize these efforts.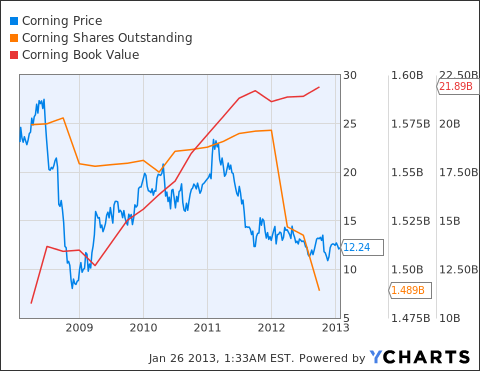 Even while it was buying back stock and increasing its book value, Corning went one step further by increasing its dividend. Since the start of the Recession 2007, Corning had distributed a quarterly payment of $0.05. Yet since the end of 2011, Corning has begun to increase this payment in what is possibly the start of a consistently growing dividend. The company has now boosted that quarterly dividend by 80% over the last two years, up to $0.09. This now results in a present day annual yield of 3%.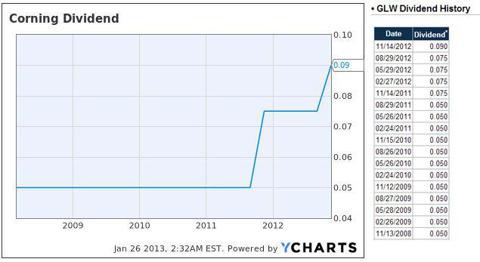 In the long term, it will inevitably remain perplexing if Corning stays at its current share price levels. As of January 25, the company was last priced at $12.24. Corning continues to innovate and gain ground in several growing industries. Above all, the current metrics already appear attractive in the present. The $18 billion company has a forward P/E ratio of only 9.34 while trading at a price-to-book ratio of 0.82. Corning is actively increasing its dividend and has bought back large tracts of company shares. In November 2012, Corning also used cash to buy back debentures, thereby reducing interest payments going forward. Overall, the company remains in a very healthy financial state and should remain on the radars of buy-and-hold investors looking for an opportunity.
Disclosure: I am long GLW. I wrote this article myself, and it expresses my own opinions. I am not receiving compensation for it (other than from Seeking Alpha). I have no business relationship with any company whose stock is mentioned in this article.