By: Brendan Gilmartin
Yahoo! (YHOO) is scheduled to report 4Q 2012 earnings after the close of trading on Monday, January 28. The results are typically released soon after the closing bell and will follow with a conference call at 5:00 p.m. EST. This is a pretty significant quarter for Yahoo! with the company in a transition phase under CEO Marissa Mayer and its shares trading at the highest level since the fall of 2008.

Outliers & Strategy
Key measures:
Non-GAAP Earnings Per Share: The current Street estimate is $0.28, with the high end of the range at $0.34 (Source: Yahoo! Finance). Given the recent jump in the share price, look for Yahoo! to post earnings closer to $0.34 in order to sustain the advance.
Revenues Ex-Traffic Acquisition Costs: The current estimate is $1.21 bln with estimates running as high as $1.24 bln.

Last quarter, Yahoo! did not provide guidance given Ken Goldman's brief tenure as CFO of the company to that point. Historically, Yahoo! has provided revenue guidance for the ensuing period. It's not clear whether Mr. Goldman will reinstall that policy or make any adjustments to the way Yahoo! has traditionally reported its future outlook.
Back in September, 2012 Yahoo! announced the first part of a sale in its 40% stake in Alibaba Group for $6.3 billion in cash and $800 million in preferred shares. The company vowed to use the proceeds for share repurchases.
Recent News
01/07: Bernstein Research downgraded Yahoo! from Outperform to Market Perform, with a price target of $23, according to a post on StreetInsider.com. The downgrade was based on uncertainty surrounding the upcoming IPO of Alibaba group and the sale of Yahoo! shares in the deal, along with weakness in the core business.
12/24: Needham & Co. raised its price target on Yahoo! from $19 to $26, according to a report on Barron's Online. The firm notes that aggressive share repurchases could help lift the stock, similar to a plan implemented by AOL Inc. (NYSE:AOL).
11/26: Goldman Sachs added Yahoo! to the firm's Conviction List and raised the price target from $22 to $24, according to a post on Barron's Online. Among the factors for the bullish case include an aggressive share repurchase plan, ongoing turnaround efforts, and improving search revenues. The firm also makes the case that Yahoo! could reach $35 per share if it follows through on divestitures of Yahoo! Japan and its remaining holdings in Alibaba.

Technical Review
Yahoo! shares are up more than 30% since early September, en route to the highest level since 2008. Given the recent strength, earnings will be watched closely for signals that the underlying business is seeing some improvement. Should results exceed estimates, look for a breakout above the recent peak near $20.50, with little resistance in sight. Conversely, support is at the 20-Day SMA near $19.75, with downside risk to $19.00, followed by the 200-Day SMA all the way down near $16.50. (Chart courtesy of StockCharts.com)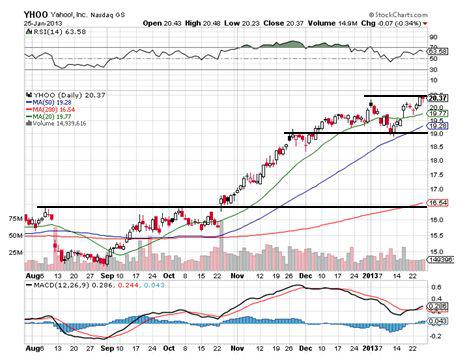 Summary
Yahoo! shares are at a multi-year high in advance of the 4Q earnings release, with the company benefiting from restructuring efforts under the leadership of CEO Marissa Mayer, a rich buyback program fueled by the sale of a partial stake in Alibaba Group, and reports of improving search revenues. But with proceeds from further sales of Alibaba shares and a Yahoo! Japan divestiture priced in, earnings will get careful scrutiny for evidence of organic improvements in the core business and proof that turnaround efforts are helping to improve the core business. Any missteps could prove costly for Yahoo! shares given the recent advance.
DISCLAIMER: By using this report, you acknowledge that Selerity, Inc. is in no way liable for losses or gains arising out of commentary, analysis, and or data in this report. Your investment decisions and recommendations are made entirely at your discretion. Selerity does not own securities in companies that they write about, is not an investment adviser, and the content contained herein is not an endorsement to buy or sell any securities. No content published as part of this report constitutes a recommendation that any particular investment, security, portfolio of securities, transaction or investment strategy is suitable for any specific person.
Disclosure: I have no positions in any stocks mentioned, and no plans to initiate any positions within the next 72 hours. I wrote this article myself, and it expresses my own opinions. I am not receiving compensation for it (other than from Seeking Alpha). I have no business relationship with any company whose stock is mentioned in this article.