There's no denying the last several days have been bullish ones for stocks. What traders may not realize, though, is just how unusually bullish they've been. The S&P 500 Index (SPX) (NYSEARCA:SPY) has advanced for eight straight days now. That's the longest winning streak since 2004, which has left the index just 4.1% shy of its all-time peak of 1565.15 from October of 2007.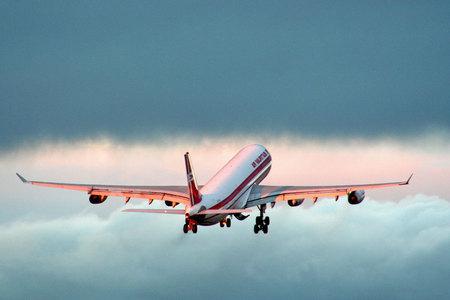 On the surface it all seems bullish. Yet, there's something naggingly bearish about the whole thing too. When the market starts to do things it hasn't done in years, it's often a transition - a proverbial "last hurrah' that kicks off something in the exact opposite direction.
We'll look at that tug-of-war in a second, right after recapping last week's major economic numbers. Fortunately, there wasn't much.
Economic Calendar
Considering how little economic news there was last week, it's surprising that traders were inspired enough to lead the market to a bullish feat it hasn't performed in years. Even more surprising is that what little news we had on the economic front would be interpreted as more bad rather than good, and stocks soared anyway.
The bad news was a drop in the number of existing homes sold, as well as a drop in the number of new homes sold. Both December figures rolled in under expectations, as well as below November's levels. Though neither could be considered catastrophic, given that housing had been one of the recent economic highlights, to see a stumble now could have - should have - been a reason to start a wave of profit-taking.
On the upside, initial unemployment claims fell to new multi-year lows of 330,000, extending a long-term downtrend. Continuing claims didn't hit new lows last week or the week before, but the number has also been broadly trending lower since 2010.
Economic Calendar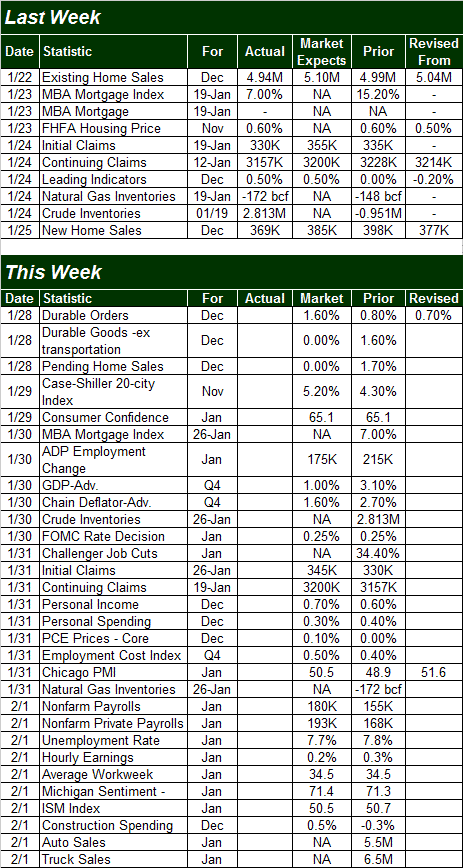 The coming week is going to be a much busier one in terms of economic numbers. Indeed, it could be considered an overwhelming one. We don't have time or room to discuss all of them, but there are a few highlights you'll want to be ready for.
Monday: Durable goods orders should be up 1.6%, but only because of vehicles. Without vehicles, orders are expected to come in flat.
Wednesday: The first guesstimate of Q4′s GDP will be announced. The pros are only looking for a growth rate of 1.0%… much less than the prior annualized rate of 3.1%.
Wednesday: As an omen of Friday's official payroll growth figure, we'll hear the ADP employment change report. Economists expect growth of 175K jobs, at least as reported by ADP.
Friday: This is D-Day for jobs, and joblessness, all in one shot. The government tally of new jobs is forecasted to be 193,000 new nonfarm private payrolls (and 180,000 net new jobs factoring in government layoffs). That should be good enough to scoot the unemployment rate down from 7.8% to 7.7%.
Stock Market
Like it or not, you have to give credit where it's due. The bulls have been effective of late, driving the S&P 500 up by 16.98 points (+1.14%) last week, taking the index to its highest levels seen since the peak from October of 2007. In fact, last week's close of 1502.96 is just 73.13 points (4.86%) from that all-time peak of 1576.09 in October of 2007.
That's not even the most impressive part of the current rally, though. What's even more amazing is that over the past four week, the S&P 500 has gained 7.1%, and over the past ten weeks [following the low from mid-November], the SPX has gained 10.5%.
That's a lot, and in some ways it's such a big move, it's also asking for trouble. After all, how quickly can the market really make sustainable gains of that magnitude? The scariest part of all? The fact that the S&P 500 closed above both its 26-week and 52-week Bollinger bands on the weekly chart.
The CBOE Volatility Index (VIX) (NYSEARCA:VXX) is still very low compared to recent history, see the charts below.
S&P 500 & VIX - Weekly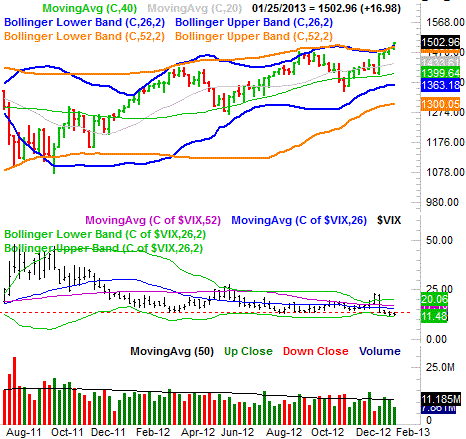 Just for the record, though, it's not like the sheer size of the move itself is the alarming part; the S&P 500 has made bigger and longer moves…recently too. The rally between June and September of last year was an eighteen week affair, and carried the SPX up by 14.3%. The rally between late December of 2011 and March of last year lasted eighteen weeks too, and was good for a 21.5% advance.
Point being, of all the things to worry about right now, the distance and length of this rally is the least of them. The big worry now is how overbought the market (NYSEARCA:DIA) (NASDAQ:QQQ) (NYSEARCA:IWM) is, and how the market is going to respond when and if the index reaches that prior peak of 1576.09. After all, let's face it - earnings results so far have been less than thrilling, and the economy started to show a couple of weak points in its armor last week.
Does anything else become clearer when we zoom into a daily chart? Not really. On the daily chart the S&P 500 is still going strong, pressing into its upper 50-day Bollinger band, but content to go no further. In some regards that's the best thing the bulls could do… advance at an inconspicuous, modest pace that doesn't invite profit-taking.
Of course, it's a rarity for the bulls or the bears to let a good thing last. Sooner or later, greed or excitement will kick in, take the index just a little too high too fast, and kick-start an overdue - though admittedly healthy - pullback.
S&P 500 & VIX - Daily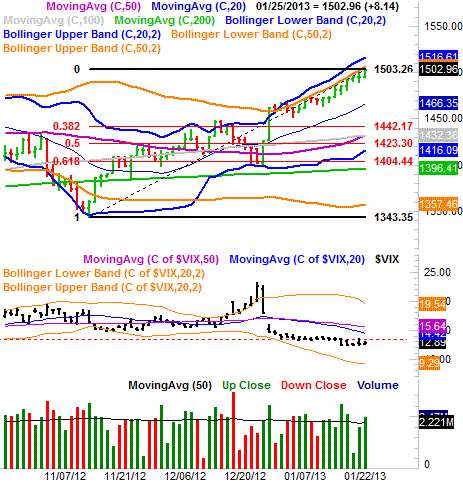 The good news is, it may take a brush with the upper 20-day Bollinger band (currently at 1516, and rising) before the bulls carry the index to the tipping point. It's the upper 20-day band that ultimately started the September/November pullback.
For the time being, though, the trend is bullish, and we have to assume that will remain the case until we see a clear and decisive reversal bar. Once that materializes, the biggest and best floor is right around 1432, where the 50-day and 100-day moving average line have converged. Neither will still be there by the time either could be tested, but both have the most potential to act as a floor whenever and wherever they're tested again. You'll also see there are key Fibonacci retracement levels at 1442.17, 1423.3, and 1404.44… very much aligned with the 100-day and 50-day moving averages' current levels.
Disclosure: I have no positions in any stocks mentioned, and no plans to initiate any positions within the next 72 hours. I wrote this article myself, and it expresses my own opinions. I am not receiving compensation for it. I have no business relationship with any company whose stock is mentioned in this article.
Additional disclosure: BigTrends Rapid Options Income clients have an open SPY options position. BigTrends ETFTRADR clients have an open QQQ options position.