Nokia (NYSE:NOK) was once on top of the smartphone market, but Research in Motion (RIMM) outdid them. Then Apple (NASDAQ:AAPL) took top spot. Google's (NASDAQ:GOOG) Android is now the largest market share smartphone operating system, and Samsung is the largest Android phone maker, with more worldwide sales of smartphones than Apple.
Microsoft (NASDAQ:MSFT) is still far behind, but is slowly gaining some share with its new phone system and an Apple copy-cat attempt at an "ecosystem" with Windows8, phones and tablets - and a stab at stores.
Some former hot Android phone makers such as HTC are falling behind. Sony (NYSE:SNE) is still seeking market share.
At the same time, some other Asian companies, such as Huawei, ZTE and CoolPad are coming on strong in the lower priced smartphone market. [CoolPad is a subsidiary of Yulong Telecommunications, which is a subsidiary of China Wireless Technologies].
New Linux-based operating systems are being released or developed that may further increase the smartphone competitive landscape. Firefox says it is near to releasing a new smartphone system, and there is a system in development called Tizen, that is financially backed by Intel and Samsung, among others. Also, the former Palm WebOS, owned by HP (NYSE:HPQ) is supposed to be available now or later for smartphone development.
All of the new operating systems will face the steep challenge of a comparative lack of apps, and how to create incentives for developers to focus on building those apps.
Lenovo (OTCPK:LNVGY) is rumored to have interest in buying Research in Motion, which is about to release a new phone (BlackBerry 10), which they hope will put them back on the road to growth.
Apple and Samsung are kings of the hill now. Nokia was also once, as was Research in Motion. Today other competitors are charging up the hill, hoping to become the new king(s). That is sort of the way evolution works. Empires rise, mature and decline, while new empires are created. It happens geopolitically; and it happens in business.
The keys to who stays on top or who rises to the top next seems to be linked to one or more of further breakthrough innovation, lower prices, and possibly local appeal in key markets, among which the most important may be China.
We think wearable computing will be the next big thing - getting rid of the need to hold something in the hand.
Cars already "wear" smartphones for a hands-free experience, and we thing people will begin to wear their computers too. Google Glass, expected to be available to the retail market in 2014, would be an example. Reportedly, both Apple and Microsoft are working on some sort of wearable telecommunications devices as well.
First to market with a good wearable smart mobile device, particularly one that can do some things that smartphones can't do, could go a long way to firming current leadership or creating a new leader.
Here are 5-year charts showing price, earnings and dividends for smartphone leaders of yesterday, today and contenders for leadership tomorrow. Some are listed in the US. Some have ADRs, and others can be purchased in local markets through those brokers who have international departments.
The local market identity and symbol for each company is shown above each chart. There may be quite limited liquidity and high execution risk for some of the securities that can be purchased in the US, but are home-based elsewhere. In such cases, serious consideration should be given to purchasing in the local market, or by-passing the security.
Finland: NOK1V (US: NOK)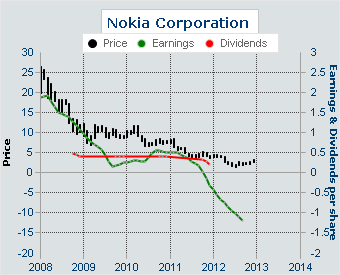 Canada: RIM (US: RIMM)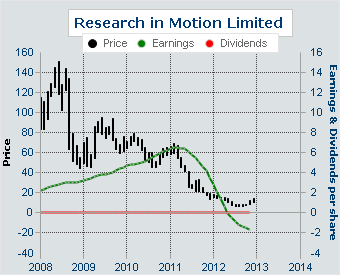 US: AAPL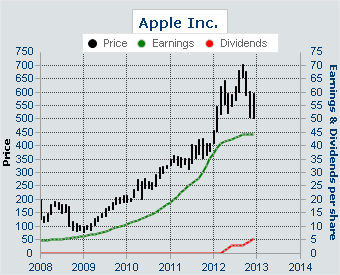 US: GOOG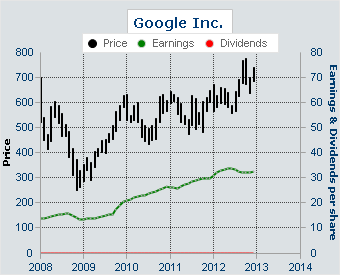 South Korea: 005930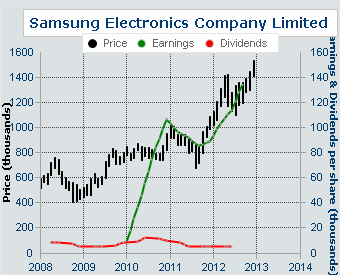 US: MSFT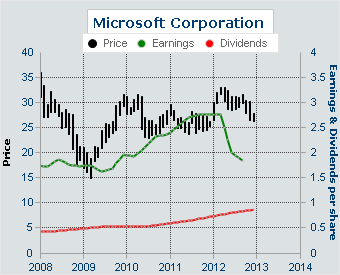 HONG KONG: 992 (US: LNVGY)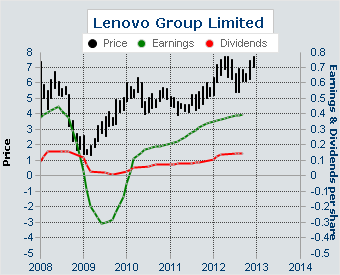 China: 002502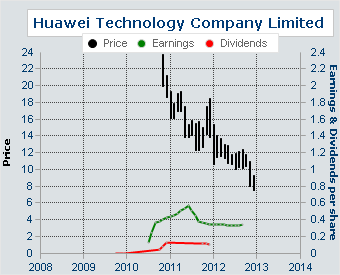 Taiwan: 2498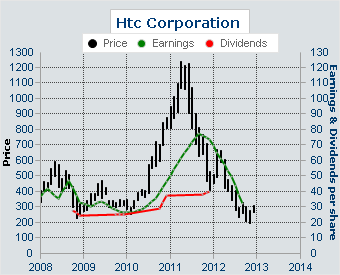 Hong Kong: 2369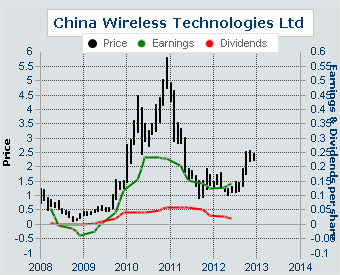 Hong Kong: 763 (US: ZTCOY)
Japan: 6758 (US: SNE)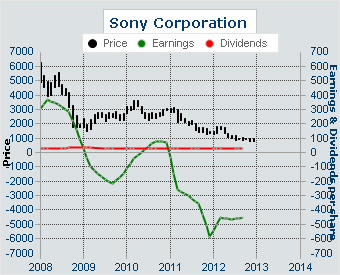 Disclosure: QVM has positions in AAPL and MSFT as of the creation date of this article (January 27, 2013). We certify that except as cited herein, this is our work product. We received no compensation or other inducement from any party to produce this article, but are compensated retroactively by Seeking Alpha based on readership of this specific article.
General Disclaimer: This article provides opinions and information, but does not contain recommendations or personal investment advice to any specific person for any particular purpose. Do your own research or obtain suitable personal advice. You are responsible for your own investment decisions. This article is presented subject to our full disclaimer found on the QVM site available here.