For the third quarter Cirrus Logic (NASDAQ:CRUS) surpassed even its own expectations due to stronger than anticipated shipments towards the end of the quarter. As a result, revenue was about 9% above guidance.
Reported Financial Results - Third Quarter FY2013
Revenue of $310 million;

Gross margin of 51%;

GAAP operating expenses of $52 million and non-GAAP operating expenses of $43 million;

GAAP diluted earnings per share of $0.99 and non-GAAP diluted earnings per share of $1.64.
During the quarter, the company's R&D department was in full throttle. The need for high quality mixed signal technology is becoming more important in the company's strategic markets. For example, the voice experience in smartphones and tablets is becoming more important and new technologies such as active noise cancellation, boosted audio amplifiers and low power DSPs are becoming more important.
The chart below illustrates sales as a percentage of new product offerings compared to products that have been developed years ago: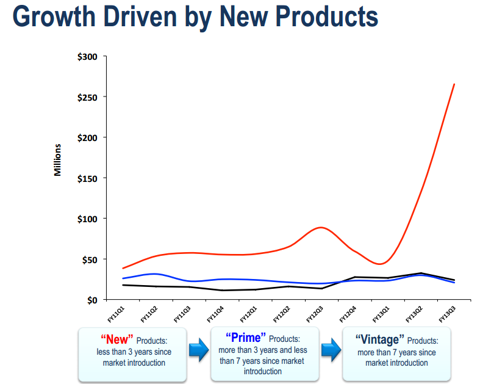 The company has said customer diversification is one of its highest priorities and will take much time and resource commitment. The company however said efforts are beginning to pay off, as the company's products from its audio catalog are being shipped to several phone manufacturers. Having said that, Apple (NASDAQ:AAPL) is still the company's largest customer and was responsible for 91% of sales for the current quarter and 82% of sales for the nine months of fiscal 2013.
On November 20, 2012 the company announced a share repurchase program of up to $200 million of the company's common stock. The company repurchased 1.5 million shares of its common stock for $47.9 million during the third quarter of fiscal year 2013, at an average cost of $30.96 per share, leaving approximately $152.6 million available for repurchase under this plan as of December 29, 2012. With close to $150 million in cash and marketable securities and with steady cash flow and no debt, I estimate the company will reduce its total outstanding common stock float by about 7% of over the next 9 months.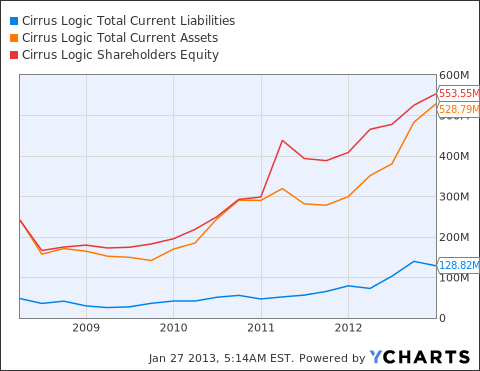 CRUS Total Current Liabilities data by YCharts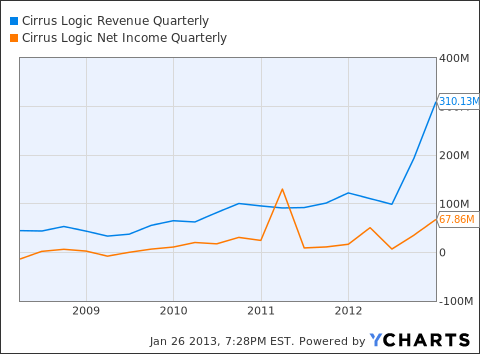 CRUS Revenue Quarterly data by YCharts
The company does not provide for guidance for more than one quarter. Revenue guidance for the next quarter is about $210 million, which is almost double last year's comparable quarter y-o-y. And taking into consideration the rapid expansion of smartphones, tablets and all sort of smart devices, my best educated guess is that in terms of revenue, the company will do better than top line analyst estimates of about $1.1 billion for fiscal 2014. In other words, my forecast for fiscal 2014 is about $1.2 billion in revenue, which is almost 50% higher than fiscal 2013 projected revenue estimates.
Add to that the excellent balance sheet and the stock repurchase program and this stock should have no problem outperforming the market.
Many seem to think that Cirrus Logic should trade in tandem with Apple's stock. I disagree with that.
Like I said in my previous take on the company, Apple and Cirrus Logic have a very special relationship. The products that the company sells to Apple are not in its catalog. All things made for Apple are custom built and are only made for Apple. And because these companies have such a good relationship, there is no reason to think that Apple will dump the company as a supplier.
Another reason is that at the moment, Cirrus Logic is experiencing higher growth than Apple, both on a EPS and revenue basis. And as far as I can see, this trend will continue.
Also, as Apple prepares to make lower-priced phones, the company's business with Apple will increase because Cirrus Logic will ship more products. More smartphone sales from Apple means more individual component shipments for Cirrus Logic.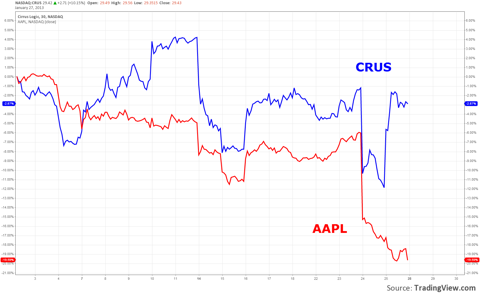 If we look what has been happening from the beginning of the year, Cirrus Logic has not traded in tandem with Apple. While Apple has tanked, Cirrus Logic has basically kept its ground. And I think this will continue into the year, no matter what happens to Apple's stock.
Bottom Line
There is absolutely nothing I don't like about this company. As such I reiterate my $56 a share target price for the stock over the next 12 months, or until such time that I see something I don't like that makes me change my mind.
With a forward P/E of about 7, the absolute worst that can happen owning this stock is that you will not make money.
Disclosure: I have no positions in any stocks mentioned, and no plans to initiate any positions within the next 72 hours. I wrote this article myself, and it expresses my own opinions. I am not receiving compensation for it (other than from Seeking Alpha). I have no business relationship with any company whose stock is mentioned in this article.