The stock market has enjoyed quite a run so far in 2013. This has included an advance on the S&P 500 in each of the last eight trading days, the longest such winning streak since 2004. In the process, the S&P 500 has crested above 1500 for the first time in over five years. Given such a strong recent advance, it is reasonable to wonder - is it too late to get on board this latest stock market advance? Or do stocks have further to run? The answer - investors likely still have time to grab a ticket and ride the stock market higher in the near-term, but it will remain as important as ever to keep a close watch on the many risk metrics along the way.
While I am bearish on the long-term outlook for stocks, I have been short-term bullish over the last few months for one key reason. That is, of course, the deluge of liquidity flooding into the financial system thanks to the latest QE3 stimulus program from the U.S. Federal Reserve. And a key change to this program goes a long way in helping to explain the unwavering persistence of the stock rally over the past three weeks, for it was on January 4 that the Fed officially added the daily purchase of U.S. Treasuries to the list of asset purchases under QE3. After all, the froth has been building in the market ever since.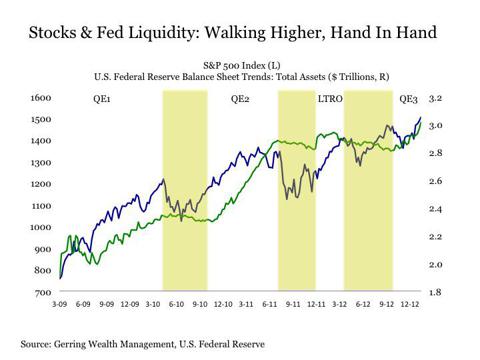 The importance of balance sheet expanding monetary stimulus by the U.S. Federal Reserve (or the European Central Bank for that matter) on the U.S. stock market cannot be understated. Since the Fed first fully engaged in quantitative easing back in March 2009 through today, the stock market has moved hand in hand with the flow of liquidity into the financial system. For when the balance sheet of the Federal Reserve (QE1, QE2 and now QE3) or the European Central Bank (LTRO) was steadily expanding, the stock market also rose with a remarkably high correlation of +0.87.
But from literally the moment the Fed stopped expanding its balance sheet at any point along the way, the market has almost immediately plunged into phases of sharp volatility marked by swift and extreme corrections ranging from -10% to -25% in a matter of weeks. So more than what anyone may believe good or bad about the global economy or corporate earnings or anything else for that matter, the power of outright asset purchases by the Fed and other major global central banks has unfortunately dominated financial markets by drowning out nearly all else that would otherwise be critically important in investor decision making.
This fact raises some important questions. How far can stocks realistically rise under QE3, which currently is unbounded with no set end date? And what, if anything, can derail the stock market from its current trajectory going forward?
The answer to the first question is simple. Under unlimited quantitative easing, we could see the stock market rise beyond all reason in the months ahead. This includes breaking through the previous highs of 1576 on the S&P 500 and beyond. And such an advance may occur regardless of valuations or how weak underlying economic and market fundamentals may be. For when the Federal Reserve is literally dropping a $2.5 billion bag of money on the doorsteps of the major banks each and every trading day, this provides a great deal of fuel to push stocks higher.
The answer to the second question, however, is far more complex. For history has shown that stocks are not completely immune to volatility under the influence of QE. In fact, stocks have actually reached exhaustion and stopped responding during such programs. Therefore, it is worthwhile to examine more closely the periods when stocks began to falter during periods of balance sheet expansion by the Fed to see exactly what we might need to watch for any potential change in the tides.
Some of the traditional readings that might otherwise signal a market top are likely to continue proving elusive under QE3.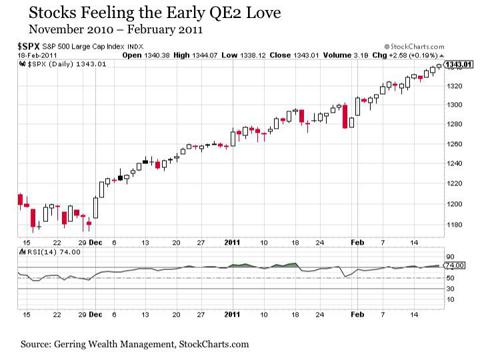 First, while it may seem extraordinary that stocks have risen in 11 out of the last 15 trading days, or more than 73% of the time, since Treasury purchases were added to the program, this is certainly not unprecedented. For stocks gained in 40 out of 56 trading days, or more than 71% of the time, over a two-and-a-half month stretch from the end of November 2010 through the middle of February 2011 under QE2. And stocks gained in 32 out of 47 trading days, or more than 68% of the time, over the entire two month duration of the ECB's LTRO program from late December 2011 to the end of February 2012. So just when it seems like the stock market simply cannot go up yet another day, do not be surprised if it continues to go up many more.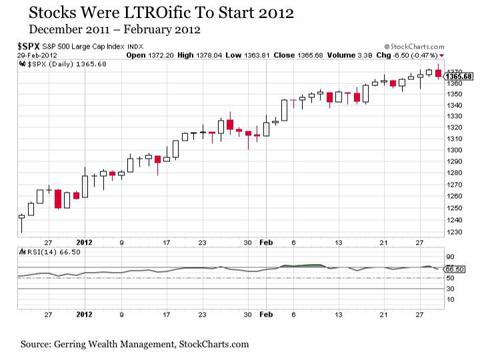 Also, normally reliable technical readings may also continuously signal overbought conditions for longer than imaginable. For example, the Relative Strength Index is historically a consistent indicator of overbought market conditions, with a reading over 70 signaling that a short-term pullback is imminent. After rallying by +6% over three weeks under QE2, the S&P 500 reached an overbought RSI reading of 70.81 on December 21, 2010. But instead of correcting, stocks continued to rise by another +7% over the next two months almost without interruption through mid February 2011.
Along the way, stocks maintained an RSI level at or above 65 in all but six of the 42 trading days during this time period and only had two days total where the market declined by more than -0.30%. The same was true under the ECB's LTRO program, for once stocks reached overbought territory on February 3, 2012, they continued to rise by another +2% through the end of the month and held an RSI reading at or above 65 for all but one trading day during this stretch. Thus, overbought signals may provide false sell signals as we move forward under QE3.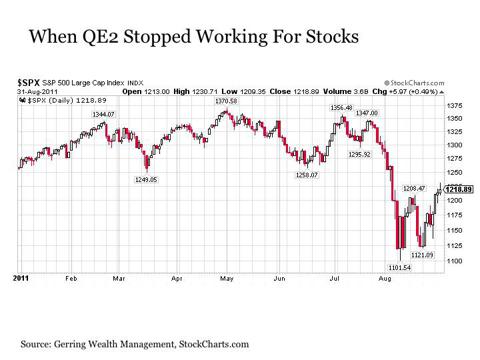 But while the stock market may seem impenetrable under QE, one particular period of time during the QE era warrants close attention in proving otherwise. For during the last four-and-a-half months of QE2 from February to June 2011, which represented 65% of the length of this particular stimulus program, stocks entered into a period of sharp sideways volatility that included a -2% total decline on the S&P 500. Along the way, stocks swung back and forth by as much as -8% to the downside and +10% to the upside. This is hardly the QE-related euphoria that so many have come to know and expect from the stock market.
So what exactly occurred during this particular time period that caused stocks to stop responding to QE? This is a critically important question, for understanding this answer may prove vital in anticipating when the markets may finally reach exhaustion and turn lower under QE3.
One reasonable hypothesis is that stocks began anticipating the end of QE2 well in advance of its conclusion at the end of June 2011. This is an important idea to consider, particularly since the current QE3 program has no set end date and would not be subject to the same terminal pressure. While this was potentially a factor during QE2, it was not likely the primary driver of the market turning sideways starting in mid February 2011 given the fact that the stock market managed to set an incremental new high at the beginning of May 2011 and revisited these highs once again after the conclusion of QE2 in July 2011.
In other words, if investors were anticipating the end of QE2 over four months in advance, it likely would have lacked the strength to revisit these initial highs not long after the completion of the program. Moreover, the stimulus driven markets over the last several years have demonstrated themselves to be less anticipating and more prone to violent daily swings on the news of the moment. With all of this being said, if the market begins to sense that an end to QE3 may come sooner rather than later, expect the market to react violently to the news.
Another viable consideration for why stocks stalled under QE2 starting in mid February 2011 was the steady stream of market rattling news that began to flow during this stretch. This included renewed concerns over the debt crisis in Europe, the outbreak of the Arab Spring, the earthquake and tsunami in Japan, and the U.S. debt ceiling debate that was looming that summer. While the market showed repeated resilience to shake off these events and subsequently bounce back following any sharp short-term sell-offs, it does suggest that the stock market can potentially be rattled under the influence of QE if the news flow raises sufficient alarm and uncertainty among investors. But once again, it is difficult to specifically quantify these forces as an exact reason for the sideways move in the market at the time.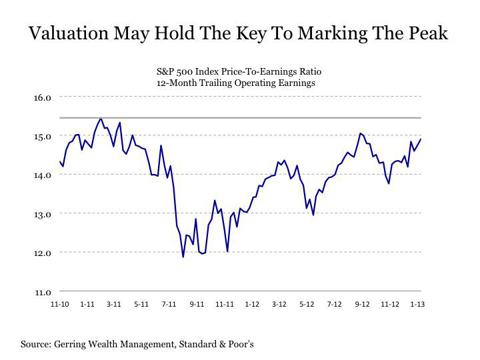 One metric that can be quantified in this context is valuation. And one potential factor that may have led to the market peaking during QE2 in mid February 2011 was stock prices arriving at a threshold where the market was no longer willing to pay any more for each dollar of earnings provided by the broader market. During this time, stocks peaked at a price-to-earnings ratio of 15.45 times 12-month trailing operating earnings on the S&P 500 Index. And stocks have yet to return to these valuation levels in the nearly two years since despite reaching new highs on a price basis (the fact that corporate revenue growth has essentially ground to a halt and earnings growth has fallen into decline both on a year-over-year basis certainly cannot help in this regard).
It is worth noting that if corporate earnings for the remainder of the quarter manage to hold the current broad market estimate (this is still a reasonable "if"), stocks would arrive at this prior peak valuation at roughly 1560 on the S&P 500 Index, which is just a few points away from its all-time high of 1576 back in October 2007 and just above the previous high of 1552 dating back to March 2000. All the more reason that this particular price range may prove interesting to watch as we move through 2013.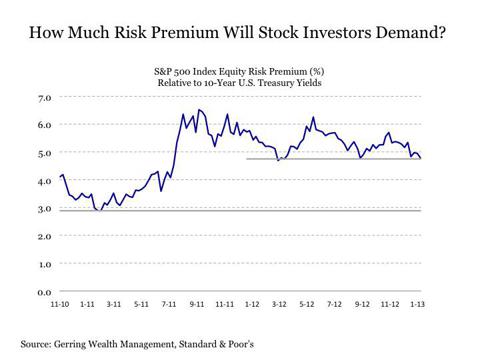 Of course, stock valuations do not exist in a vacuum with all else held equal and must also be evaluated relative to the movement of other investment alternatives. Most important among these is the 10-Year U.S. Treasury yield, which closed the week with yields sharply higher at 1.95%. Of course, this same yield was considerably higher at 3.59% back in February 2011. This implied an equity risk premium at the time of just below 3%. The fact that Treasury yields are considerably lower today provides much greater scope for stocks to move the upside with a current equity risk premium of roughly 4.75%. But if recent history under QE is any guide, a sharp rise in Treasury yields would likely be the main driver in closing this risk premium, with the rise in stock price valuations serving as secondary.
Moreover, it is worth noting that the current equity risk premium is now at low levels over the past year last reached just after the end of the ECB's LTRO in early March 2012 and at the launch announcement of QE3 in mid September 2012. Nonetheless, it remains supportive for further solid gains in the months ahead if stocks can break through this resistance, perhaps even surpassing previous all-time highs on the S&P 500, but certainly not limitless upside.
So is it too late to ride the stock market rally? The answer is no in the short-term, as the market likely has further to move higher under the influence of this latest round of monetary stimulus from the U.S. Federal Reserve (the longer-term, of course, is an entirely different story). Although it is currently overbought and well overdue for a pullback, the forces of stimulus may continue to propel it higher at least over the next few weeks if not months. Thus, it is worthwhile to maintain existing stock positions and even consider incrementally adding to positions where warranted. Ideal allocations include more price sensitive U.S. mid-cap stocks (NYSEARCA:MDY) and emerging market stocks (NYSEARCA:EEM) including markets such as China (NYSEARCA:FXI) and Brazil (NYSEARCA:EWZ), both of which still have room to catch up to U.S. equity markets on a relative basis. As for individual names, more stimulus sensitive commodity names like BHP Billiton (NYSE:BHP) in mining and copper, Occidental Petroleum (NYSE:OXY) and Apache (NYSE:APA) in energy and Potash Corporation (POT) in agriculture all stand to benefit. High Yield Bonds (NYSEARCA:HYG) are also an attractive choice for stock-like exposure with less volatility.
But with all of this being said, this remains a market that is running on the fumes of monetary stimulus, not sound economic or market fundamentals. Therefore, it is certainly not without risk and likely should be viewed with a near-term focus in mind. As a result, maintaining hedges that provide portfolio diversification that are generally uncorrelated with the stock market but also stands to benefit from balance sheet expanding Fed stimulus is certainly worthwhile from a total returns and risk control perspective. Leading among these is gold (NYSEARCA:GLD) and silver (NYSEARCA:SLV), which can be allocated in a securities portfolio through positions such as the Central GoldTrust (NYSEMKT:GTU), the Central Fund of Canada (NYSEMKT:CEF) and the Sprott Physical Silver Trust (NYSEARCA:PSLV). Fixed income allocations such as Senior Loans (NYSEARCA:BKLN), U.S. TIPS (NYSEARCA:TIP), Build America Bonds (NYSEARCA:BAB), National Municipal Bonds (NYSEARCA:MUB) and High Yield Municipal Bonds (NYSEARCA:HYD) are also worth consideration in the current environment. These hedges are not only attractive on an absolute returns basis but many are also overdue to close the relative performance gap versus stocks in the months ahead as well.

Disclosure: I am long FXI, EWZ, BHP, OXY, POT, APA, BAB, TIP, MDY, EEM, GTU, CEF, PSLV, BKLN, HYG, MUB, HYD. I wrote this article myself, and it expresses my own opinions. I am not receiving compensation for it (other than from Seeking Alpha). I have no business relationship with any company whose stock is mentioned in this article.
Disclaimer: This post is for information purposes only. There are risks involved with investing including loss of principal. Gerring Wealth Management (GWM) makes no explicit or implicit guarantee with respect to performance or the outcome of any investment or projections made by GWM. There is no guarantee that the goals of the strategies discussed by GWM will be met.