More than 11 million Mellanox shares changed hands last Thursday.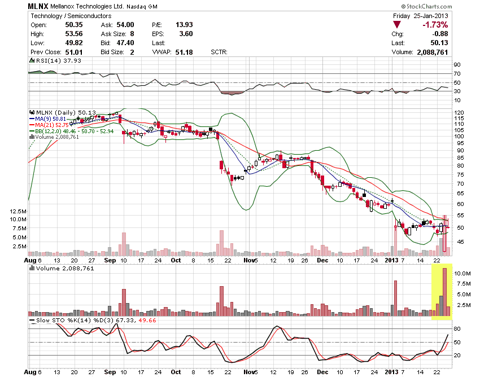 So many questions are currently surrounding Mellanox Technologies Ltd. (NASDAQ:MLNX). The Infiniband developer's share price plunged 19% in after-hours trading on the Nasdaq last Wednesday after publishing its fourth quarter report and a disappointing guidance for the first quarter of 2013. Still, shares ended up on Thursday down just 1%, and was down by only 3% going into the weekend.
Yet trading in Mellanox's shares on Thursday was unprecedented. Not only by the much smaller than anticipated fall in percentage terms but also in high trading volume, more than 11 million shares changed hands compared with an average daily turnover of 1.4 million shares. Even in the dramatic days of recent months, for example following the lowered expectations in the beginning of January, or the disappointing forecast for the fourth quarter in October, trading volume was far lower than that recorded last Thursday.
As of last week, the company had 6.76 million shares short. Possibly, a large percentage of shareholders rushed to cover their short positions. Another explanation as to why the fall was relatively modest was that one or several large investors bought large amounts of shares in block trades.
If there was indeed a strategic investor, it could well be Oracle Corp. (NYSE:ORCL), which already holds 9.8% of Mellanox. Oracle may have decided to take advantage of the fall in the share price to raise its stake. Originally Oracle acquired 10.2% of Mellanox shares and according to Mellanox management was not supposed to buy more. But maybe things have changed.
Alternatively, the buyer could be a financial institution exploiting the situation to make a strategic investment. We may discover soon who bought the shares, especially if the buyer was Oracle, which will be required to report the acquisition through an amended Schedule 13G promptly, as required by the law.
Disclosure: I have no positions in any stocks mentioned, and no plans to initiate any positions within the next 72 hours. I wrote this article myself, and it expresses my own opinions. I am not receiving compensation for it (other than from Seeking Alpha). I have no business relationship with any company whose stock is mentioned in this article.