Redmond-based Microsoft (NASDAQ:MSFT), like the rest of the industry's PC players, has been savaged in the last year due to concerns about falling PC sales. Microsoft, the biggest software company in the world, has seen a tough sell for its new release of Windows OS due to the slowing of the PC industry. The company has spent billions of dollars developing and marketing Windows 8, but by all accounts, it has proved to be a failure. Microsoft can't get the market; the entire PC industry is under siege, there's no way for Windows 8 to make a smash hit. The market has moved into tablet space.
The rise of mobile devices has take a single major threat on Microsoft's Windows operating system business, which at present powers most of the world's desktop operating system and which has ruled the PCs, laptops, netbooks and desktops during the last two decades. The rapid adoption of the smartphones, tablets, e-readers and internet connected TVs has put a massive pressure on Microsoft's core business.
According to research firm IDC PC sales have fallen the most in 3Q12 since 2001 primarily due to the rise of smartphones and tablets. Tablets have completely dominated the industry, cannibalizing PC sales. The market has moved on. Tablets, such as iPad tablets, deliver the same level of speed, mobility, flexibility and price. And even better, they provide unique functionality; PCs are facing an uncertain future and decline.
The hopes that a new version of Microsoft's Windows Operating System-Windows 8- would revive the PC market and company's bottom line are also fading. Windows 8 is off to a slow start, and proved to be a tough sell for Microsoft. The company believes that the new version of Windows represents the best of both worlds- a user and business friendly OS combined with touch-based user interface toward mobile computing. It's an OS built on single purpose- to power next-generation computing. The company has hedged its bet on the PC market by making its Windows 8 tablet more powerful by getting more features on board and making them business friendly. But for some big players in the PC industry, the transition to tablets and smartphone is much harder and proved to be a tough game. HP's foray into the tablet space has been a major disaster. Austin-based Dell (NASDAQ:DELL) has also failed miserably with its entry into the tablet market.
The software company doesn't have much of an option; 2012 saw the biggest decline in PC sales, which are down 14%. With the mobile computing revolution well underway, and tablets getting the big buzz, traditional PC companies are in quite a scary situation. To make matters worse, Microsoft is getting new competition in the market, the growing threats from Apple (NASDAQ:AAPL) and open source Linux OS.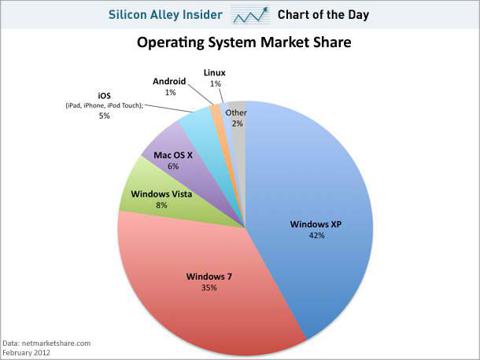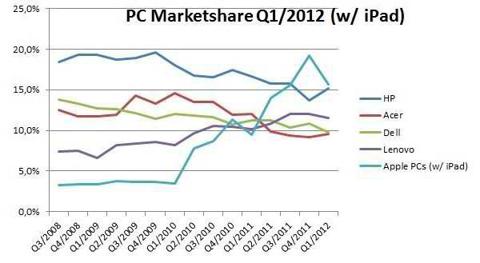 image credit: CNET
Microsoft has also been unsuccessful in its online business, despite spending a huge amount of money, and taking huge acquisitions which don't make any changes to company's overall standing in the web, the company had serious trouble and huge losses.
The only way for Microsoft to survive in the mobile market is to transition into the mobile market, use their massive cash hoard from their core business to solidify their position in every industry it operates in and finance targeted acquisitions.
Here's how Microsoft is trying to fight back and what exactly they doing?
1. Move into Tablet Space
Microsoft has realized that the only way to offset its declining OS business, which had been the company's bread and butter for years, is by building up its tablet presence. The latest data from research firms IDC reports that worldwide PC shipments, in the third quarter of 2012, had contracted by the highest amount since at least 2001. As a result, PC players like HP (NYSE:HPQ) and Dell have seen their stock prices diving to new lows; other constituents of the WinIntel ecosystem have also seen their stock prices fall, it's truly scary situation for the entire PC industry. Tablet sales are cannibalizing the sales of desktops and laptops, eating at the very core of the company's OS business, and it's getting worse.
Microsoft has finally realized that it cannot afford to be complacent anymore, and they going to strike back with everything they got; Microsoft is making a strong, belated entry into the tablet space. They do recognize the market, its potential and size. Instead of waiting for its hardware partners to introduce tablets based on Windows 8 platform, they decided to join the tablet war. The launch gives the company a huge head start and beachhead in the hotly contested tablet market
The Windows RT's launch received various reviews from the market; reviews have been broadly positive and the device held the top spot on the Amazon (NASDAQ:AMZN) site for several weeks. The Windows RT's strongest advantage and selling point lies with the tablet's integration with Microsoft Office, which its competitors cannot do easily, not even Apple or Android. Microsoft does not need have to be No.1 or No. 2 (that's Apple and Google) in the tablet market; it only needs only to stay in the tablet game.
2. Cloud computing
Based on the enthusiastic coverage and features in top technology site and leading IT magazines, you would think that cloud computing is already disrupting the entire IT industry. If companies don't move fast and get into it, they will miss a great stratospheric opportunity; it's the next big thing in the world of computing. No decent technology company on Earth can afford not to have a cloud computing strategy in place.
For years, Microsoft has been pushing an aggressive "all in" cloud strategy that covers the cloud at all angles. Desktop-based software like Office continues to dump tons of cash at Microsoft's front door; a paradigm shift is underway. This one could threaten Microsoft's core business and leave the software company far behind as consumers and enterprises embrace the cloud. Companies embracing the cloud computing expect the new business model for software, the subscription-based model, to save them money, since there's no longer require to deploy and maintain expensive IT infrastructure. This subscription-based model also ensures the software giant a steady flow of revenue every month. Microsoft has placed a significant amount of investment in the cloud, it's focusing in IT-as-a-service offering Windows Azure, cloud-based IT infrastructure designed to power some of the world's most demanding, mission critical applications. The idea behind Windows Azure is to provide and host IT services to companies and organizations that don't have to operate and maintain their own IT infrastructures. The company has also built a server farms dedicated for hosting corporate email and digital data, it maintained a massive infrastructure which offer anyone huge amount of online storage of digital data.
Microsoft has already made significant steps in its cloud services. It's flexed its cloud muscles, making Azure a more compelling environment for mission-critical enterprise applications and services, while reducing migration hassles, setting the corporate standard for cloud infrastructure. It's moved Azure from platform-as-a-service [PAAS] to infrastructure-as-a-service (IaaS), increasing the company's footprint in the cloud. But the move has placed Microsoft in a much closer competition with some of the tech world's biggest cloud players-IBM, Oracle, Google and Amazon. Earlier last year, Microsoft added persistent-state virtual machine support to Azure, allowing it to accommodate a wider variety of software, including Linux OS. It also made some great advances in big data market; it introduced Hadoop for Azure and support for MapReduce.
Microsoft has also joined forces with some of the tech world' biggest cloud players, HP and Dell in offering a desktop virtualization strategy for enterprises. The company has a massive enterprise software portfolio with business relationships with almost all top corporations and government agencies. The cloud provides a perfect place for Microsoft to create some big opportunity and find some new areas for growth.
The cloud computing is the future of public IT. Government agencies and organizations have seen the potential of cloud as public sector IT solution. They offer great benefits and huge changes in government operations, they can also save huge amount of money because they are no longer required to build expensive IT infrastructure. I believe the cloud-based IT services will be the long term trend in government over the next few years. And Microsoft has already done some significant moves in this area, deploying cloud-based IT solution for some US government agencies. Over the few years Microsoft has made strategic moves and scored big in some government cloud contracts- Microsoft USDA (United States Department of Agriculture) cloud contract, which include powering USDA's cloud-based Enterprise Messaging Service, email, web conferencing and document collaboration. Another big cloud moves for Microsoft is the San Francisco cloud-services contract, which will bring some 23,000 municipal employee's email to Microsoft Exchange Online. Microsoft also announced partnership with New York City government, which would bring Microsoft technologies to around 30,000 city employees.
However, despite Microsoft's impressive cloud strategy, the company faces stiff competition from almost all directions. Google will be the most formidable opponent, one which has devoted enormous resources and made strategic moves in its cloud-based offering for businesses. Over the past few years, the industry witnessed the vicious battle between Microsoft and Google, and it just escalated to an ever-greater height. Amazon and Oracle (NYSE:ORCL) have made similar moves over the past few years, hoping to gain a stronger footing through a series targeted acquisitions, building up cloud computing capabilities.
Fierce competition from Google has not managed to dent the company's presence in this space; yes we all know, Google has already started to gain traction through is cloud based solution, Google Apps. But Microsoft will continue to generate billions of dollars in profits from its core businesses in the foreseeable future, and no one can't stop it, not even Google.
3. Windows OS
Microsoft is the 3rd most valuable technology company in the world, having recently lost its crown to its closest rival Google (NASDAQ:GOOG); Google finally surpassed Microsoft in terms of market cap. It makes money primarily via sales of its core businesses: Microsoft Office productivity suite and Windows OS operating system. Microsoft has a dominating global market share in the desktop operating system market and is a significant player in almost all industries it operates in. It has a market capitalization of above $200 billion and generated revenues of approximately $70 billion in 2011, and one of the most riches companies in the world, with over $50 billion of cash on hand.
With 75% share in the operating system market, Microsoft still dominates the global OS market. What many consider as Microsoft's flagship product, the Windows Operating System, is actually Microsoft's second largest division, making up around 25% of its value. In 2011, Microsoft generated approximately $17 billion from this division, selling each Windows license to OEMs for approximately $54. Currently, the company has approximately 75% market share in the operating system market, and we expect this to decline to around 70% by the end of our forecast period because of competition from Apple's Mac OSX and open-source Linux OS, which is getting hot and brutal.
The Microsoft has done some great innovation on its new version of Windows OS; it made its much more tablet and smartphone friendly. We think that the new version of Windows operating system will be a game changer for the entire PC industry primarily due to its touch screen compatibility and improved security over their predecessor. We think that Microsoft will be able to maintain its strong position and market share because of the new OS release. It could be the shot in the arm the entire PC industry has been looking for.
4. Xbox Gaming console
Despite of its terrible losses in some industries over the last few years, Microsoft has still managed to generate massive cash flows enough to cover those losses thanks to the dominance of its Windows OS and Office software. Not only did it cover losses, the company's primacy in Windows OS and Office also help funds experimental forays in areas like cloud computing, mobile space and gaming console market.
While the company has failed with most of its hardware product launches like the "Kin", it has been quite successful in game consoles market. Microsoft's Xbox 360 enjoyed a huge dominating market share in the gaming business. Along with Nintendo and Sony (NYSE:SNE), Microsoft has managed to capture a significant share of the global game console market, and is still going strong. With Xbox 360, Microsoft has managed to quietly add a huge number of captive customers to its Windows Live service; it also add a big boost to the company's stock. Sales of game titles have been a big money generator for the company, despite no new products having been introduced since Xbox 360 in 2005.
There have been strong rumors that the company is readying a new version of Xbox game console; it will be coming out in 2013- Xbox 720. According to leading technology website The Verge, the much waited Microsoft's Xbox 720 will be a game changer with its next-generation Kinect and other great innovations. Analysts predict that sales of the new game console will make 55% of Xbox 360's first year sales at the time of launch; it has the potential of getting a smash hit. Redmond hopes that the new Xbox 720 will act as a positive catalyst for the company, and place the company on the top of the "food chain".
This will make Microsoft the undisputed master of the game console market, earning more revenue and profits than any of its competitors. Investors hope that the new Microsoft's Xbox 720 would accelerate the company's recovery from falling revenue due to the slowing of the PC industry. Being the world's most popular; Xbox 360 has achieved a huge milestone, the first and probably the fastest in the industry, crossing the 70 million barrier beating rivals like Nintendo and PlayStation in the market. It also created tons of buzz in the blogosphere and bring a huge demand for an upgraded version. The Xbox 720 will be a truly growth generator for the company, and that's the perfect time to invest in Microsoft.
5. Smartphone
Microsoft has been through some tough times over the past few years, the dynamics of the smartphone market have changed dramatically over the past three years. Microsoft is first and foremost a platform company; it has huge built-in advantages because of its deep experience with platform and software. The company has been working for more than decade with its Windows Mobile platform for handheld devices and phones, it well-positioned to grab a significant share of the mobile market. However, its failure to re-engineer itself has proven to be the demise of the company, lack of innovation, and failure to adopt new trends in the fast-evolving market has almost killed the company's mobile business. Major smartphone players like Apple, Samsung Electronics (OTC:SSNLF) and Google have worked on innovation and better user experience along with a strong focus on the enterprise use. As a result, these players have been able to take a lion's share from the market. On the other hand, companies like Microsoft have been left to live on the leftovers or scraps, scavenging on whatever left in the market.
And as competition gets fierce, it's evolved and morphed into a much greater battle. The battle of smartphones has now becomes a battle of mobile ecosystem which include not only hardware and mobile OS, but also third party developers, apps, search, advertising model, mobile ecommerce, location-based services and many more. Microsoft's competitors aren't taking over mobile market share with devices; they're taking the company's share with the entire mobile ecosystem, the battle clearly caught Microsoft off-guard, outplayed and wounded the company lost the mobile ecosystem battle.
The software company has lost substantial business; it's left far behind in the mobile ecosystem war by Android and Apple. However, there is a sign of hope: the recent partnership with Nokia proved to be a smart move for Microsoft. It provides an unexpected opportunity to thrive and succeed; everything is not lost yet, and there still plenty of room left. Microsoft has laid out a long-term mobile strategy to better battle fierce competition in the market, invest in mobile space, and re-focus on its core business. It paid Nokia more than $1 billion to port Windows Mobile platform on its hardware, in return, Nokia apparently pays Microsoft a license fee for every copy of Windows Mobile platform installed on its smartphones. Redmond is taking a second shot, they going back.
Microsoft is now "rebooting", trying to make a strong comeback by throwing a significant amount of resources into this segment. The company hopes that it could win a big chunk of market share with the new Nokia (NYSE:NOK) range of smartphones, WP8 powered smartphones have been receiving good reviews from various carriers, and still making a buzz.. Nokia has completely hitched itself to the Microsoft camps by abandoning its aging Symbian OS and has picked Windows as its primary mobile platform, together the two titans are making a renewed assault. They have the combined strengths and reach with software expertise and hardware experience. They are now capable of competing with likes of Apple and Google, and have also the greater chance of taking the No.3 spot in the mobile market.
Together they can build a viable ecosystem, which has far-reaching implications for third party developers. Can you imagine the impact of the deal to Microsoft's developers? The size of the coalition is totally unimaginable. It's a fusion of two tech titans. The deal sent tremors to the mobile industry, and creates excitement in the developers' world. Developers are pretty excited about its long term potential and the innovation it could bring in the market. The combined strengths enable the two to build something big, a new global ecosystem that create opportunities beyond anything that currently exist today; it's an entirely new mobile ecosystem for developers. The partnership with Nokia has dramatically alter Microsoft's mobile standing, it will definitely increase customer base for WP8.
Currently Microsoft is doing well in the mobile market; the company is back on the game.
The company will soon launch its latest edition of Windows 8 powered smartphones, which is expected to change the direction of the company. A lot of investors are hoping that the new version of mobile OS will prove to be a positive catalyst for the company. I believe that long-term, Microsoft's ecosystem will be viable in the hypercompetitive smartphone market, given the company's formidable resources and software expertise. In addition, Microsoft gets a partner with excellent hardware experience and global reach, Nokia. Together the two titans made a great team capable of competing with the likes of Apple and Google. It's now a three horse race: Google, Apple and Microsoft.
6. Office's Dominance
While many consider Windows OS as the company's flagship product, the company's biggest revenue driver is Microsoft Office productivity suite. This software division generated approximately $23 billion in revenue in 2011 alone, and analysts expect this to hit $26 billion by 2016. It has the highest margins for Microsoft at around 60%, which is primarily due to its dominating 95% market share in the global productivity suite market.
However, we expect that Microsoft Office's market share will decline to around 90% by the end of our forecast period. We believe that free productivity suites like Google Docs and Open Office are growing fast, making inroads and providing an alternative to users who don't need the full power of the Microsoft Office suite, they also offer almost the same level of functionality and they're free. We think that downsides to Microsoft's forecast on the Office suite front are possible especially if a new player comes with a better solution for consumers and enterprises. But we think that the likelihood of this threat is low because Microsoft Office suite is far ahead of the competition and extremely superior in terms of capabilities and has a massive user base. Microsoft also offers one of industry's best technical supports, which make Office "the true leader of the pack".
7. Staying close with the Enterprise IT
Microsoft maintained a strong commitment to the enterprise world; it made a number of innovations, providing a wide rand of priorities ranging from internet security to enterprise mobility. Microsoft has entered the corporate mobile management software and the Phone OS business. It made some great advances in the field of enterprise mobility; the recent works with Intune allow secure management of mobile devices in a more distributed fashion.
Microsoft has worked a deal with networking giant Cisco Systems(NASDAQ:CSCO) to provide data center virtualization package that will control Microsoft Server 8 virtual environments on the Hyper-V hypervisor, the deal prove to be a Trojan horse for Microsoft to go deeper to corporate networks, a potential market growth. Microsoft holds the no.2 spot in virtualization platform and has an aggressive plan to expand its reach in the enterprise world; the deal gives Microsoft a huge head start. Microsoft and HP partnership has been prove to be successful, it give Microsoft a strong footing and presence in the data center spaces.
When it comes to big data, Microsoft isn't thought of in the same breath and depth as software rival Oracle, with its extremely powerful Exadata Machine and Exalogic platform. Yet its own Bing search engine, which runs on Windows Server 2012, Bing's massive servers crunches more than 100 petabytes of data to powers search results.
Microsoft also take a huge steps in deepening its relationship with the open source communities, recently it began supporting the Apache Hadoop open source framework for distributed big data processing. And it's started to rollout powerful front-end tools like PowerPivot for Excel and SQL Server Analysis and Reporting Services.
The company has made some radical changes, it done a complete overhauled of Windows license agreements, the new agreements are written in simple, easy-to-understand language. To date the company has sold 40 million Windows 8 licenses; companies that already adopted Windows 8 platform include Johnson & Johnson (NYSE:JNJ), Bank of America (NYSE:BAC) and Seton Hall University.
Microsoft announced a new $617 million licensing agreement that will bring its Window 8 and related devices to 75% of the U.S. Department of Defense, the Defense licensing agreement is the most comprehensive deal that Microsoft has ever signed, an one of the most important market, it give Microsoft a strong footing in a major government agency and a huge head start. The deal includes Microsoft Office 2013 and SharePoint 2013 Enterprise and will allow users to access the software from any location while taking advantage of Microsoft advanced security measures, the contract proved to be a big win for the company.
The software giant is working hard to achieve coveted desktop configuration compliance for Window 8 platform, and probably set the Windows platform as the standard platform for all government agencies and corporate world. It has longstanding relationships with the U.S. Army, the U.S. Air Force, DISA and US Government.
8. Bing and Search Partnerships
Yahoo (NASDAQ:YHOO) search deal is one the smartest moves the company has made over the last few years. The deal gives Microsoft a scale in search engine battle, Microsoft gets a vastly bigger audience to go with it formidable resources The deal allow Microsoft to sell ads on Yahoo behalf and power Yahoo search. It's a big win for Microsoft because its improved Microsoft's competitive position in the search market, the search business is extremely important for Microsoft. The company considers the potential of the global search market; it could be worth as much as $80 billion. The search market plays a crucial role in Microsoft's business, if the company loses in search business to Google or anyone else, it could miss out everything from a valuable online-advertising revenue stream to distribution power. The internet provides a perfect distribution for a broad array of products, which is what Google does effectively and smoothly. Internet could benefit Microsoft's online business; Microsoft could use internet's massive distribution power to cross sell cloud computing, storage and services.
Beating Google in the search market doesn't seem to be viable short-term goal; Microsoft doesn't need to beat Google to take market share. Google might hold the lion's share of the global search market for traditional keyword-based search, but Bing remains a highly competitive one, leveraging its long-term partnership with Facebook. Bing has taken a huge innovation on search, taking advantage of the web's evolution. Microsoft has managed to add a new layer of search, a social one. Microsoft is seeking to create a digital representation of the real world, and something more powerful services. This is Microsoft's way of fending off Google search dominance, sidestepping Google's dominance in keyword-based search in favor of something new and relatively untapped verticals-the social search. With these developments, Bing has managed to improve the company's search standing in the global search market. Microsoft has managed to leverage that search trend via its deep relationship with social networking sites like Facebook, giving the company a technological advantage in the search battle. It also makes an increased focus on verticals such as travel and services. These developments have made Bing a credible challenger to Google's search dominance.
Another blockbuster deal and a big win for Microsoft's online business is the Baidu (NASDAQ:BIDU) partnership. This one expands Microsoft's global reach, going deeper, inside the world's largest market: China. Microsoft has inked a search deal with China search giant Baidu, allowing the software company to bring its Bing search technology to all English language searches on Baidu's service. The Baidu deal is a very smart move for Microsoft because of its massive reach and potential market. Baidu is China's largest search engine and it an increasingly force in the internet, the deal will give Bing the ability to compete on the same level as Google and strengthen its position as top technology company. Although the deal won't topple Google's search hegemony, it could somehow help Microsoft search business, increased it search market share and eventually take the chance of beating Google in the long run.
9. Facebook (NASDAQ:FB)
Microsoft isn't having the greatest possible success in its online business; the company has already lost billions of dollars in its online business. But its fortune and market standing has rapidly change by making investment on Facebook. Microsoft made a huge splash in the social networking space when it announced partnership with Facebook. Bing has become a key partner with Facebook, powering Facebook's web results in the search. Microsoft has been trying to compete with Google in search business and online advertising space. Google still rule the advertising space and the top firm in the web. But with Facebook's help, Microsoft has now the greater chances of changing its fortune and start to turn that tide-in favor of Microsoft.
Facebook has become a dominant force in the web for years; it's the web's top destination. Size is the biggest reason why Microsoft decided to invest in Facebook. Facebook is the world's largest social networking site, with more than 700 million active users sharing over 30 billion pieces of digital content every single month and it's still on rampage. It huge size and great potential make it a very powerful force and ally in the market. It would makes sense for a struggling company like Microsoft to capitalize on that growth potential and find a way to generate serious business on it.
Currently, Microsoft owns a small part of Facebook, back in 2007, when the software giant invested $240 million to Facebook in return for a 1.6% stake. It could be small but it makes strategic sense, because ensures Microsoft's strong relationship and grip with Facebook. It also keeps Facebook way from Google's sight. And denied the search giant's the chances to make partnership with Facebook.
Search market it's all about scale, and Facebook gives Microsoft the scale in search war with Google. As the internet evolves and becoming more social, Microsoft has realized that it needs to work with Facebook on search revolution, by placing "some social layers" in its Bing platform, Microsoft could possible outplay Google in the search market. The social craze isn't slowing down; And Microsoft is taking this wonderful opportunity seriously.
According to comScore, Facebook is making 1.6 billion web-based searches a month and still growing. Search is still the best platform for online advertising, far better than the digital brand advertising works that Yahoo currently doing on its turf. Search is a great business when a company has a built-in distribution platform and scale; it's the biggest reason why Microsoft can't beat Google in search market. Google has distribution; Microsoft doesn't have distribution, and that's why it's getting lost in the search battle. Facebook provide a huge distribution muscles and scale, it also have excellent presence in the mobile space. It is used by more than 700 million active users per month on mobile internet; this makes Facebook a great force in the web and the mobile world. By partnering with Facebook, Microsoft gets all it need, adding technological firepower, and scale in its brutal search battle with Google.
Microsoft does not need to spend a huge amount of money by buying or investing heavily with Facebook; it needs only to strengthen its relationship with Facebook, make a long-term deal and prevent Google from getting inside the social networking site. That's gives Microsoft a strong allies in the web, and a shot in beating Google in social play.
For years, Redmond has been searching for a better way to deliver more of its cloud- based software and services over the web. The Facebook partnership has proved to be a great help for the software company, it provides a perfect and viable platform for selling web-based software and services.
Conclusion
A closer look at Microsoft shows very modest company with slow growth and struggling in the market. Microsoft is a software company that pays a healthy, increasing dividend, and has dominant market share positions in its core markets-operating system and productivity software. And they are doing great in that field.
In my own opinion, I still believe that Microsoft is in a better position to organically enter new markets through its stronghold on some industries, while continuing to dominate its OS business that provides a relatively safe source of revenue. But it must bring huge marketing muscles to entice people to buy Microsoft's products and services in the face of rising competition. Microsoft is still well-positioned to continue to drive stable and incremental revenue for its shareholders. It still one of tech world's most valuable companies. Microsoft has been giving the appearance as an old bleeding company fighting for its life. Google and Apple have been seen as the most prominent of a new generation of tech companies now hitting their stride in both the marketplace and stock market.
However, there are signs that the sleeping giant is finally getting back into action. But it's not easy job for a company to change its fortune overnight, unless it radically changes its strategy and puts some focus on it. Microsoft does not need to become No.1 in the highly competitive mobile market order to see its stock rise up; it just needs to remain in the industry, and stay alive.
Disclosure: The author has no positions in any stocks mentioned, and no plans to initiate any positions within the next 72 hours. The author wrote this article themselves, and it expresses their own opinions. The author is not receiving compensation for it (other than from Seeking Alpha). The author has no business relationship with any company whose stock is mentioned in this article.