Offshore drilling giant Noble Corp. (NYSE:NE) reported its fourth quarter and full year 2012 earnings results after the market close on Wednesday, January 23. These results were well below analysts' expectations, although they did still represent an improvement compared to the previous quarter. The company's earnings also improved during the full year 2012 compared to the prior year. Noble also emphasized the current strength in offshore drilling industry which is something that regular readers of my articles are already familiar with. Noble's management seemed quite excited about the company's growth prospects going forward. I will discuss these growth prospects later in this article but, first, here are the highlights from the company's earnings report:
Noble had fourth quarter net earnings of $128 million or $0.50 per share. This represents an increase of 11.1% over the previous quarter. However, these earnings were almost identical to the $127 million or $0.50 per share that the company earned in the fourth quarter of 2011.
The company had fourth quarter revenues of $966 million. This represents a 9.28% increase over the company's reported revenue of $884 million in the previous quarter and a 28.6% increase over the company's fourth quarter 2011 revenue of $751 million.
Noble reported full year 2012 net income of $522 million or $2.05 per diluted share. This represents an increase of 40.7% over the $371 million or $1.46 per diluted share that the company earned in the full year 2011.
Noble's full year 2012 revenues were $3.5 billion. This is an increase of 29.6% over the company's 2011 revenues of $2.7 billion.
Overall, I was not particularly impressed with these results. The company's profit was virtually identical to the year-ago quarter despite revenues being significantly higher. This is indicative of declining margins despite the overall industry being stronger than it has been in years. Noble added five ultra-deepwater units to its fleet this year and profits in the fourth quarter certainly were not helped by the presence of these units. One reason for this is that the company suffered significant downtime in the fourth quarter and this acted as a drag on earnings. The downtime would also be a drag on revenues as well so that alone certainly does not explain Noble's declining margins year over year (although the costs associated with maintenance and other work on these units certainly contributed).
There were some strong points here and some good reasons to be optimistic about Noble's future despite my complaints. In a previous article, I discussed Noble's newbuild program and how that could be a potential source of growth. Noble continued to advance on the construction of its newbuilds during the quarter and expects to take delivery of three ultra-deepwater drillships in 2013. Ultra-deepwater rigs (floater rigs) are by far the most profitable type of rig for an offshore drilling contractor. Noble's competitor Seadrill (NYSE:SDRL) provided proof of this in a chart that can be found in its presentation given at the Pareto Oil and Offshore Conference back in September 2012: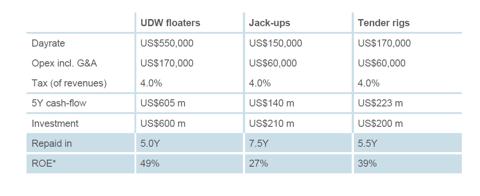 Seadrill made this chart when dayrates for ultra-deepwater rigs were around $550,000. However, dayrates today are in excess of $600,000 with some rigs receiving contracts that are in excess of $700,000. Meanwhile, operating expenses have remained relatively steady, at approximately $170,000 per day. Therefore, it should be immediately obvious why the addition of three ultra-deepwater newbuilds to its fleet could be a promising development that could be quite accretive to earnings.
Noble will also take delivery of three high-specification jack-ups in 2013 and these have the potential to grow Noble's revenues and profits once these rigs begin operating. Noble has enjoyed considerable success landing contracts for these rigs at very high dayrates. For example, one of these rigs, the Noble Houston Colbert, has been awarded a one-year contract at the exceptionally high dayrate of $235,000. The other two jack-ups that Noble will be completing in 2013 have also received similarly respectable contracts.

Source: Noble Corp.
These rigs will be accretive to earnings once they leave the shipyard and begin working on their respective contractual assignments. The high dayrates on these contracts should result in relatively high profits and cash flows from these rigs. This may apply some upward pressure on margins but none of these rigs is enough on its own to have an outsized impact here.
Noble needs to improve its reliability problems if these new rigs are to have the earnings impact that they potentially could. During the 2012 fiscal year, Noble took delivery of three newbuild ultra-deepwater drillships and placed two additional drillships into service following an extensive overhaul. Since these rigs joined or rejoined the fleet, they have suffered from significant downtime. In a previous article (linked above), I discussed Noble's downtime problems during the fourth quarter. I calculated the company's fourth quarter downtime as 277 rig days. These five rigs were responsible for 33% of this downtime. That is a rather poor reliability record for rigs that are fresh out of the shipyard. It is not unusual for drilling rigs to experience reliability issues in their first six months of operation but Noble still needs to get on top of this problem and correct it.
There were some positive signs as well on the reliability front. Noble's rigs in India and the Middle East increased their utilization rate to 85% in the fourth quarter compared to 72% in the third quarter of 2012. Additionally, one of the company's idled rigs in the Middle East, the Noble George McLeod, has been contracted out and is being reactivated and moved to Malaysia to begin its assignment in May 2013. These things are positives for the company. The rising utilization rate means that more rigs are spending more time in operation as opposed to being idled or suffering downtime. This means that these rigs are collecting more dayrate because there are more rigs operating more days.
Noble's North Sea and Mediterranean fleet achieved a 95% utilization rate in the fourth quarter. While this is down slightly from the third quarter, it is a very healthy number. The reason for the quarter over quarter decline is that the Noble Paul Romano completed its previous contract in early November. The rig does not have another contract to work on at this time and has been sent to the shipyard for inspection, according to Rigzone. This rig thus will not be earning any money for Noble during the first quarter of 2013.
Overall, Noble is a company in the middle of a turnaround program that involves making significant upgrades to its fleet. This upgrade program will continue to drag on revenues and earnings going forward. The company expects next year's downtime to be even higher than this year's and that will also drag on earnings. For that reason, I do not expect the stock to break out of its current range in the near-term. With that said, the company has enjoyed great success at getting high paying contracts lately and these should provide it with the cash flow to do fairly well while it works to modernize its fleet.
Disclosure: I am long SDRL. I wrote this article myself, and it expresses my own opinions. I am not receiving compensation for it (other than from Seeking Alpha). I have no business relationship with any company whose stock is mentioned in this article.