(Part 2 of a 3-part article. For Part 1, click here.)
CURRENT UK HOUSING MARKET ANALYSIS AND FORECAST TRENDS
UK Mortgage Supply Crash
The panic interest rate cuts from 5% straight to 2% in 2 months and the £600 billion bank bailout package are aimed at unfreezing the UK banking system so as to enable the banks to resume near 'normal' lending operations and support the economy and housing market as the number of mortgage approvals collapses.
The most recent data from the British Bankers Association (BBA) shows a sharp fall in the number of mortgages approved for house purchases to 17,773 against 64,014 in July 2007, a fall of 72%. Similarly, loans for equity withdrawals, which has been pivotal to Britain's consumer boom as home owners borrowed against equity to spend, has fallen by 49%. The net effect of this is that the total amount of mortgage loans outstanding has shrunk by some £35 billion, against a stable mortgage market, which would have required an increase of at least £25 billion over the same period.
At the same time as supply has fallen, so have the average value of loans offered for house purchases, which peaked at £159,600 in June 2007, and now averages at just £116,700. This is highly deflationary for UK house prices and implies a reduction in house prices of £42,900 against an actual price fall of £38,000 (Nov08). This therefore acts as a leading indicator for the continuing downtrend in house prices as the amounts made available for mortgages contracts are in line with the tightening lending criteria, both in terms of salaries and Loan to Value ratios of 75% or less.
The deep interest rate cuts on face value seem like a great time for home owners to seek to remortgage. However, there is a hidden price to pay if home owners are not careful, and that is firstly in the clauses of penalties for early remortgaging, and secondly in that distressed mortgage banks are reluctant to take on new mortgage customers. This means that home owners need a sizeable level of equity in the order of 25% or more.
Now here is the crunch point: the equity percentage is based on the valuation that the mortgage bank puts on your house and NOT at the peak price or imagined current valuation that the homeowner may have had in mind. In that respect, expect the mortgage bank's surveyor will tend to discount your home valuation against further price falls so as to arrive at a worse case scenario for the bank. What this means is that home owners, imagining that they are sitting on equity of 25% despite the fall in house prices to date, may in fact, on attempting to remortgage, find that the mortgage bank under values to the degree where they are in actual negative equity for mortgage purposes and hence not offered any loan at a favourable interest rate.
This therefore negates much of the recent deep rate cuts whether passed on or not, as the best the mortgage borrowers can obtain are the standard variable rates that do not better the existing expiring fixed deals. This is highly bearish for the housing market as a self feeding mechanism has an built-in freeze for the remortgage market, which is reflected in the crash the number of mortgages.
The mortgage market clearly remains frozen as extreme measures are taken to prevent the collapse of Britain's biggest mortgage banks. The situation remains dire with little appetite amongst banks to open their doors and invite in borrowers to take on debt into the second year of a literally crashing UK housing market. Today's mortgage market is not going to support the current salary to house price ratios of between X4.5 and X6.
Lending criteria have become increasingly tight, with demands of 25% deposits becoming the norm and loans maxing out at X3.5 salaries so as to reduce the risk and volume of new business. The banks do not want to take on risky borrowers in the middle of a house price crash, and the days of easy mortgages of 100% at X6 salary or higher are gone. Therefore, as the banks' credit market positions are deleveraging, so is the housing mortgage market, and that trend is measured by X3.5 earnings which suggests house prices have some 20% further to drop.
UK Housing Market Affordability Index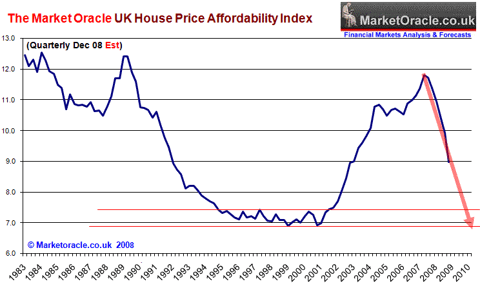 The 19% fall in UK house prices coupled with the continuing rise in average earnings has led to a sharp fall in the Market Oracle affordability index, which attempts to more accurately track affordability than the traditional salary to mortgage ratio. The trend over the last 18 months continues to target a rapid decline towards a low of between 7.0 and 7.5 by late 2010. However, given the rapid pace of decline there exists a serious risk of overshoot to the downside, i.e. for the UK housing market affordability index to bottom at a rate that would make housing cheaper than that of the mid 1990's in relative terms. This implies that the UK housing market is approximately half way towards its lows and therefore equates to a 38% fall from the August 2007 high.
Buy to Let Investors Rush for the Exit
According to RICS, rents are falling for the first time since 2003, which turns the tables on landlords as tenants can force landlords to not only freeze rents but ask for deflationary cuts in rents. This therefore puts further pressure on the buy-to-let business models that relied heavily on capital gains, which have now been replaced by severe capital losses. Therefore, buy-to-let investors are losing thousands on each property every month that they continue to hold onto loss-making investments. This, coupled with evidence that the flood of Eastern European workers' demand for rental properties is diminishing as European migrants are increasingly deciding to return home in the face of the increasingly severe UK recession, ensures that the prospects for buy-to-let investors is dire for several years. It is this which has contributed towards the severe nature of the UK housing market crash which has all the hallmarks of resulting in an unprecedented rate of decline.
Middle Eastern Investors Dumping London Properties?
To make matters worse for London, which is already reeling from the depression in the financial sector, what support the London housing market had from the flood of petro dollars has evaporated following the great Oil Price crash of 2008. This crash has seen the inflation hedging of the first half of 2008 turn into the deleveraging deflation of the second half following the peak at $147. Inexperienced Middle Eastern and Asian sovereign wealth funds that have plowed billions into the bankrupt banks starting late 2007 are now in no mood to lose even more on plunging London properties. Therefore, Londoners should not delude themselves into thinking cheaper prices will entice foreign investors to return any time soon. As a result, expect much deeper falls for London house prices than the rest of the country as my original analysis and forecast concluded.
Corporate Housing Market Goes Bust
Having warned in August 2007 to avoid property and related investment funds due to the risk that in a crisis they could literally freeze, this actually came to pass in December 2007 as Britain's fourth biggest insurer, Friends Provident (OTC:FRDPY), froze its Property Fund. The reason for the freeze was that once the cash reserves had been consumed, the funds would be forced to liquidate assets, which means sell properties. This applies to all commercial property funds that saw the smart money attempting leave the scene before the avalanche of redemptions began. This was later followed during September 2008 by the great deleveraging crash that threatened to consume across the board funds as financial markets teetered on the brink of a collapse.
Repossessions - Extreme Government Pressure
In an attempt to limit the number of repossessions during 2009, the government is putting extreme pressure on the mortgage banks to ensure repossessions are a last resort. Up until September 2008, this amounted mostly to hot air from the politicians. However, after having taken major stakes in most of Britain's biggest banks, there are strong signs that the banks are starting to comply with their new majority shareholder's (the government) wishes, that look set to increasingly introduce initiatives to reduce the number of repossessions. The most recent action on this front was by RBS which stated that it would give a 6 month reprieve to its mortgage customers that are in arrears before initiating court repossession orders.
Whilst the measures will undoubtedly mean that less homes will now be repossessed than would have otherwise been the case, it does act as a two edged sword. Whilst supply of repossessed homes onto the market will be less, at the same time the mortgage banks are being forced to carry loss making loans that prove costly to administer and without bringing in much needed revenue i.e. tieing up resources that could have gone to more profitable mortgage customers.
The government's initiatives to reduce repossessions will have no discernable impact on the housing market price trends either positive or negative due to the points about tieing up capital in loss making costly-to-administer loan accounts. The number of homes expected to be repossessed during 2008 is now revised lower to 55,000, with the expectations of 65,000 homes for 2009 in advance of further government interventions in the housing market to prevent repossessions on an larger scale.
UK Interest Rates - House Price Deflation Vs Mortgage Interest Rate Relief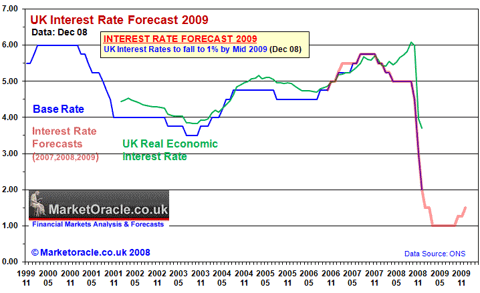 The government is engaged in a programme of forcing down mortgage interest rates by a series of deep unprecedented cuts in UK interest rates towards the target of 1%, and possibly even lower. The goal is to make up the shortfall in the lack of responsiveness by mortgage lenders in cutting their rates, who at the same time have tightened lending criteria due to the increased risk of defaults.
The mortgage interest rates have fallen significantly from the credit crisis extremes and are heading to below 4%, which implies a strong pointer for support for house prices as the cost of servicing mortgages falls and therefore 'should' support a recovery in housing prices. However, the housing market has always been driven by sentiment, in that it is the trend in house prices that is most significant and NOT the cost of servicing the mortgages. It is this which pushed house prices to above X7 earnings, where people were prepared to take on large mortgages at high interest rates for the prime reason that house price gains in the order of 15% per annum or more were far above those of the mortgage interest payments of typically 6%.
However, that the housing bubble burst has resulted in trend and sentiment reversing as house prices have already fallen by nearly 20%. This equates to a loss of £40,000 on an average £200,000 house that is now worth £160,000, which averages to a fall in value of £2500 per month. A typical mortgage of say £160k on a £200k property at 6% would result in monthly interest charge of £800 per month. Now with mortgage rates having typically fallen to 4%, which is resulting in a reduced interest payment of £533 per month or a significant fall of £277 per month, many commentators are taking it as a cue for imminent price stability. Unfortunately, the £277 saving is just above 10% of the amount that home owners are typically losing in value per month! Therefore the interest rate cuts are having little if no effect on the housing market, I first warned of this likely outcome back in February 2008 that interest rate cuts will not stop house prices from falling.
This therefore implies that low interest rates are not an important factor at this point in determining house price trend during 2009, as housing market sentiment is decidedly bearish and will take time to first stabilise and then start to recover.
LIBOR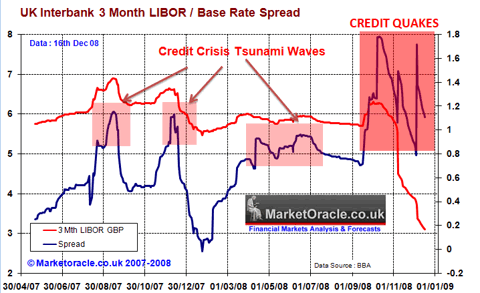 The credit markets as measured by the headline London Interbank Offered rate (LIBOR) have fallen in line with the deep interest rate cuts. However, the true measure of the credit crisis and the reluctance of the banks to lend to one another as measured by the spread between the LIBOR rate and the base interest rate remain at credit crisis extremes as the above graph illustrates. This suggests the banks are still not prepared to lend to one another, and if they are still reluctant to lend to one another that means that the mortgage freeze is expected to deepen further as the economy moves into a deep recession.
Many banks led by the nationalised banks are eagerly seeking to reduce their exposure to the UK housing market by forcing borrowers to either stay and pay the premium of a high standard variable rate or to remortgage elsewhere, as their fixed rate deals expire.
The implications are extremely severe for the UK housing market as there is nothing to suggest that a turnaround in mortgage credit markets is around the corner regardless of what happens to the LIBOR rate. Therefore this supports the view that falling house prices will be eventually followed by a housing market depression, i.e. a resurgent bull market is many years away, perhaps as long as 5 years.
UK Economic Recession - Unemployment
UK unemployment will probably have already risen above 2 million by the time December's data will be released in March. The original UK unemployment forecast for a rise to 2.6 million by April 2010 is destined to be breached as the UK economy targets a severe recession on par with that of the early 1980's rather than the milder one of the 1990's. Increasing expectations are that the UK economy will contract by 3% GDP during 2009, which implies that the UK is heading for an unemployment rate that could pass above 3,000,000 by early 2010.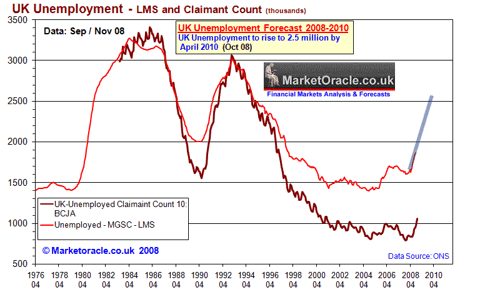 Therefore, this confirms that the UK housing market is at least 15 months away from a period of stabilising in nominal terms, i.e. where house prices stop falling. The actual trigger for a resumption of the housing bull market would be a sustained period of falling unemployment with the trigger level of 2,000,000 expected to act as a strong marker for year on year housing market recovery as occurred following the last housing bear market. This suggests that the housing market may not embark on a sustainable uptrend for as long as another 4 years, and thus points to a period of house price stagnation that will following the current crash in UK house prices.
For Part 3, click here.