Cancer occurs by the production of multiple mutations in a single cell that causes it to proliferate out of control. Cancer cells often differentiate themselves from their normal neighbors by a host of specific phenotypic changes, such as rapid division rate, invasion of new cellular territories, high metabolic rate, and altered shape.
Several methods such as surgery, radiation and chemotherapy have been used to treat cancers. The cancer patients who are not helped by these therapies may be treated by gene therapy. Gene therapy is the insertion of a functional gene into the cells of a patient to correct an inborn error of metabolism, to alter or repair an acquired genetic abnormality, and to provide a new function to a cell.
One of the most promising approaches to emerge from the improved understanding of cancer at the molecular level is the possibility of using gene therapy to selectively target and destroy tumor cells.
The growing understanding of the genetic basis of cancer offers new opportunities for the molecular prevention and treatment of cancer. There has been a substantial growth in gene therapy, especially in the field of oncology since the first experiment in human gene therapy began in 1990, with the success of the world's first gene therapy clinical tests against a rare condition called severe combined immunodeficiency SCID. People with SCID -- also known as "bubble boy disease" -- cannot cope with infections and usually die in childhood.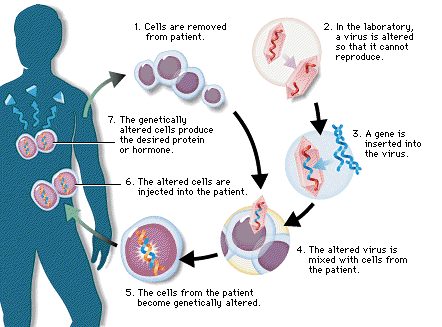 Image: One method of gene therapy - taking human cells, "editing" them genetically, and reinserting them into the human body where they will replicate and carry out their newly designed functions. (Microsoft Encarta Online Concise Encyclopedia)
What is a gene?
A gene is an important unit of hereditary information in a living organism. It provides the code for living organisms' traits, characteristics, functioning, and physical development. Man has around 20,000 genes that are located on 46 chromosomes.
Technologies
Gene therapy for the treatment of cancer has a wide variety of potential uses. There are several potential strategies for gene therapy in the treatment of cancer.
Strategies of gene therapy for cancer:
Enhancing the immunogenicity of the tumor
Enhancing immune cells to increase anti-tumor activity
Inserting a "sensitivity" or suicide' gene into the tumor
Blocking the expression of oncogenies
Inserting a wild-type tumor suppressor gene
Protecting stem cells from the toxic effects of chemotherapy
Blocking the mechanisms by which tumors evade immunological destruction
Killing tumor cells by inserting toxin genes under the control of a tumor-specific promoter
Approaches to ex vivo gene transfer
Which companies are at the forefront of renewed interest in gene therapy?
Genzyme/Sanofi Aventis (NYSE:SNY)

While Genzyme/ Sanofi-Aventis does not currently have any marketed gene therapy products, they have one of the industry's longest standing and largest research programs in the field. The company's earliest efforts focused on a treatment for cystic fibrosis, and have since expanded to explore gene therapy targeting cardiovascular disease, ocular disease, and several genetic diseases. Clinical trials are now underway for a treatment for Parkinson's disease and age-related macular degeneration. Genzyme also holds significant intellectual property around gene therapy delivery vehicles, including both viral and non-viral vectors, strengthening the company's ability to evolve research into practicable therapies.
Genzyme's current pipeline

GlaxoSmithKline (NYSE:GSK)

In October 2010 GlaxoSmithKline PLC, Fondazione Telethon and Fondazione San Raffaele announced a strategic alliance to research and develop novel treatments to address rare genetic disorders, using gene therapy carried out on stem cells taken from the patient's bone marrow (ex vivo).
Under the terms of the agreement, GSK gained an exclusive license to develop and commercialise an investigational gene therapy, for ADA Severe Combined Immune Deficiency (ADA-SCID) - a rare and life-threatening immune deficiency, which affects approximately 350 children worldwide. Phase I/II studies have demonstrated the potential of this treatment option to restore long-term immune function and protect against severe infections in children with ADA deficiency.
The alliance was an important addition to GSK's growing portfolio in rare and a breakthrough for gene therapy.

The ex vivo gene therapy
Replacing faults in stem cells has been practised for more than 40 years, in the form of donor haematopoetic stem cell [HSC] transplants (bone marrow transplants). However such transplants rely on stem cells taken from an immune matched, or closely related, donor, which is not always available. There is always a risk of graft rejection but this is particularly high when matched donors cannot be found.
This ex vivo gene therapy transfers the corrected gene to the patient's own stem cells. The patient's HSCs are harvested from the body, 'healthy' copies of the gene are inserted into the cell using a modified viral vector and the cells are re-introduced to the patient. Because the technique uses the patient's own cells there is much less risk of immune rejection compared to a bone marrow transplant.
UniQure (private)
uniQure is a world leader in the research and early development of human gene based therapies. Its lead product, Glybera, for the treatment of lipoprotein lipase deficiency was approved by the European Commission in November, 2012. Glybera is the first gene therapy approved in the Western world. uniQure has a product pipeline with several gene therapies: for hemophilia B, acute intermittent porphyria, Parkinson's disease and Sanfilippo B. The company is based in Amsterdam, the Netherlands.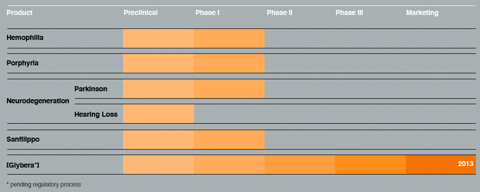 Senesco Technologies (SNT)

Senesco Technologies hopes to fight cancer using a gene regulation product that helps control two proteins needed to promote both cell growth and cell death. These proteins, found naturally in plants (ingested by humans) travel through the body on a gene called eIF5A. In healthy cells, these proteins enable cells to grow. When cells become too large or too old to benefit the body, these proteins signal the cell to die.
In patients with cancer, these proteins fail to signal cell growth and death correctly. Cells without proper regulation of these proteins typically continue to grow and turn cancerous.
SNS01-T
The company primarily focuses on the treatment of B-cell cancers such as multiple myeloma that originates in bone marrow and mantle cell lymphoma, one of the rarest forms of non-Hodgkin's lymphoma. In addition to treating B-cell cancers, Senesco hopes its gene regulation product SNS01-T will help treat many other conditions, including diabetes and ischemia, as well as other types of cancer.
Last year, the company was granted orphan drug status of SNS01-T. The treatment helps regulate both lysine (protein that promotes cell death) and hypusine (protein that promotes cell growth).
Instead of focusing on treatments that slow the spread of cancerous cells to healthy cells or exclusively reduce existing tumors, Senesco Technologies has instead chosen to focus on delivering proteins already used by the body to fight and prevent cancerous cells from developing. This drug treatment would also help the body shut down existing cancer cells to prevent the spread of damaged cells to healthy cells.
With promising results from multiple pre-clinical trials using mice, Senesco launched a clinical trial for SNS01-T in the summer of 2012. Pre-clinical trials resulted in 85-95% growth inhibition in mice given bi-weekly doses of SNS01-T for a 6-week period.
Upon completion of this trial, Senesco hopes not only to have found a viable treatment for multiple types of cancer, but also a treatment that could be used to help fight other diseases and conditions.
Novartis (NYSE:NVS)

Novartis' decision to pony-up some cash for GenVec's (NASDAQ:GNVC) preclinical hearing loss program in 2010 was another sign that some big pharmas have a deep interest in gene therapy. When Ciba-Geigy and Sandoz merged to form Novartis in 1996, both brought gene therapies to the table. But what's interesting is that most of the scant industry interest in gene therapy to date has been for oncology, GenVec for example has also a Phase III gene therapy for pancreatic cancer on the partnering table.
Conclusion
In diseases caused by a specific, known gene abnormality, gene therapy aims to treat the disease by inserting a normally functioning version of the gene into the patient's cells. Challenges still exist in identifying optimal gene delivery mechanisms, and there are very few products currently available. Yet with further development, gene therapy has great potential to treat the underlying cause of many serious diseases.
Gene therapy promises long term, potentially life long treatment for seriously debilitating diseases based on a single administration of the therapeutic product. With UniQure's Glybera approved as the first gene therapy in the Western world, gene-based therapies - much as antibody markets in the past decade - are destined to witness dramatic growth and capture multi-billion dollar markets.
Investors have several choices to play the gene therapy market. From big players such as Sanofi, GlaxoSmithKline and Novartis to more specialized companies such as GeneVec and Senesco Technologies.
Disclosure: I have no positions in any stocks mentioned, and no plans to initiate any positions within the next 72 hours. I wrote this article myself, and it expresses my own opinions. I am not receiving compensation for it (other than from Seeking Alpha). I have no business relationship with any company whose stock is mentioned in this article.