For years, Yahoo's (YHOO) stock has been out of favor, as a number of strategic mistakes challenged the company's momentum turning long-term investors away from the stock. Since the hiring of a new CEO Marissa Mayer, Yahoo's stock has rebounded nicely, trading near a 52-week high. Last Friday, it was trading north of $20, well above its 100-day and 200-day moving averages. Anyone who has visited Yahoo's site recently would probably have noticed that it looks different, alive and vibrant. But the big test will come on Monday when the company reports Q4 earnings.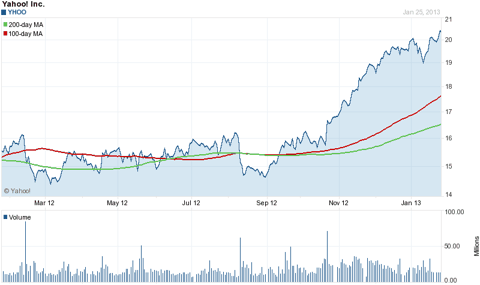 Yahoo's decline was caused by the failure of the company to recruit and retain the right leadership. In the meantime, Yahoo has been growing bigger by acquiring one start-up after another. Between September 1997, and April 25, 2011, Yahoo acquired 64 companies, often paying a hefty premium like the $5.7 billion it paid for Broadcast.com and $432 million for eGroups. The problem, however, is that most of these companies were in the wrong space, as Yahoo has failed to expand its presence in mobile search and the social media.
Expanding in the wrong direction, Yahoo failed to compete effectively against Google (NASDAQ:GOOG) and Facebook (NASDAQ:FB). In addition, Yahoo did fail to achieve "economies of scale," the benefits associated with the large size. This can explain why the company has failed to boost its top and bottom lines, disappointing its stockholders.
Yet, Yahoo is trading at a low multiple, below that of Google and AOL; it has reasonable operating margins; enjoys a strong industry franchise; and has taken a number of steps to undo the mistakes of the past. It sold its $4.3 billion stake in Alibaba and has recruited a new CEO Marissa Mayer with extensive experience in mobile internet as a previous VP at Google, who is moving the company in the right direction: mobile internet, where growth is - in 2011 global mobile internet subscribers per 100 people increased by 87 percent, compared with 8.5 per 100 people of traditional internet. Specifically, Mayer wants to personalize the Internet, from search, to content distribution, to ads, and e-mail (as she did recently). Will this strategy be executed effectively? Will it help Yahoo catch up with Google?
Judging from the last earnings report, the answer is yes. That's why the stock is a buy, especially at these valuation rates.
| | | | |
| --- | --- | --- | --- |
| Company | Yahoo | AOL | Google |
| Forward P/E | 17+ | 28.25+ | 15.30* |
| Operating Margin | 16.01 % | 11.13% | 30.76% |
| Qtrly Revenue Growth (yoy) | -1.20% | -2% | 35.30% |
| Qtrly Earnings Growth (yoy) | 977.40% | -- | 11.20% |
*Fye Sep 24, 2013
+Fye Dec 31, 2013
Source: Yahoo.Finance.com
Yahoo's SWOT Analysis
| | | | |
| --- | --- | --- | --- |
| Strengths | Weaknesses | Opportunities | Threats |
| New leadership; strong branding; economies of networking | Still suffering from early leadership missteps; a late mover in mobile Internet | Plenty of room to grow - the company is still in the early stages of expansion in the fast growing mobile space | Competition from Google, AOL, and Facebook |
The bottom line: With a strong franchise, sound fundamentals, and a new leader who moves in the right direction, Yahoo has a good chance to rise again. Long-term investors may want to accumulate the stock, but always keep an eye on the rapidly changing technology landscape where winners quickly become losers.
Disclosure: I am long YHOO. I wrote this article myself, and it expresses my own opinions. I am not receiving compensation for it (other than from Seeking Alpha). I have no business relationship with any company whose stock is mentioned in this article.