These are interesting times we live in, when reality TV is so popular and respected business leaders go on television to create their own reality TV. This would not have happened in the 90s, nor the cowboy years of the 80s but today it is possible and it was the old guard taking on the new on CNBC this past Friday. It made for entertaining television, especially as the floor of the NYSE could be heard cheering the comments which only added to the intrigue.
Even though this grabbed the headlines, there was plenty on Friday to follow, including Apple losing its title of world's most valuable company and some really good earnings being reported.
Chart of the Day
With the recent price action in Apple shares, it seems that the market believes that the company's margins will be under attack in the near future because the P/E is extremely low and there is no other way to explain a valuation such as this without believing profitability will suffer.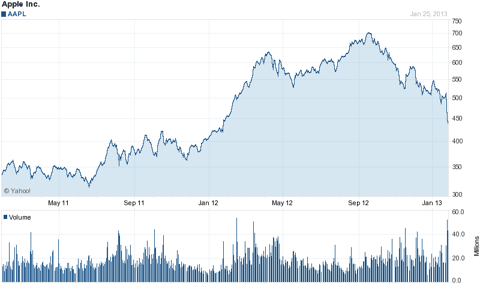 Chart courtesy of Yahoo Finance.
We have economic news due out today, and it is as follows (these are the consensus estimates):
Durable Orders (8:30 AM EST): 1.6%
Durable Goods - ex Transportation (8:30 AM EST): 0.0%
Pending Home Sales (10:00 AM EST): 0.0%
Asian markets finished mixed today:
All Ordinaries - CLOSED
Shanghai Composite - up 2.41%
Nikkei 225 - down 0.94%
NZSE 50 - up 0.11%
Seoul Composite - down 0.36%
In Europe markets are marginally lower this morning:
CAC 40 - down 0.08%
DAX - down 0.06%
FTSE 100 - down 0.32%
OSE - down 0.02%
Technology
As many readers probably remember we were bears on OCZ Technology Group (NASDAQ:OCZ) as it fell and went bullish after we thought that it had bottomed. We made the bottom call a bit early and got hit with the accounting news and have been in the red since. The shares were purchased with retirement money as we wanted to diversify that portfolio, so it has been a long-term investment and probably given a lot more rope than we ordinarily would give a position to run. We have been waiting for the company's restatements to be released and that seems to be close to being resolved. Last week the company released this news release on the matter (follow this link here) so we know action will be required relatively soon. Regarding the move on Friday though, which saw the stock rise $0.37 (18.32%) to close at $2.39/share on volume of nearly 10 million shares , we cannot say definitively what caused the run-up other than some rumors we were hearing. The rumors however were numerous and few seemed to have any credibility.
The price action in Netflix (NASDAQ:NFLX) last week after their earnings announcement is mind blowing, especially when one thinks how excited the market became over the company becoming profitable. We understand they were supposed to have a loss, and that this gives them breathing room and shows that the business works, however with the added subscribers and the growth in EPS, does it justify the move we saw? We think that the answer is no, but as our article on Friday pointed out (click here to read), it is never wise to go against momentum and until said momentum is broken it is best to stay on the sidelines before placing a bearish bet.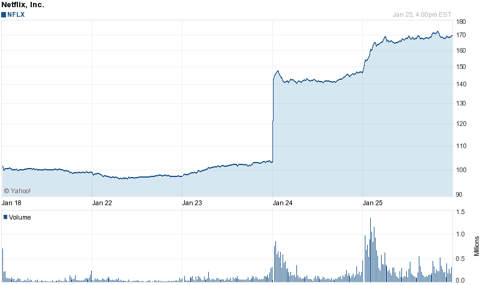 Chart courtesy of Yahoo Finance.
For those looking for turnarounds in the tech industry, look also to Yahoo (YHOO) which has been undergoing a transformation with their new CEO and will report earnings on Monday for the 4th Quarter. The consensus among analysts, according to CNBC, is for earnings per share of $0.28. The company's stock has recovered from the previous missteps from prior chiefs and it seems that Marissa Mayer has a handle on what Yahoo needs to be and is focusing on that rather than what investors or others think the company should be. The results speak for themselves thus far, with the stock at new 52-week highs and trending higher and this is one earnings report which we are waiting for eagerly to see if the turnaround is for real or simply a mirage.
Consumer Goods
The drama around Herbalife (NYSE:HLF) continues to grow and Friday may have been the climax of the story as Carl Icahn and Bill Ackman went after each other on CNBC's Fast Money Halftime Report. Much of the back and forth had absolutely nothing to do with Herbalife, but everything to do with the names behind the positions in the company. Why is this important? Well it does provide a bit of information of why these names are all involved in the trade, and it would appear that Carl Icahn is in the trade to simply be a part of a potential short squeeze. It is obvious that Icahn dislikes Ackman, and by gobbling up shares of Herbalife he could be a part of a trade which takes enough supply of shares off of the market to force Ackman to cover his short. One can see that interview here if interested.
Shares in Proctor & Gamble (NYSE:PG) rose $2.83 (4.02%) to close at $73.25/share on Friday after the company reported a solid quarter and continues to see operations improve. The stock closed at the highs of the day which was also a new 52-week high. We have recently recommended this one to friends looking for consumer goods companies which they could purchase for their retirement funds and reinvest the dividends while not having to worry about day-to-day or month-to-month movements in the share price. This is a great long-term play and provides investors not just a capital gains opportunity but also a solid yield opportunity.
Disclosure: I am long OCZ. I wrote this article myself, and it expresses my own opinions. I am not receiving compensation for it (other than from Seeking Alpha). I have no business relationship with any company whose stock is mentioned in this article.