DCP Midstream Partners (DPM) is the top US natural gas liquids "NGL" producer, gatherer and processor. The majority of DCP's operations are fee-based. DCP also has a multi-year hedging program, which should protect it from NGL price fluctuations. DCP offers a compelling quarterly distribution of $0.68 per share. At the current price of $43.82, DCP offers a yield of 6.21%.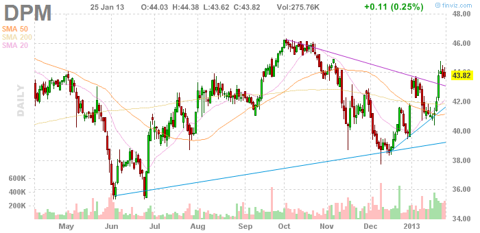 DCP Midstream Partners and its general partner "GP" control 17% of the US processing plant for NGL production. The companies have a large footprint in key basins, with other assets located throughout the US. Combined, they have over 62 plants and 63,000 miles of pipeline.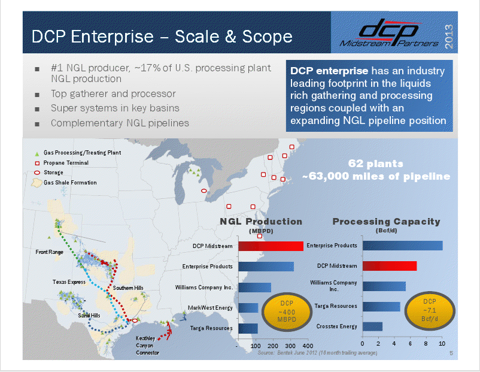 DCP plans for growth include quadrupling NGL pipeline capacity. These plans include joint ventures, which will add over 2500 miles of NGL pipeline, for over 600 MBPD of added capacity. Also, DCP has plans to increase its gathering and processing capacity, with over 700MM cf/d of incremental capacity added by 2015.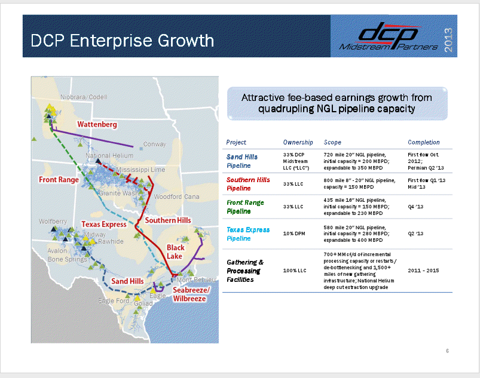 One of the more interesting aspects of DCP Midstream Partners is that two major energy players, Phillips 66 (NYSE:PSX) and Spectra Energy (NYSE:SE) co-own the general partner DCP Midstream. DCP Midstream is owned 50/50 by both Phillips 66 and Spectra Energy. DCP Midstream has a 25.8% LP/GP interest in DCP Midstream Partners.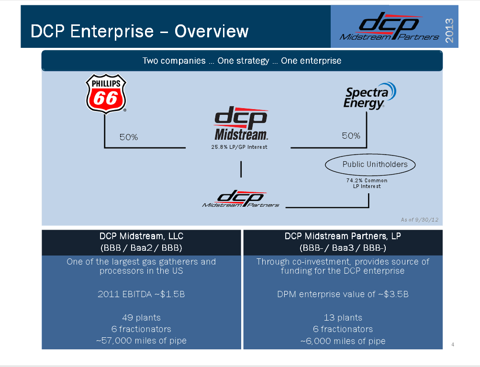 Due to this unique ownership structure, DCP has many opportunities for growth via drop-downs from its GP. DCP anticipates $3 billion of capital spending in 2013 - 2014. Most of this growth should be provided via asset drop-downs and redeployments from the GP. DCP, like many MLPs, typically funds this growth via frequent secondary offerings, which should provide ample opportunities to purchases shares at a discount.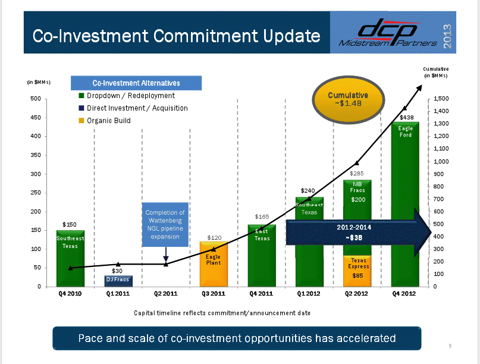 Due to the visible pipeline of growth opportunities which support the outlook for future distribution growth, DCP anticipates between 6-10% distribution growth through 2014. DCP has plans for over $2.15B of capital deployment through 2014.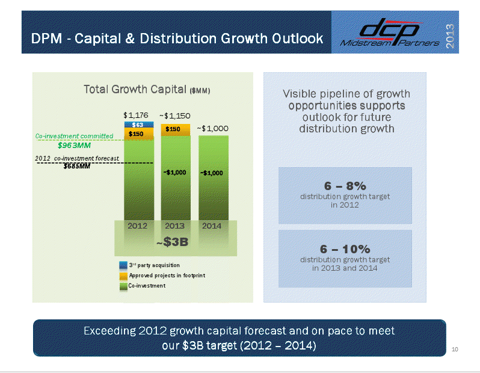 DCP has long-term cash flow stability, with 60% of 2012 margin forecasted to be fee-based. DCP also has over 85% of its commodity-based margin hedged on a crude-oil-equivalent basis in 2012. Approximately 70% of NGLs is hedged using direct commodity price hedges.
Conclusion
Having two large energy companies such as Phillips 66 and Spectra Energy should provide DCP with ample opportunities for growth. DCP also has the majority of its margin secured by being fee-based. The vast majority of the remaining margin is hedged. DCP is an interesting choice as an income investment. Though at current prices, I would not buy. I would wait for a pullback in share price to below $40 and/or a secondary offering of shares before getting into this stock.
Disclosure: I am long PSX. I wrote this article myself, and it expresses my own opinions. I am not receiving compensation for it (other than from Seeking Alpha). I have no business relationship with any company whose stock is mentioned in this article.