The week ahead looks to be a potentially exciting one for the small pharmaceutical companies. Three heavily-watch companies have late stage data that is expected out anytime: Celsion Incorporated (NASDAQ:CLSN), Keryx Biopharmaceuticals (NASDAQ:KERX) (Keryx announced on Sunday, January 27th, the company has an 8:00 a.m. conference call to discuss results on Monday along with accompanying good news) and Anacor Pharmaceuticals (NASDAQ:ANAC). Although upside potential could be substantial in either of these long-time favorites, negative outcomes could drive each of these down significantly below their 52-week lows. For those interested in learning more about these favorites, I advise you to refer to recent 10Q filings and their respective websites. I tend to focus more on under-the-radar companies with less downside risk due to already low valuations. For value shopping investors who are more risk averse to the imminent binary events unfolding for the three aforementioned pharmaceuticals, I wish to share some candidates that I will be looking to add to positions I already have or hope to start this week in some promising small pharmaceuticals. The following do have risks, as they are each development-phase pharmaceuticals, but I do not believe that immediate catalysts are as risky as Celsion's, Keryx's or Anacor's data release. I believe that near-term entry into the following companies could be lucrative if events unfold positively and any possible financings are not overly dilutive for shareholders. Please consider that these are also development-phase companies with little or no revenue of their own, so they should still be considered as high-risk and are not suitable investments for everyone's portfolios.
Athersys, Inc (NASDAQ:ATHX) common shares have been trading on a solid uptrend channel since mid-December's 1.0 levels. Volume and share price have both picked up with recent highs at $1.37. On Friday shares closed at $1.25 for a current market capitalization of just over $66 million. The recent surge in interest is likely due to pending updates on its collaborative study with Pfizer (NYSE:PFE) on Athersys' Multistem stem cell therapy to treat inflammatory bowel disease. Although the company has multiple possible catalysts moving forward with regard to its pipeline developments, I believe the wait on news coming from Pfizer will be the biggest share price driver in the coming weeks. Per the agreement, Athersys could receive up to $111 million in upfront and milestone payments, a substantial amount for the $66 million company. The phase 2 trial initiated enrollment in March of 2011, and topline results should be released in late 1H 2013 or early 2H 2013. The obvious implications are directly related to milestone payments from Pfizer (or buyout), while indirect assumptions could then be made about Multistem's promise in other indications.
Athersys's phase 2 trial with Pfizer is one of two phase 2 trials underway for the company. It is also evaluating Multistem for its potential in treating patients recovering from ischemic strokes. The company provided an update in October of 2012 for the trial which appears to be progressing nicely. The independent safety committee reviewed safety and efficacy data for the two different cohorts of differing dosages and recommended the trial progress with the high dosage administration for the remainder of the trial, a testament to the therapy's safety profile and promising efficacy. With nearly 700,000 people in the U.S. suffering an ischemic stroke (caused by blockage of blood flow to the brain) annually, actual or perceived success in the trial moving forward could be a significant catalyst as events unfold.
With common shares now trading at the newly found support of $1.25, upside potential could be great in the coming days as investors await news of the inflammatory bowel disease trial. The next chart resistance is at $1.50 and then $1.60. According to the company's Q3 2012 financials, the company had cash and equivalents of $7.9 million as of September 30th with that quarter's burn rate of $3.6 million. A subsequent offering announced on October 26th further solidified the company's financials with about $20 million due to 19.8 million shares offered at $1.01. With two share price moving catalysts ahead, interested investors should perform additional research and determine if this investment is right for them. In a stem cell sector awaiting its next star, Athersys could help to give the fledgling sector additional much-needed attention and validation.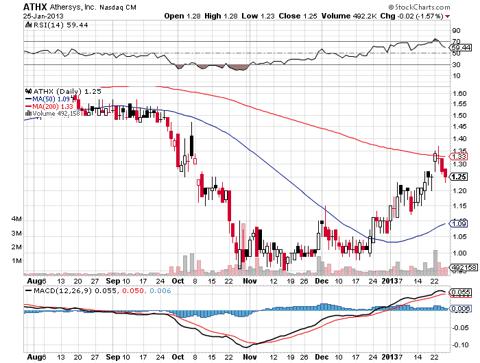 Senesco Technologies (SNT) is the smallest company that I wish to present and add to my current long position in the upcoming week. The $17.55 million market capitalization company is trading strongly over the last week after hitting its 52-week lows of $0.1139 just a couple of weeks ago. Friday's close at $0.15 was flat for the day but with above average volume, as was most of the week. The small pharmaceutical is developing SNS01-T, a cancer therapy intended to selectively trigger apoptosis (cell death, often minimized in cancer cells) in B-cell cancers such as multiple myeloma (NYSE:MM), mantle cell lymphomas and diffuse large B-cell lymphomas. On December 10th the company reported preliminary findings in its ongoing small phase 1b/2a trial evaluating the drug for multiple myeloma. The company is evaluating the therapy's effect on M-protein levels, a protein produced by malignant cells as they accumulate in bone marrow and subsequently released into the blood stream. As MM patients' condition progresses, M-protein levels also increase. Therefore, the company is using M-protein levels as an indicator of possible drug efficacy. Stable or decreasing levels of M-protein could be construed a positive in the early stage trials.
In a two cohort trial, two patients in cohort 1 were evaluable at the time of data release. Both patients had stable M-protein levels within 25% of baseline levels at weeks 3 and 6, considered to be "stable disease". Patient number 2 responded particularly well. 4 weeks after the treatment stopped (last dosage given at week 6), at week 10, he remained within 25% of the baseline level. Meanwhile patient number 1, although not a startling progression, did have M-protein levels trend up slightly after the 6 week regimen was discontinued with 26% increase above baseline by week 9 (3 weeks after dosing stopped) and 30% increase by week 12 (6 weeks after dosing stopped). These results are early stage and of a small sample set, but definitely are showing some promise at this stage with subsequent data evaluations coming likely soon. A third patient of this cohort will complete dosing in "early 2013" and will give additional data soon. This cohort is a low-dosage cohort, and higher dosage trials will come soon if efficacy and safety profiles are maintained. With some efficacy already proving evident, increasing efficacy with a maintained safety profile could prove to be very promising and will begin garnering investor interest in the coming weeks.
In cohort number 2, two patients are being evaluated. One has MM and the second has B-cell lymphoma. The MM patient had baseline levels still within 25% of the baseline values at weeks 3 and 6 weeks. The B-cell lymphoma patient will be analyzed by tumor response, with tumor imaging information was not completed as of that press release. The 2 cohort trial is a dose escalation trial with additional dosages being increased from the first levels (0.0125mg/kg, as reported above) to 0.05mg/kg, 0.20mg/kg and then 0.375mg/kg, if the Data Review Committee gives the go-ahead from each dosage level to the next with efficacy and safety data being the determining factors. With tradeoffs made in cancer treatment of higher dosages often giving better efficacy but conversely less safe profiles, the gradual increase of dosage allowed will likely each bring more investor interest to the drug's possibilities.
Senesco is a high risk investment moving forward. However, its current low valuation, low share price (just recently bouncing off a 52-week low) and increasing volume is showing that some investors are just beginning to take note of the company. If the current share price proves to be at a bottom, entry now could prove to be a wise choice if future data confirms efficacy at least at the lower dosages and more so if higher dosages confirm greater efficacy and still acceptable safety profiles. As pertaining to dilutive financing, the company announced recent $3 million financing on January 4th, which should forego additional financing, at least in the near future. The risk/reward level is now acceptable to me as an investor, but it may not be for everyone with the company being a development-phase company and trading on the less liquid OTCBB markets. Much additional research should be done by interested investors.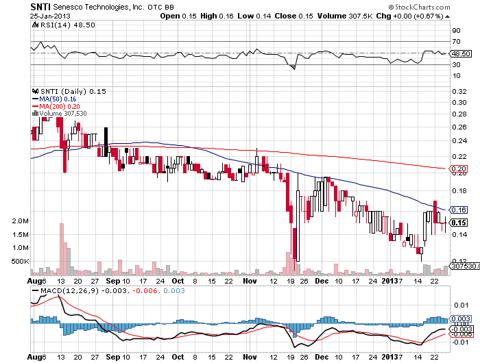 Apricus Biosciences (NASDAQ:APRI) started out 2013 with an announcement of significant changes coming in the year. Per corporate goals released on January 3rd, the company announced it was seeking a buyer for its oncology business and was focusing its attention and resources on its budding sexual dysfunction business. Although investor response was minimal at first, apparent research by investors have convinced them that the move is in best interest of shareholders as its common shares, closing at $2.09 on that day, have recently come to life with Friday's closing price of $2.66 representing solid gains of 27% since that day. With only minimal resistance coming at $2.70, the company could very well see its shares back at $3.00 in the coming days for the first time since early November of 2012. Although possible suitors for the business haven't been announced, the company could capture a solid price for the business with two products approved for marketing by the FDA in the oncology business: Totect® for the treatment of extravasation from intravenous anthracycline chemotherapy and Granisol® for the prevention of nausea and vomiting accompanying total body irradiation and fractionated abdominal radiation and for nausea due to emetogenic cancer treatment, including high-dosage cisplatin. Apricus also has a third FDA-approved product, in the cardiology business; NitroMist® (nitroglycerin sublingual spray) for the treatment or prevention of angina (chest pains). Although the press release did not mention NitroMist® as being up for sale, I believe it most likely will be included in the divestiture.
I believe there is still additional upside potential for Apricus' common shares in 2013. Closing Friday at $2.66, the market capitalization for the company is still undervalued in my opinion at just under $80 million. The company's Canadian-approved drug, Vitaros®, for erectile dysfunction (NYSE:ED) is set to kick off marketing in 1H of this year, with Abbott Laboratories (NYSE:ABT) launching the potentially lucrative drug. Apricus is set to receive $16 million in milestone payments upon commercialization of Vitaros® commences, welcome funding for this emerging company. The company has also partnered with a host of other pharmaceuticals for Vitaros® outside the U.S. which will represent a target market group of roughly $2 billion according to the company's website.
With Apricus' common shares now trading at elevated levels compared to where they were trading over the last couple of months, I believe the company is still undervalued. As of September 30th, 2012, the company had cash and equivalents of about $17 million with about $5.2 million in revenue for the quarter while still operating at a loss of about $2.5 million for Q3. The $16 million expected milestone payment from Abbot appears to now be a "given", and will only add to the company's financial footing. The additional money from sales of the oncology business as a whole or in parts will also add to the company's financials and investor appeal, while the divestiture also means the company can more fully focus on its male and female sexual dysfunction program using its proprietary NexACT® drug delivery system. Catalysts, both expected and unexpected could help to garner more investor interest in this company that appears to be earnestly reinventing itself for investors in 2013 and beyond.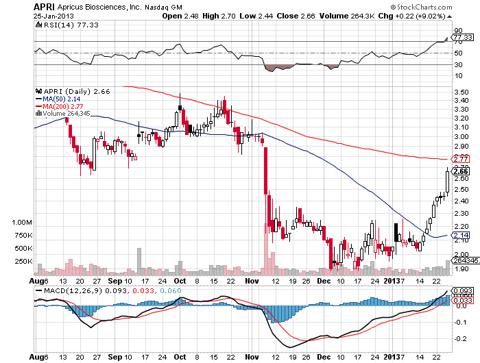 Disclosure: I am long SNT. I wrote this article myself, and it expresses my own opinions. I am not receiving compensation for it. I have no business relationship with any company whose stock is mentioned in this article.
Additional disclosure: I may initiate a long position in APRI and/or ATHX within the next 72 hours.