InvenSense (NYSE:INVN) returned to the growth phase, after two lackluster quarters. Revenue and earnings were up substantially over the same period last year. Market reaction was quite bullish, with the price reaching levels last seen in early May last year, with weekly volume more than double the average, a clear sign of demand for the shares.
I wrote an article a month ago: Value And Growth In InvenSense. The stock appeared to have bottomed at the time and was forming the right side of the base, and broke out after reporting earnings few days ago.
Highlights from the conference call
The management was pleased with the results, and had a positive attitude for the coming period. Last two quarters are seasonally the strongest, and the next quarter will be satisfactory, since it will drive solid revenue and earnings growth, and it is a quarter with the expected lower customer activity.
There is strong momentum in smartphones and tablets, and the management also noted a strong momentum of design wins in the fiscal third quarter, which will drive growth across all focus market segments. The company increased its share at niche customers, and brought in new customers.
InvenSense continues to gain traction with customers using the Google (NASDAQ:GOOG) Android operating system and especially from hardware and software partners for the company's embedded MotionTracking features within the Android operating system.
Motion sensing solutions for Microsoft (NASDAQ:MSFT) Windows 8 and Windows RT are now in high volume production with multiple Tier I Ultrabook and Tablet manufacturers. The company's motion app software is available for both Intel (NASDAQ:INTC) and ARM (NASDAQ:ARMH) architectures within the new Windows 8 Operating System.
The company increased production capacity by over 40%, and while it is cooperating successfully with TSMC, it brought in GLOBALFOUNDRIES, which will enable a low risk and cost-efficient multi-task strategy for customers and markets.
Market splits for the last quarter were: smartphones and tablets - 67%, gaming - 27% and all other segments - 6%. For Q3, 10% customers were Samsung Electronics, Quanta and Nintendo.
Fundamentals and Valuation
First two quarters of the fiscal year were not good for InvenSense. Qualcomm (NASDAQ:QCOM) chip supply constraints weighed in on revenue and earnings, and the growth slowed. Revenue was up 10% and 28% in first two fiscal quarters, while earnings dropped 25% in the first quarter, and rose 6.67% in the second quarter. The company is back on track in the third quarter, with revenue and earnings up 43% and 90% respectively, and they are expected to rise significantly in the next two quarters. Revenue is expected to rise 61% and 42%, while earnings are slated to rise 100% and 67%.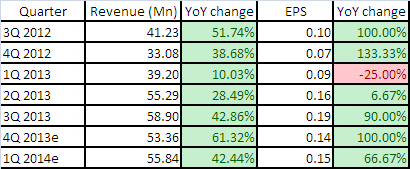 Source for data: Earnings.com, Ycharts
The company has a trailing P/E of 29.72, forward P/E is 20.41, and the PEG ratio is 1.23 according to Yahoo Finance. ROE is 22.50%. Analysts expect earnings to grow 22% over the next five years.
Cash position is very strong, growing $26 million in the last quarter to $193 million. The company has no debt.
Price action
The stock reacted quite well when the earnings were out. It broke the $13 level before earnings, and vaulted higher on Thursday. The rise continued on Friday, and InvenSense closed at 15.10, the highest level since early May last year. Volume was sharply above average, suggesting strong demand for the shares.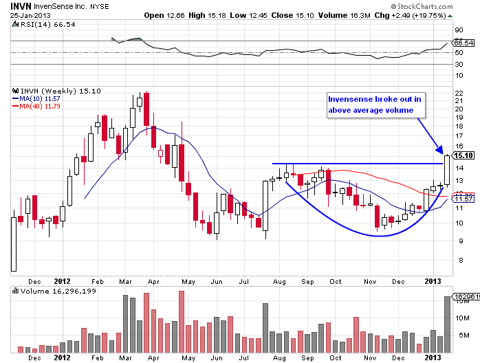 Source: Stockcharts
InvenSense still has a relatively high short interest ratio, which stood at 16.7% at 31st December 2012, and the short ratio was 8.60, according to Yahoo Finance. That still may provide fuel for the price to rise, especially after the earnings report, which clearly shows the company has returned to the higher growth phase.
Conclusion
InvenSense remains one of my favorite tech stocks. It is enjoying the momentum in smartphone and tablet markets, and is looking to expand its presence in the motion tracking universe. It delivered more design wins recently, with Microsoft's Windows 8 and Windows RT Operating System, and there are still rumors that Apple (NASDAQ:AAPL) may come aboard, as the management claimed in the second fiscal quarter conference call that their goal is to serve all the major players in the smartphone and tablet market. It has a very strong cash position and no debt. Growth is again above average, and is expected to be in the next few quarters, and the price action is confirming the improvement of the fundamentals.
Disclosure: I have no positions in any stocks mentioned, but may initiate a long position in INVN over the next 72 hours. I wrote this article myself, and it expresses my own opinions. I am not receiving compensation for it (other than from Seeking Alpha). I have no business relationship with any company whose stock is mentioned in this article.