Amazon.com (NASDAQ:AMZN) recently announced the acquisition of Ivona Software, a Polish-based specialist in Text-to-Speech technologies, a sign that the world's largest internet retailer may be looking to develop more services similar to Apple's (NASDAQ:AAPL) Siri and Samsung's S-voice. Ivona develops voice technologies that help it compete with Nuance Communications (NASDAQ:NUAN). Additionally, Ivona delivers Text-to-Speech products and services for thousands of developers, businesses and customers around the world. Amazon did not say how much it paid for Ivona.
WHY AUDIO ?
Audio based input/output has become a hot commodity in the recent years, as the technology's biggest companies explore non-visual ways for the customers to operate their mobile devices. Apple's Siri is the most prominent, consumer oriented example, but the technology is now also used to power in-car telematics systems such as Ford's Sync and for enterprise functions such as helping individual doctors transcribe notes taken during patient visits. Companies like MModal help turn the physician's narrative into live shareable intelligence, for improved care and better informed financial decisions. MModal, once a NASDAQ listed company, got acquired by the private equity arm of JP Morgan Chase in July 2012 for 1.1 billion.
Ivona Text-to-Speech technology already powers the "Text-to-Speech," "Explore by Touch" and "Voice Guide" features on Amazon's Kindle Fire tablets.
Just like Apple's Siri service on iPhone lets users ask questions and delivers answers, suggestions and actions, Ivona's Text-to-Speech technology on Amazon's Kindle Fire HD tablets reads Kindle e-books aloud to users.
Text-to-Speech features are not available on the Kindle Paperwhite so far. A speech-chip and headphone jack would have cost peanuts OR Amazon could have offered a speech-capable model as an option, but now that they own Ivona, Text-to-Speech option could become available in the Paperwhite too, either as a standard feature or an extra.
What Positive Amazon Can Do With Ivona?
Amazon could launch bigger ambitions in the interactive audio, an area staked out by Apple with its virtual voice-activated personal assistant. The acquisition will bring a valuable partner in-house and ramp up Amazon's supply of audio-books. Now Amazon can provide some more technology on the Kindle to compete with Siri.
Dave Limp, Vice President, Amazon Kindle said:
The IVONA team shares our passion for innovation and customer obsession, and we look forward to building great products to deliver world-class voice solutions to customers around the world.
"Great products" hmm, it seems the acquisition paves the way for Amazon to do more in hardware beyond tablets. It could move ever further away from subordinate and cheaper hardware to compete better against products like the iPad and higher-spec tablets from Samsung. It's no longer enough to simply manufacture a tablet! Today you must control the entire software ecosystem too.
But above all, adding voice service points further to a smartphone. Rumors that Amazon is working on a smartphone have been making their way around the internet for a while. No specific comment on a phone in the Press Release, but an intentionally vague reference to future products is sure to send imaginations racing. If the company does decide to bring out a smartphone, it will need technology like this to compete in an age where a talking gadget is the thing to be seen with.
Ivona plans to deliver 50 voices in 17 languages in 2013.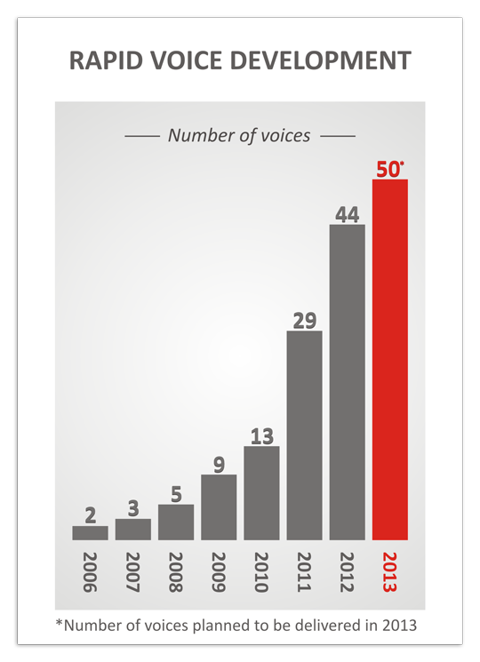 The Ivona's entire voices list can be listened and compared, on its website. You should try, these bots sound natural and expressively lifelike, virtually indistinguishable from the professional voice-over recording.
Amazon could also offer out the speech recognition capability in the form of an API, for developers to use in their apps for the Kindle Fire and other platforms, something that Apple has yet to do with Siri. They can also use the technology in its wider suite of enterprise like Ivona's Speech Cloud (NASDAQ:SAAS) including hosting and other data management via Amazon Web Services.
Ivona could also help Amazon expand its e-book market to more people with disabilities, such as the blind. Ivona already works with organizations supporting blind and visually impaired people, including the Royal National Institute of Blind People. Source
Many publishing people and others in the world of Audiobooks view Text-to-Speech as a work of the devil. This is also the reason why so many Kindle books disgracefully block Text-to-Speech. A move, various advocacy organizations for blind people, have openly criticized:
Amazon.com is undertaking a massive effort to deploy its Kindle e-readers and Kindle e-books to K-12 schools across the United States. In some cases Kindle devices have been donated directly to schools, including schools that serve children who are blind or have other disabilities. More important, and more disturbing, is the fact that Amazon has also built a system called Whispercast that allows teachers and school administrators to distribute Kindle content to devices other than Kindles. The problem with all of these plans is that neither the Kindle devices nor the book files used in conjunction with them are accessible to students who are blind or who have other print disabilities.
The organizations argue that since Kindle e-readers and e-books are inaccessible to blind students, they should be prohibited from use in public schools by federal law. Advocacy by the National Federation for the Blind also made the U.S. Department of State scuttle a multi-million dollar deal with Amazon that would have provided up to 7,000 Kindles per year to overseas learning programs. Therefore, Amazon can now integrate Ivona's Text-to-Speech technology into more of its devices to avoid such legal hassles.
What Negative Amazon Can Do With Ivona?
Perhaps, Amazon will remove the Ivona Text-to-Speech engine from the Android world altogether and make sure Ivona products don't thrive in the iOS world either. Amazon could work with Ivona on something proprietary in the field of Text-to-Speech that might give Android tablet buyers a reason, other than price, to buy an Amazon Kindle Fire tablet. For now, anyone can enjoy Ivona's beta version on any Android device and not just the Android-Forked-Kindle.
Considering, Amazon.com already owns Audible.com, an Internet provider of spoken audio entertainment and educational programming, it's too early to know how the addition of Ivona will work for library users with disabilities and for many commuters, doubtlessly the biggest fans of Text-to-Speech. Maybe, just as Facebook likes to scoop up hot startups, kill their products, and redeploy their staff on other projects, Amazon might at least throttle back Ivona's R&D to make the world safer for Audible.com? They did kill the incredible Stanza e-reader. But it isn't as if Ivona is the only Text-to-Speech solution out there, so, it's hard to say.
Conclusion
With voice activation, spoken interaction and audio messaging uses becoming more popular on smartphones and tablets, it is little surprise that Amazon has acquired Ivona. The acquisition will ensure it can compete in all corners with the likes of Apple and Samsung (OTC:SSNLF).
By supporting 17 languages at the moment, Ivona will also help Amazon sell its products into more markets. Hopefully, Amazon can now bolt Ivona's technology into conversational apps, along with its basic Text-to-Speech role, to keep up with the likes of Siri and S-Voice.
Disclosure: I have no positions in any stocks mentioned, and no plans to initiate any positions within the next 72 hours. I wrote this article myself, and it expresses my own opinions. I am not receiving compensation for it (other than from Seeking Alpha). I have no business relationship with any company whose stock is mentioned in this article.