By Serkan Unal
Corporate insiders know their businesses inside out. They buy stocks in their own companies when they believe the stocks are trading below their intrinsic values or expect the prices to move higher in the coming period. Some academic studies suggest that investors who mimic insider purchases can realize market-beating returns from their investments. Once dividends are taken into account, these investments may have a cushion against the downside and allow investors to generate income while waiting for the stock's upward thrust.
Recently, insiders snapped up shares of several dividend-paying companies, including the likes of BlackRock Inc. (NYSE:BLK), the world's largest asset manager, and Darden Restaurants Inc. (NYSE:DRI), the popular restaurant chain owner. Here is a quick glance at five recent insider purchases of dividend stocks that yield at least 2.0%.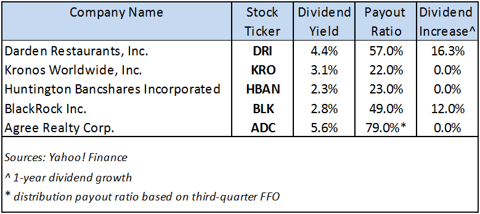 Darden Restaurants Inc. is the world's largest company-owned and operated full-service restaurant business, whose brands include Red Lobster, Olive Garden, Bahama Breeze and others. The company's management sees revenue growth for fiscal 2013 at between 7.5% and 8.5%, down from its previous forecast of between 9% and 10%. The declines in same-store sales of the company's main brand restaurants are indicative of DRI's weak competitive position relative to rivals in the casual dining industry, which will require more promotional activities, threatening initiation of price wars. Still, in the long term, once the economy picks up pace and faster income and employment growth resume, sales and earnings could improve. In that context, analysts forecast the company's long-term EPS CAGR at 11.0%. DRI is currently a value at 13.0x forward earnings, reflecting its slower growth prospects, versus 22.2x for its industry on average. On January 11, one of the company's directors, William M. Lewis, Jr., purchased 11,000 shares at an average price of $44.91 per share. The company's stock is currently trading at $45.87 a share. The stock is also popular with RenTech's Jim Simons, who initiated a new position in DRI in the third quarter of 2012.
Kronos Worldwide Inc. (NYSE:KRO), a producer of titanium dioxide (TiO2) products, is undervalued by the Graham number, which implies an upside of 30%. The stock trades at below-industry price-to-book of 2.0, but is valued at 20.3x forward earnings, a 15% premium to its peers. According to Kronos' latest 10-Q, "TiO2 (is) a 'quality of life' product, with demand affected by GDP and overall economic conditions in our markets located in various regions of the world." Hence, in line with its long-term GDP forecast, the company "expects demand for TiO2 ((TO)) grow by 2% to 3% per year." This growth is modest at best, and while the industry outlook is improving with a rebounding housing market in the U.S. and stronger growth in China, TiO2 prices, reflecting increased supplies, are still declining after a price jump in late 2011 and early 2012. Moreover, major users of TiO2 are switching to cheaper products from China and the demand in China is sufficiently covered by the domestic supplies. This Motley Fool article summarizes the risks for Kronos. Still, the risks have not dissuaded one of the company's directors, Glenn R. Simmons, from purchasing on January 18 and 24 some 15,000 KRO shares in total, at an average price of $19.36 per share. The stock is currently trading at $18.84 per share. KRO is also popular with Gotham Assets' Joel Greenblatt.
Huntington Bancshares (NASDAQ:HBAN), a regional bank holding company, beat analyst earnings estimates on strong mortgage lending, investment gains and improved credit quality. Commercial and industrial loans account for the majority in Huntington's loan portfolio, which should be its strong point going forward as these loans resurge as a result of an improving economy. Net interest margin is also expected to improve somewhat in 2013. The bank is currently trading at a 10% premium to book value and above its five-year average price-to-book ratio of 0.9. Its ROE is relatively high at 11.7%, but below U.S. Bancorp's 16.4% and about on par with Fifth Third Bancorp's (NASDAQ:FITB). On January 23, the company's President and CEO, Stephen Steinour, purchased 40,000 shares of HBAN at a price of $7.04 per share. The stock is currently trading at $6.93 per share. Billionaire Cliff Asness was also bullish about the stock in the third quarter of last year.
BlackRock Inc. , the world's largest asset manager, is benefiting from a new secular shift into passively managed exchange-traded funds (ETFs), which bodes well for the company's long-term growth. In the previous quarter, the asset manager posted estimate-beating results, driven by strong top-line growth and the expansion in assets under management. Inflows into its equity funds have been robust, leading the industry growth, and the stock is poised for strong EPS expansion in the long haul, averaging 12.5% annually for the next five years. BLK pays an attractive yield and has been a consistent dividend grower. It is valued at 15.3x forward earnings, a small discount to the industry, despite faster EPS growth. On January 18, one of the company's directors, John Varley, purchased 427 shares of BLK at an average price of $233.59 per share. The stock is currently trading at $236.42 per share. According to the last 13-F filings, also bullish about the stock are fund managers Jonathon Jacobson (Highfields Capital Management) and Ken Griffin (Citadel Investment Group).
Agree Realty Corp. (NYSE:ADC), a shopping center REIT which focuses on net leases with single tenants, is another beneficiary of strong insider buying activity. On January 15, one of the company's directors, John Rakolta, purchased 50,000 ADC units at an average price of $27.25 per unit. The REIT units are currently trading at $28.53 a unit. Agree Realty Corp., which holds 109 properties, has 63% of annualized base rents from investment-grade companies. It acquired 25 properties for $81.5 million in 2012, with tenants including Lowe's, Dollar General, Wawa, and AutoZone. The REIT is issuing equity at favorable terms to pay down debt and sustain growth through accretive acquisitions and new developments. Compass Point reiterated its buy rating on the stock, saying it sees higher distributions this year, given that "the company's highly predictable future stream of cash flows, after principal amortization, can support a $1.72/share dividend based on a 90% CAD payout. This implies a 7.5% dividend increase." In the third quarter of 2012, Agree Realty Corp. was also popular with fund manager Eric Hovde of Hovde Capital (check out its top picks).
Disclosure: I have no positions in any stocks mentioned, and no plans to initiate any positions within the next 72 hours.
Business relationship disclosure: Dividendinvestr is a team of analysts. This article was written by Serkan Unal, one of our writers. We did not receive compensation for this article (other than from Seeking Alpha), and we have no business relationship with any company whose stock is mentioned in this article.