Several articles regarding Research In Motion (RIMM) including ours here in Seeking Alpha and news cast this week on BNN outlined the possibility of a short squeeze. The newscast shows an interview with featured guest Jim Doak, President of Megantic Asset Management in Canada. Jim poses the hypothesis of a coming short squeeze in RIMM caused by a pair trade gone awry. The trade is long Apple (NASDAQ:AAPL) and short RIMM. Given the direction of these two stocks this month, it would be very painful for anyone to be in this position.
The newly released Nasdaq short interest for RIMM is virtually the same for the period ended 1/15/2013 as shown below:
| | | | |
| --- | --- | --- | --- |
| Settlement Date | Short Interest | Avg Daily Share Volume | Days To Cover |
| 1/15/2013 | 135,121,295 | 50,178,584 | 2.692808 |
| 12/31/2012 | 137,065,866 | 51,326,252 | 2.670483 |
We think whether there is a short squeeze or not, RIMM is a strong buy, period. Numerous reports are out on the state of the smartphone marketplace. This excerpt from Engadget sums up RIMM's position in the market place:
" ... smartphone sales climbed throughout2012, and the aforementioned manufacturers have been kings of the category since last February. The numbers are telling though -- according to ABI Research, Apple saw less growth in 2012 than the previous year, and may hit a plateau in market share in 2013. Samsung, on the other hand, may have some room to grow -- capturing 34 percent of total smartphone shipments in Q4 with over 60 million smartphones moved. Apple nabbed 24.5% of the market with 47.8 million shipped iPhones, while Nokia and RIM took up the tail of the quarter with 86.3 and 6.9 million shipped devices, respectively."
And the following chart from the same article points to where the opportunity lies :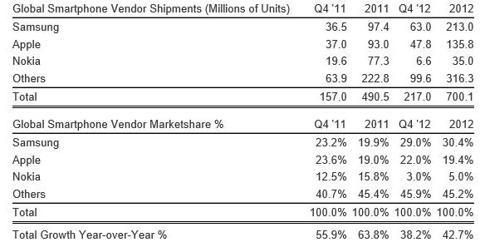 RIMM's 6.9 million units is in the Others category above which represents a sizeable 45.2% which is up for grabs. That is an appetizing opportunity especially with the overall smartphone pie still growing.
Key Points
1. 45.2% of the smartphone market place is up for grabs and RIMM is due to get its fair share. If we take the numbers above at face value, the total market for phones shipped in Q4'12 was 195 million. RIMM's 6.9 million of that is only 3.5%. There is 41.66% left available to RIMM without having to deal with Nokia (NYSE:NOK), Apple or Samsung (OTC:SSNLF). RIMM has a brand that the others in the "Others" category do not have.
2. RIMM's user base is currently 79 million, mostly centered in the enterprise market which is currently very security conscious due to increasing government compliance regulations.
3. RIMM has announced a "draw the circle around the competition" strategy by expanding their enterprise solution with the ability to manage their competitors, Apple and Samsung devices.
4. The market for smartphones is increasing and considered to be in the early stages of displacing the desktop PC market in terms of user adoption. RIMM needs a fraction of the market to meet its financial objectives and command a market valuation far above the price of its shares today.
5. The early reports on its next product which launches next week are very positive. Many current Blackberry users are committed to staying with a non-touch screen QWERTY keypad which RIMM specifically addresses in its current and new product features.
6. RIMM has a clean balance sheet and no structured debt which give it a lot of flexibility in structuring potential strategic deals as those highlighted recently by Lenovo's (OTCPK:LNVGY) CFO Wong Mai Ming saying to Bloomberg: "We are looking at all opportunities -- RIM and many others". We think this does foreshadow a strategic relationship and not an acquisition because it is counter intuitive to tip your hand to the press if you are looking to acquire someone. Announcing it in the press before the offer is made is not good because it drives the price up. A strategic deal on the other hand is another kettle of fish in terms of using the press to disseminate information for purposes to strengthen your negotiating position with your potential partner.
7. A majority of Seeking Alpha writers who have criticized RIMM's prospects have no financial positions in the stock. We have to ask where these pessimists real interest lie.
8. Most analysts now have price targets well above the current price of the stock.
We think whether there is a short squeeze or not, RIMM is a buy for reasons outlined above and beyond the technicals in the stock. The short squeeze would just be icing on the cake.
Disclosure: I am long RIMM. I wrote this article myself, and it expresses my own opinions. I am not receiving compensation for it. I have no business relationship with any company whose stock is mentioned in this article.