Overview
As the leading Chinese language Internet search provider, Baidu, Inc. (NASDAQ:BIDU) has been showing promising growth in these past three years. In Q32012, its revenues reached $994.6 million, a 49.7% increase from the corresponding period in 2011. Its operating profit increased by 48.1% while its net income increased by 59.8% on YoY basis. In the next five years, Baidu is predicted to make a further growth due to market expansion.
Name

P/E

P/E

(Fwd 12 Mo.)

PEG

1 Year EPS

Growth

Rate

Next 3-5 years EPS

Growth Rate

Baidu

23.7x

18.4x

0.87x

28.5%

88.4%

Internet Industry

22.1x

18.6x

-0.01x

14.5%

29.2%

S&P 500

18.4x

16.7x

-0.32x

8.4%

5.3%

Technology Sector

19.2x

14.1x

-0.13x

4.6%

16.9%
Source: CNBC
Within the Internet industry, Baidu's performance marks a strong competitive position. Baidu P/E ratio is about average in the Internet industry this year. For now, Baidu is growing rapidly, yet its growth will be stabilized after 5 years.
Baidu currently holds a strong competitive advantage over its competitors. Its earning per share reached 1.29 and is forecasted to reach 1.69 by Q4. Baidu has much room to grow. Since Google (NASDAQ:GOOG) has been threatened by the Chinese government, Baidu controlled 83.6% of the market share in China. However, previously, Google China only had 11.1% market share in China 2010 before they moved the uncensored Google to Hong Kong. Baidu has the potential to catch up with Google and Yahoo (YHOO) considering the enormous opportunity in Chinese Internet penetration, which is influenced by China's massive population and growing long-term online activities in China.
On the other hand, Baidu also depends on the government policy. Recently, there is an increased competition in which Qihoo 360 Technology (NYSE:QIHU) has shown a growing pattern and increased its market share in the Chinese search market to above 9%. Baidu's stock price had also gone down previously because of the lack of trust regarding the accuracy of its accounting reports. However, this problem will not much affect Baidu's long-term stock price, meaning that these threats are only momentary.
Profitability

Source: Morningstar.com
Baidu generates high net margin and asset turnover. This leads Baidu to have higher ROA than that of its competitors. Baidu is maintaining high net margins to pump up its ROA while keeping its turnover on average pace. Baidu generated 56.03% ROI last year, more than 50% above its competitors. Therefore, Baidu is highly efficient in allocating its capital based on its high ROIC.
Barriers to Entry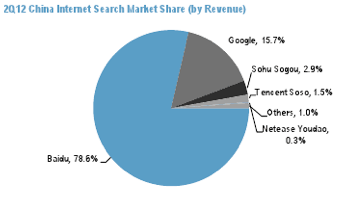 Source: J.P. Morgan
According to 2Q2012, Baidu controls about 78.6% of the China Internet search market share. Google, in second place, only controls 15.7% of the market share. Qihoo 360 Technology (QIHU), a Chinese software company that produces web and security browsers and now Baidu's new competitor, is taking a step to increase its market share in China. In the next few years, Baidu will possibly face many new competitors entering the market, but this will not prevent Baidu from growing. By maintaining its customer loyalty and expanding its market, Baidu can hold its position.
Historical Growth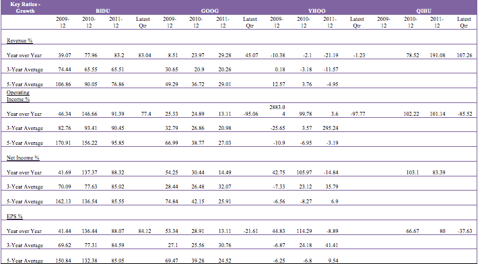 Source: Morningstar.com
Baidu is in the period of high growth these past 5 years, with an exception in the 2009 crisis. While Baidu is experiencing high growth, Google and Yahoo are in the period of steady growth as they had developed before Baidu did. The new competitor, Qihoo, has just started its period of high growth. In addition, Baidu's leading EPS growth shows that Baidu is maintaining a strong position compared to its competitors. In fact, the average of EPS growth in the Internet service industry is only around 2.20%.
Valuation Measures for Tangible Assets
| | | |
| --- | --- | --- |
| | BIDU | Industry Average |
| P/E | 21.6 | 22.6 |
| P/E (Forward) | 19.4 | NA |
| PEG Ratio | 0.48 | 1.19 |
| Price/Sales | 10.3 | 4.9 |
| Price/Book | 9.0 | 3.3 |
| Price/CF | 16.6 | |
Source: Morningstar.com
Baidu has P/E and PEG ratios of 21.6 and 0.48, compared to the industry average of 22.6 and 1.19, respectively. Although Baidu's P/E and PEG ratios are slightly under industry average, based on its P/B and P/S ratios, Baidu's stock is substantially overvalued. It also has a P/CF ratio of 16.6 that is worth looking at.
Valuation Measures for Intangible Assets
Baidu's intellectual property is protected by the trademark, copyright and trade secret protection laws in China. Baidu has 18 issued patents in China. In protecting its core technologies, Baidu intends to apply for more patents. "百度"(Baidu's name in Chinese) has been recognized as a very well-known trademark in China by the Trademark Office under the State Administration for Industry and Commerce, along with its additional trademarks and logos. It also has been recognized in Hong Kong and the United States. Baidu also owns the intellectual property rights relating to its acquired businesses. (BIDU 20-F 2011)
Risk Measurement
| | | |
| --- | --- | --- |
| | BIDU | Industry Average |
| Beta | 1.24 | 1.07 |
| 52-week Low | $90.55 | |
| 52-week High | $154.15 | |
Baidu has a beta coefficient of 1.24 which theoretically means that it is 24% more volatile than the market. In comparison to the industry's beta ratio, Baidu is 17% more volatile than the industry. The 52-week low price is $90.55, and the 52-week high price is $154.15. Starting from April 2012, Baidu was trading above $140. Currently, Baidu stock is trading at discount prices between $90-$115 which gives investors a chance to buy.
Baidu had a high ROIC of 50.33% in 2011. Its ROICs have consistently exceeded 25% since 2006. Moreover, Baidu has maintained high ROE above 20% that has been increasing in these past three years from 37.88% in 2009 to 56.03% in 2011. Baidu has a very high EPS growth. It went down from 136.44% in 2010 to 88.07% in 2011. Baidu is still in the period of high growth as a new business that has just blossomed in the Internet industry. Its growth is explained by the growth of the Internet industry in China, the growth of the communications industry, and the positive outlook of global IT services. The competition level in this market is very high as many new competitors will enter the market. However, Baidu, as the current biggest holder of China's Internet industry market share, has high potential to maintain this achievement by gaining trust and loyalty from its users. Not only maintaining its market share, Baidu is also expanding its market abroad which will contribute to further growth of the company.
Shareholders Expectations
*: Less than 1%
Source: Baidu Annual Report 2011
Baidu management owns 16.9% of the total shares outstanding. The three major institutional shareholders are Handsome Reward Limited, Baillie Gifford & Co, and T. Rowe Price Associates, Inc. which own 15.7%, 7.5%, and 6.9% of the shares, respectively. These shareholders are the beneficial owners of Baidu's shares. The rest of shareholders own 5% or less of the company shares. Baidu shares are divided into two classes, Class A ordinary shares and Class B ordinary shares. Holders in Class A hold one vote per share while holders in Class B hold 10 votes per share. The institutions hold approximately USD 23.267 billion while the fund owners hold approximately USD 13.605 billion.
Recently, Baidu has sold $1.5 billion worth of five-and ten-years bonds. These bonds were marketed to high-grade debt investors. These bonds were priced at a spread of 160 basis points over Treasuries for the five-year bonds, and 185 basis points over Treasuries for the 10-year bonds. These bonds are used to refinance short-term debt, maintain the war chest, expand abroad, and mainly take advantage of the low interest rates.
In the past 5 years, Baidu's stock price looks promising as the price has increased significantly from below USD50 and reached its peak slightly above USD150. In 2012, Baidu's price slightly declined from the strong start in the first half of the year. This decline is caused by the slow growth of China's economy, the increase of the competition in the current market, little underperformance by analysts, and other psychological causes. However, it is important to keep in mind that nothing major is causing its decline. In fact, the volume of trading stocks remained at a stable pace in 2011-2012.
Reasonable Price
Company

P/E Ratio

PEG

Mean

EPS

Current EPS

Vs. Yr. Ago

5 Yr.

Growth Rt.

Baidu Inc.

20.45x

0.50x

2.94

97.15

53.7
Source: Smart Money.com
As we have seen before, Baidu has a high promising ROE. Its historic EPS has shown significant growth. Compared to last year's EPS, the current EPS growth is about 97.15% YoY. Its P/E Ratio is about average in the Internet industry, yet its low PEG of 0.50 is showing a sign of okay to buy. Moreover, looking at the durability of the stock price, Baidu has been through up and down periods because of the unstable world economy, including the Chinese crisis. The difference between high and low prices is ranged between 30-35% in 2012. This fluctuation of stock price gives investors a chance to buy at a lower price than its regular undervalued price.
Actual Stock Worth
Most Likely Case

Best Case

Worst Case

DCF

Abnormal Growth OI

DCF

Abnormal Growth OI

DCF

Abnormal Growth OI

$256.57

$152.85

$273.57

$162.61

$241.72

$144.55
Most Likely Case
In the most likely case, Baidu's growth is expected to decrease slowly as we consider these past five years as Baidu's period of high growth. Baidu is expected to grow in sales revenues by 60.0%, 40.0%, 35.0%, 30.0%, and 25.0% from 2012 to 2016, respectively. In the stabilized period after 2016, Baidu is projected to grow around 15% every year, corresponding with the Internet industry that grows at an average of 14.5%. With the WACC of 10.10%, it makes a large difference between Baidu's share price in the market and Baidu's real share price. The value per share of Baidu is justified at $256.57. However, applying abnormal operating income growth model to this forecasting information, Baidu's value per share is $152.85. Either way, it shows that the current market price is undervalued.
Best Case
In the best-case scenario, Baidu is expected to have an excellent performance in expanding its market domestically and internationally and winning over its growing competitors. Baidu is expected to grow in sales revenue by 65.0%, 42.5%, 35.0%, 32.5%, and 25.0% from 2012 to 2016, respectively. In the stabilized period, Baidu is expected to perform similarly to Google which grows above 20% every year. With the same WACC, Baidu's value per share is valued at $273.57. With the abnormal operating income growth model, its value per share is projected at $162.61. Slightly higher than the most likely case, the market price is undervalued based on the best-case scenario.
Worst Case
Assuming the worst, if the competitors in the Internet industry in China start to show a significant rise in their market share or Baidu's global expansion has failed, Baidu sales revenue will grow by 55.0%, 38.5%, 35.0%, 30.0%, and 22.5% from 2012 to 2016, respectively. In the stabilized period, Baidu is expected only to grow around 13.5% every year. This worst-case scenario considers that Baidu will still have the biggest market share in China, although its market share may have decreased significantly from the past five years. In this case, Baidu's value per share is valued highly at $241.71. Based on the calculation using the abnormal operating income growth model, Baidu's value per share is valuated at $144.55. Baidu reached this price in the beginning of the second quarter in 2012. This scenario shows that Baidu's current price around $110 is still undervalued.
Note: all these cases assume growth in ReOI remains constant at 5% into the future; Baidu's price as of Jan 18,2013 is $109.84.
Conclusion
Baidu has a strong financial performance and defense in the both high and down markets. Baidu's stocks are worth holding for at least 5 years as the Internet and Technology industries are growing internationally. Baidu has strong liquidity and recently, Baidu has issued bonds. These allow Baidu to take advantage of its large cash position to respond quickly to any changing market condition. Moreover, Baidu is highly efficient in maintaining its operation based on its profitability ratio. Baidu's high ROE also shows a good quality of management and performance that meets its shareholder objectives. The low percentage of insider traders makes Baidu a fair investment. All of these analyses and observations, together with its current undervalued price, make Baidu a strong buy.
Disclosure: I have no positions in any stocks mentioned, and no plans to initiate any positions within the next 72 hours. I wrote this article myself, and it expresses my own opinions. I am not receiving compensation for it. I have no business relationship with any company whose stock is mentioned in this article.