One of the leading causes of death for women in the United States is Breast Cancer. According to the National Cancer Institute, 2013 estimates are calling for "an estimated 232,340 new cases of breast cancer and an estimated 40,030 deaths as a result of breast cancer ". Given the fact these estimates continue to grow at a staggering pace, I wanted to focus on one biotech firm making notable progress with regard to their experimental breast cancer drug, NeuVax™.
Galena Biopharma (GALE): Based in Lake Oswego, Oregon, Galena Biopharma is a biotechnology company, engaging in the discovery, development, and commercialization of innovative therapies addressing unmet medical needs such as breast cancer and various other gynecological cancers.
The company's current pipeline includes several forms of NeuVax™ (the E75 peptide derived from HER2 combined with the immune adjuvant granulocyte macrophage colony stimulating factor) as well as a Folate Binding-Protein better known as E-39 (a targeted vaccine aimed at preventing the recurrence of ovarian, endometrial, and breast cancers).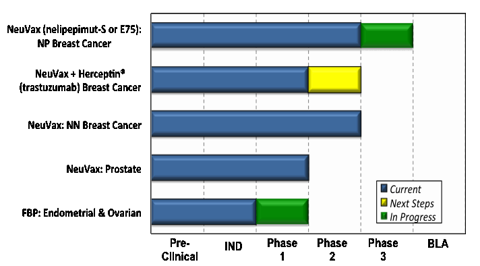 Recent Developments Regarding NeuVax: On December 7th, the company announced the results of NeuVax's Phase 1/2 Trials and the initiation of Phase 3 trials which will be conducted at numerous testing centers throughout the United States.
According to the company's press release, NeuVax™ "exhibited an excellent safety and tolerability profile, and demonstrated a durable response out to 60 months". Included in the company's safety and tolerability profile were the 24-month and 60-month Landmark Analysis figures which highlighted the time frame NeuVax patients were disease-free versus those on the control arm. "Galena's 24-month Landmark Analysis noted that 94.3% of NeuVax patients were disease-free versus 86.8% of patients on the control arm (p=0.08) and the company's 60-month Landmark Analysis noted that 89.7% of NeuVax patients remain disease-free versus 80.3% of patients on the control arm (p=0.077)-a recurrence reduction of 47.7% among all patients at any dose. Multiple dose response analyses underscore the efficacy of the vaccine with statistical significance being achieved among the optimally-dosed and boosted patients".
Fundamental Analysis: Shares of Galena closed Friday's session at $1.74/share and currently carry a market cap of $117.67 million and a book value of $0.21/share. From an earnings perspective, the last four quarters have been mediocre at best, with the only highlight coming in the June '12 quarter when Galena surpassed estimates by $0.15/share or 93.8% above the estimates of $-0.16/share analysts had been calling for.
Since December 7th, shares of Galena have fallen 15.53%, not on the reported data regarding NeuVax but rather on the heels of a much needed secondary offering.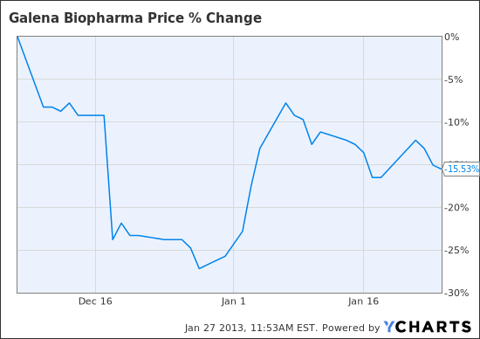 On December 18th the company announced "the pricing of an underwritten public offering of 15,156,250 units at a public offering price of $1.60 per unit, or total gross proceeds of $24.25 million. Galena intends to use the net proceeds from the offering to conduct its ongoing Phase 3 clinical trial for NeuVax™, its Phase 1/2 clinical trial for Folate Binding Protein-E39, the planned Phase 2 clinical trial for NeuVax™ in combination with trastuzumab (Herceptin(NYSE:R)), as well as for general corporate purposes".
Since the December 18th announcement regarding the company's secondary offering, shares have risen 11.15%, which is pretty impressive since such offerings have the tendency to raise a red flag among investors.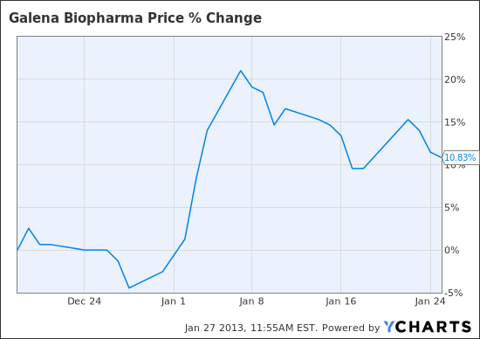 Conclusion: In my opinion, the company's Phase 1/2 trials with regard to NeuVax were quite compelling and if both primary and secondary endpoints are met during the Phase 3 trials of NeuVax, shares could see a considerable jump. The only bad part is that such a jump may not occur until at least 2016, however shareholders may see periodic jumps between now and then. For example, Galena has been showing strength in terms of earnings performance (an upside surprise of 93.8% during the June '12 quarter and an in-line report for the September '12 quarter). If the company can continue to demonstrate solid performance in terms of quarterly earnings, we could see the first of these pops occur during mid-February when GALE is expected to report results.
For the December quarter, analysts are expecting Galena to demonstrate a loss of $-0.10/share which is an improvement from estimates of $-0.11/share just 30 days ago.
One of the key variables for investors to consider when it comes to a small-cap biotech stock such as Galena are its negative catalysts. Although the chances of any of these negative catalysts occurring is minimal, I've put them in order from most probable to least probable.
The first of these catalysts is an unforeseen cash burn that could result in yet another secondary offering, which would send shares down much further than their current price of $1.74/share. The second negative catalyst is the possibility of any indication that NeuVax™ would be unable to meet either the primary or secondary endpoints during its ongoing Phase III trials. The last of the negative catalysts concerns the company's new found relationship with Teva Pharmaceuticals (NYSE:TEVA) which has signed on to assist in the marketing of NeuVax™ for those in the Israeli marketplace. If for any reason, this relationship falters and essential revenue is unable to be generated, shares could take a turn for the worst.
Disclosure: I have no positions in any stocks mentioned, and no plans to initiate any positions within the next 72 hours. I wrote this article myself, and it expresses my own opinions. I am not receiving compensation for it (other than from Seeking Alpha). I have no business relationship with any company whose stock is mentioned in this article.