I follow closely all the energy-related companies of the U.S. and Canadian market and I have noticed an increasing number of pipeline investments during the last months. Although these projects are crucial for our stock-picking strategy, most investors have not put all of them in one map because they are not aware of them. It also does not help the fact that these projects are being constructed by different companies. Eventually, the investors can not realize the upcoming transformation of the U.S. pipeline network at its full extent.
This is why I decided to write an all-in article incorporating the major pipeline investments, which are going to transform North America's energy landscape effective 2013. I believe that I will help the investors get the full picture and position themselves in the energy industry accordingly.
It has to be pointed out that these investments have multiple positive effects on the economies of the USA and Canada. For instance, they will help U.S. decrease its reliance on oil from unstable, sometimes unfriendly, countries, and provide much-needed jobs to an economy suffering from 7,7% unemployment. They will also narrow the spread between Edmonton price and WTI, relieving the Canadian and primarily Alberta's economy, which will avoid tax increases, according to Finance Minister Doug Horner.
Talking about pipelines, I also discussed in one of my recent articles how undervalued the obscure Transportadora de Gas del Sur (NYSE:TGS) was just a few weeks ago when the stock was hovering at $1.40. Transportadora has pipelines in Argentina. The stock started climbing shortly after the release of my article and it is over $1.90 today.
The projects
If you check the chart from Oasis Petroleum's (NYSE:OAS) presentation (pdf), the takeaway capacity out of Bakken grows by leaps and bounds effective mid-2012 and new pipelines coming online in 2H 2012 is the reason for this change. On a second note, Oasis Petroleum is not my favorite play from the Williston Basin because the company has been secretive with the details of its wells there.
So let's check the following projects, which are truly game changers for North America's oil and liquids transport infrastructure:
1) Seaway: Among all the pipelines projects, Seaway has got most of the attention. Enbridge (NYSE:ENB) and Enterprise Products Partners (NYSE:EPD) completed the expansion of Seaway (Seaway Phase 2) from 150,000 bopd to 400,000 bopd this January and there is a twin line (Seaway Phase 3) planned for 2014 that will further boost capacity to 850,000 bopd, increasing the flow from Cushing, Oklahoma, to Gulf Coast refineries.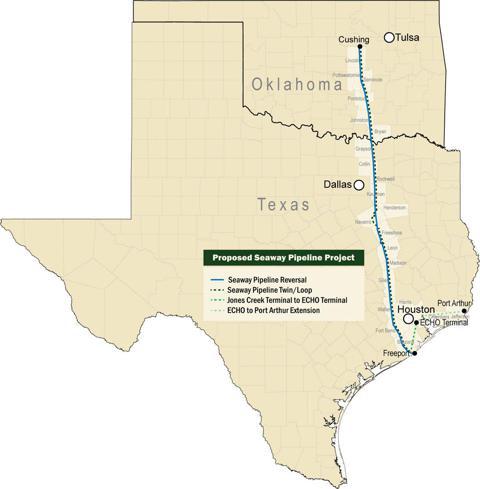 2) Gulf Coast: This project received a final permit in late July 2012 and the construction began on August 6, 2012. It plans to transport 700,000 bopd from Cushing, Oklahoma, to Texas refineries. TransCanada Corporation (NYSE:TRP) has put approximately 4,000 Americans to work constructing the $2.3 billion pipeline, which is on schedule to be completed by the end of 2013.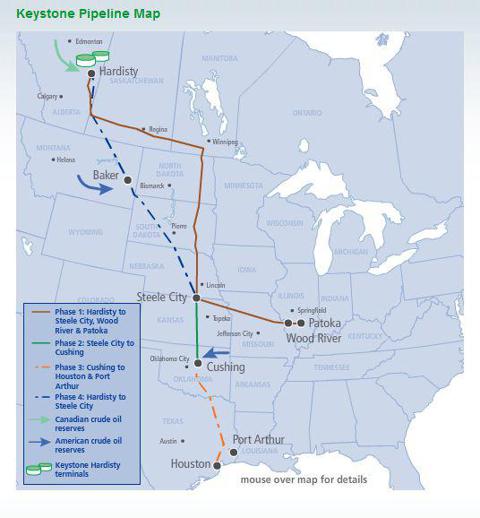 3) Light Oil Access Program: Enbridge and Enbridge Energy Partners (NYSE:EEP) will fund the Light Oil Access Program, which is a $6.2 billion project that aims to ease congestion in the U.S. Midwest refining hub and move oil from Canada to the U.S. refineries, adding 400,000 bopd to the existing network.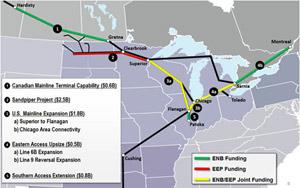 Some significant parts of this mammoth project are:
A) The Sandpiper project: It has huge importance for the Williston Basin because a new pipeline will add 225,000 bopd from Beaver Lodge, North Dakota, to Clearbrook, Minnesota, and 375,000 bopd from Clearbrook to Superior, Illinois. It will cost $2.5 billion and it will be in-service in early 2016.
B) The Eastern Access Upsize: The Eastern Access includes replacing additional sections of Enbridge's Line 6B in Indiana, and Michigan. Combined with scheduled replacements of 75 miles of Line 6B previously announced, the new replacements will increase capacity to 500,000 bopd from 240,000 bopd.
C) U.S. Mainline Expansion: This project expands the Spearhead North pipeline (Line 62) between Flanagan, Illinois, and Griffith, Indiana, to 235,000 bopd from 130,000 bopd by adding horsepower and it will be in service in early 2014.
D) The Southern Access (Line 61): This is the expansion of the existing pipeline between Superior and Flanagan, Illinois, by 160,000 bopd from 400,000 bpd to 560,000 bpd. It is expected to be available for service in mid-2015. This Enbridge's project requires only the addition of pumping horsepower, with no line pipe construction.
4) Edmonton to Hardisty: This is a $1.8 billion expansion of Enbridge's mainline system between Edmonton and Hardisty, Alberta. Initial capacity of the new line will be 570,000 bopd with expansion potential to 800,000 bpd and a target in service date in mid-2015. It is worth noting that the route of this pipeline will follow the same route as Enbridge's existing Line-4 pipeline to minimize impacts on the environment.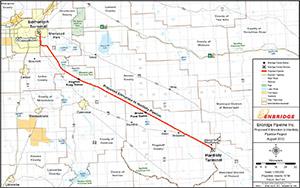 5) Alberta Clipper (Line 67): Enbridge and Enbridge Energy Partners will expand the Alberta Clipper pipeline, which connects Hardisty, Alberta, with Superior, Wisconsin, from 450,000 bopd to 570,000 bopd. This expansion will take place thanks to additional pumping horsepower without any new pipeline construction. The expected in-service date is mid-2014. There is also a second phase that plans to add 230,000 bopd by 2016. Not to ignore that such projects will be a tax boon for several small towns and primarily for Clearbrook, Minnesota, a sparsely populated region that evolves to a major hub whose oil distribution terminal has been repeatedly expanded over six decades.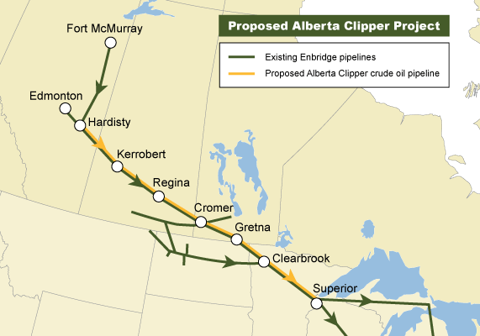 6) Waupisoo: The ongoing expansion of the Waupisoo pipeline to 580,000 bopd will be fully completed in 2013. Actually, the first phase provided 65,000 bopd of additional capacity in the second half of 2012 and a further 190,000 bopd will be provided in the second half of 2013. Waupisoo's pipeline is shown below in Athabasca's chart.
7) Athabasca Pipeline: The expansion of the Athabasca pipeline to 600,000 bopd will be completed in Q1 2013 (Phase 1) and in Q1 2014 (Phase 2). There is also a twin Athabasca Pipeline that will be completed in Q1 2015. Enbridge's regional oil sands infrastructure includes the Athabasca and Waupisoo pipeline systems, which currently connect six producing oil sands projects, and which will connect eight producing oil sands projects by 2014, relieving the big heavy oil producers like Suncor Energy (NYSE:SU), Imperial Oil (NYSEMKT:IMO), Cenovus Energy (NYSE:CVE)and Husky Energy (OTCPK:HUSKF).
However, among the heavy oil players, I prefer the small Rock Energy (OTCPK:RENFF), which has risen almost 50% since I recommended it through my article less than two months ago.
My intuition says that Rock Energy will be another C&C Energia (CZE.TO), which I recommended at $5,70 in August 2012 in my first article for SeekingAlpha. C&C Energia was acquired by Pacific Rubiales (OTC:PEGFF) for almost $9 just three months later in November 2012.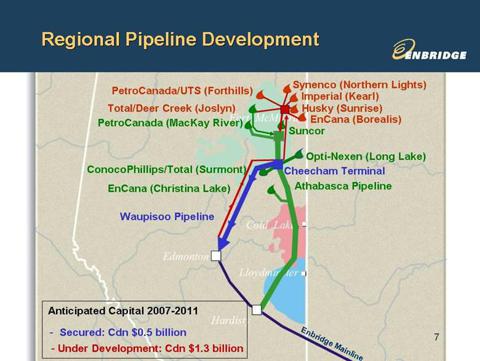 8) Flanagan South: Enbridge will build the Flanagan South Pipeline Project, a 600-mile, interstate crude oil pipeline that will originate in Flanagan, Illinois, and terminate in Cushing, Oklahoma. The majority of the pipeline will parallel Enbridge's existing Spearhead crude oil pipeline. The initial capacity will be 585,000 bopd and the project will be completed in 2014. The upsized new Flanagan South pipeline, combined with the existing Spearhead pipeline system, will offer shippers 775,000 bopd of capacity from Flanagan to Cushing.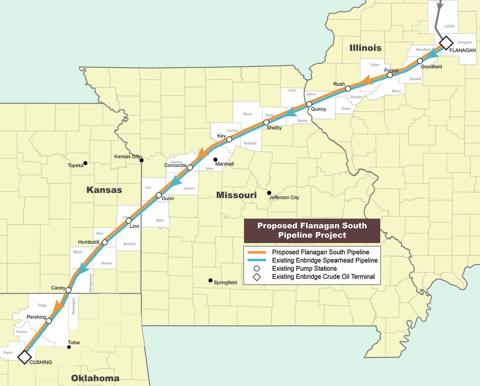 9) Texas Express NGL Pipeline: Enterprise Products Partners, Enbridge Energy Partners and Anadarko Petroleum (NYSE:APC) will construct this pipeline, which originates near Skellytown, Texas, and extends 580 miles to Enterprise's natural gas liquids fractionation and storage complex at Mont Belvieu. It has 280,000 bopd capacity, which can be expanded to 400,000 bopd and it will be in service in Q3 2013.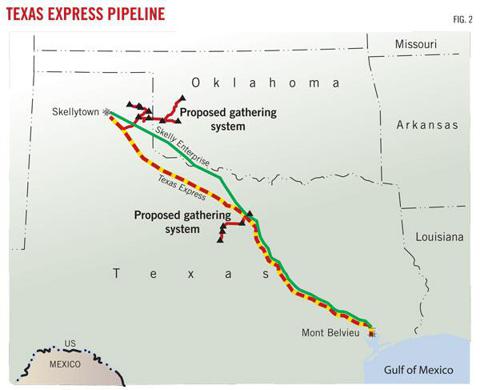 10) Prince Rupert Pipeline: The Prince Rupert transmission line will carry gas from the Montney region in British Columbia to an export facility near Prince Rupert, B.C. Progress Energy awarded a few days ago the $5 billion contract to TransCanada and this project is part of the company's plans to export liquefied natural gas in the energy-hungry Asian markets.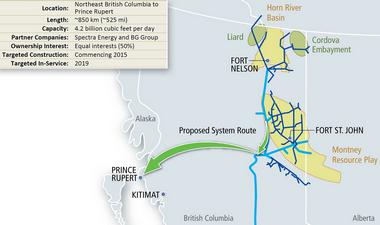 11) Front Range NGL Pipeline: This project is a Joint Venture between Enterprise Products Partners, Anadarko Petroleum and DCP Midstream Partners (DPM) which each hold a one-third interest in the project. It will initially move 150,000 bopd from the DJ Basin in Weld County, Colorado, to Mont Belvieu, Texas. It has also expansion capacity to 230,000 bopd. Enterprise will construct and operate the pipeline that will help producers in the DJ Basin maximize the value of their NGL production by providing connectivity to the premium Mont Belvieu market. It will be connected to the aforementioned Texas Express NGL pipeline from Skellytown, to Mont Belvieu.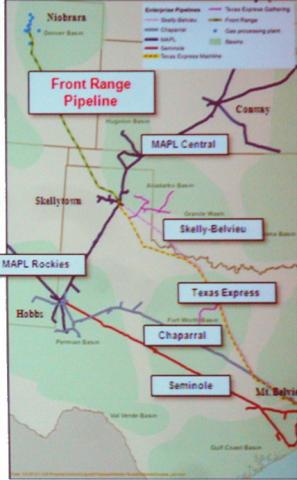 12) Eagle Ford NGL Pipeline: Enterprise Products Partners is the owner of a 173-mile extension of its Eagle Ford NGL pipeline. This project will deliver NGL production from La Salle County, Texas, to the company's plant in Yoakum, Texas. Enterprise expects this 140,000 bopd extension to enter service by Q2 2013.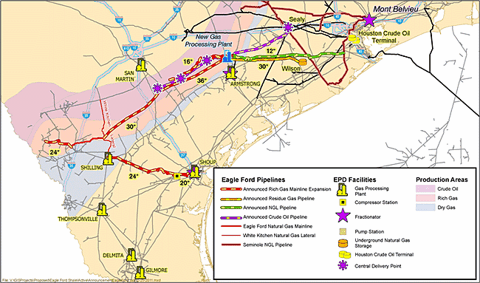 Investment Opportunities
It is clear that the primary investment idea through this article is the pipeline operators themselves. Enbridge Energy Partners is my favorite one as it combines the hefty annual dividend with significant growth prospects.
Another investment strategy would be to buy the Canadian oil producers who are growing their production and will benefit more than the U.S.-based Bakken or Eagle Ford players for several reasons. Why? Because Edmonton price is lagging WTI more than Bakken price is lagging WTI currently. Additionally, I believe that the Canadian dollar will not be depreciated as much as the U.S. dollar during the next months. Thus, buying the Canadian energy producers is an indirect way for an investor to benefit from the depreciation of the U.S. dollar, if he is a U.S. dollar bear. This being said, I recommended Surge Energy (OTCPK:ZPTAF) in my latest article.
Conclusion
In this article, I intentionally did not discuss the Keystone XL project as it has not been approved by President Obama yet. Based on the latest news, this project took a step forward as it was approved by Gov. Heineman who gave the green light to America's economic growth, energy security and the creation of thousands of new, good-paying jobs.
Additionally, I did not incorporate both the controversial Northern Gateway and the Trans Mountain Pipeline Expansion as they have not been approved yet either.
In the second Part of this series, I will discuss all the remaining major pipeline projects that will impact dramatically North America's oil and liquids transport infrastructure during 2013-2014.
Disclosure: I have no positions in any stocks mentioned, but may initiate a long position in EEP over the next 72 hours. I wrote this article myself, and it expresses my own opinions. I am not receiving compensation for it (other than from Seeking Alpha). I have no business relationship with any company whose stock is mentioned in this article.