The following is excerpted from a recent Connexiti note to clients:
EVENT: Standard Microsystems Corporation (NASDAQ:SMSC) reports FQ3 revenues in line, but FQ4 guidance sharply lower (-37.2% below street) (see conference call transcript).
CAUSE: Weakness in PCs, Autos (together ~50% of revenues); "Precipitous Drop In PC Sales".
IMPACT: Negative data point for PC supply chain
ACTION: Continue to avoid AAPL, DELL, HPQ, INTC, MSFT, PC supply chain, distis
image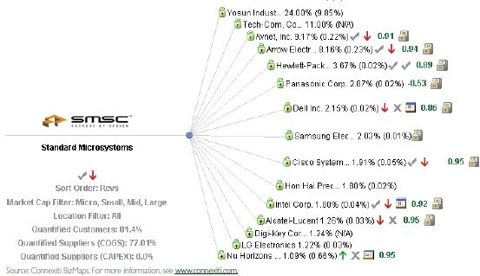 SUPPLY CHAIN EVENT TRACKER
EVENT: SHARPLY LOWER GUIDANCE
On Tuesday, SMSC reported FQ3 revenues of $84.3M (+0.6% above Street estimate $83.8M), but guided FQ4 revenues of $45-51M (midpoint $48.0M -37.2% below Street $76.4M). The implied Q/Q decline of -43.1% is below a 7-yr average of -12.1% (ó=19.92)
CAUSE: PC, AUTO WEAKNESS.
SMSC derives 16% of its revenues from Autos, and 34% of its revenues from PCs (24% notebooks, 10% desktop). On the conferance call, management spoke of a "precipitous drop in PC sales" and noted an inventory build in both the PC and Auto channels. Management did note that it thinks the current quarter may be the bottom for its own revenues, but we believe that is, if true, company-specific and not a signal of significant supply chain improvement from here.
IMPACT/ACTION: CONTINUE TO AVOID PC SUPPLY CHAIN NAMES
Despite recent positive market action, supply chain data has continued to be negative—much worse than Street estimates, debunking the notion that bad news is "priced in" or that "everyone knows it's bad"—and SMSC's guidance is the latest data supporting our neg stance on the PC supply chain (not to mention INTC, already on our negative list, which warned again during the writing of this note).
SMSC specifically pointed out North American PC manufacturers as the primary source of weakness, and while they did not name names, this would be AAPL, DELL, and HPQ.
Given that these represent the global #7, #2, and #1 in market share, respectively, we view SMSC's guidance as supporting our negative view not just on these OEMs, but also the rest of the PC supply chain, including AMD, INTC, LSI-OLD, MRVL, MSFT, STX, and WDC.
We continue to believe that 2009 semiconductor estimates are overstated: as we have written previously, we believe that a best-case scenario for semi Y/Y rev growth is -20% (and even this best-case scenario is looking increasingly optimistic); meanwhile, the Street is modelling a decline of -12.5%, and Gartner recently lowered its estimate to -16%. Due to a lack of visibility, companies generally have not provided 2009 guidance, and we have argued for some time that so-called "cheap" tech stocks will not look so cheap once the Street has a better handle on how 2009 will shape up.