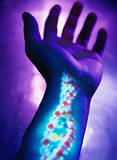 One of my perennial favorite trends which hasn't autocorrected like the January effect and any other publicized cyclical trend is the Biotech Seasonal Cycle. As I'd posted last year, the Biotech indices tend to outperform the S&P handily late each year. See this post for an explanation of reasons and historical data/graphical representation. To demonstrate this year's continued trend, check out this chart of XBI vs. the S&P 500 during the last 3 months showing a marginal gain for this diversified ETF vs. a loss for the S&P: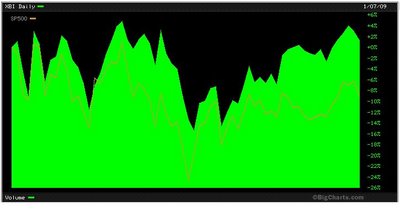 This time around, I think the overperformance may extend well into 2009. Essentially big pharma's struggling with patent expirations and lackluster new drug launches and late-stage pipelines. They are still flush with cash, but need to start showing growth and the old small-molecule approach isn't going to cut it.
Therefore, you're going to see a wave of biotech acquisitions. Just look at the announcement Wednesday night that Crucell (NASDAQ:CRXL) is in talks with Wyeth (WYE) to be acquired. I went long the ADR CRXL with the notion that Wyeth isn't the only suitor and shares could well be pushed past the 27% move today (Thrusday) on the news. Make sure to stay tuned via a reader or follow my twitter for how this potential bidding way plays out over the next month.
Why XBI? With this index, you get a broad swath of biotech stocks. When the frenzy begins, the rising tide lifts all ships. Watch out for BBH, it's heavily weighted toward Amgen (NASDAQ:AMGN) and Genetech.
What are your thoughts; does this biotech outperformance have legs?
Disclosure: Authos is long CRXL, no position in XBI.