While many investors prefer trading indexes and ETFs to avoid specific stock risk, many of us at Seeking Alpha are here with ideas on how to beat the indexes. One method I use is to follow the indexes, such as my articles about SPY for the S&P500 index, then pick favorite stocks from the indexes when they are out of favor after correcting down to major support levels. As someone who designed semiconductors for 20 years with an "engineer/scientist" title in Hewlett-Packard's (NYSE:HPQ) R&D department, plus schooling and some work in process design, I like to trade the Semiconductor Index represented by the iShares Semiconductor exchange traded fund (NASDAQ:SOXX), as it is an area where I have experience that most financial analysts lack.
The SOX index is on the verge of a technical breakout (see the dashed red line in the graph below). This could be a very bullish sign if we see high volume with rising prices. Currently, of the stocks I own in the SOX, Intel (NASDAQ:INTC) is the closest in price to the last time I added shares.
As of January 24, 2013 according to ishares.com, the 10 largest components of the Semiconductor Index are Texas Instruments (NYSE:TXN), Applied Materials (NASDAQ:AMAT), Intel, Broadcom (BRCM), Taiwan Semiconductor Manufacturing Company (NYSE:TSM), Micron Technology (NASDAQ:MU), Sandisk (SNDK), NXP Semiconductor (NASDAQ:NXPI), KLA-Tencor (NASDAQ:KLAC) and Lam Research (NASDAQ:LRCX). This table from the overview page shows their weightings and other key data: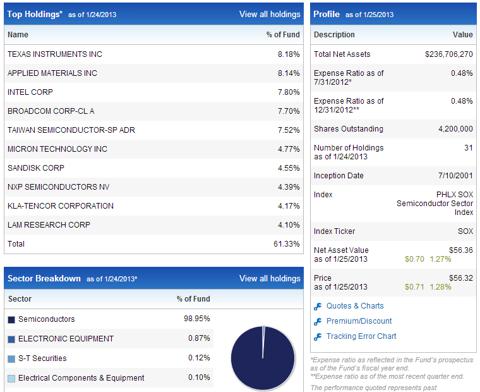 Here is the complete list of the 30 stock symbols for the companies in the SOX index: ALTR, AMAT, AMD, AVGO, BRCM, CREE, CRUS, HITT, IDCC, INTC, KLAC, LLTC, LRCX, MKSI, MLNX, MRVL, MU, NVDA, NXPI, POWI, RBCN, SNDK, SPRD, STM, TER, TSM, TXN, VECO, WFR, XLNX
This link gives the Complete Current Holdings by BlackRock iShares for its SOXX index.
For prices, market caps, dividend yields and other market data for the full list as of Friday January 24, 2013, see "SOX Semiconductor Index at Critical Resistance", and scroll down below the graph for the table.
I like investing in the semiconductor sector because it doesn't trade in lock-step with the S&P500 index. This chart clearly shows the SOX index is roughly at a third of its March 2000 all-time high, while the S&P500 index is getting close to its all-time high.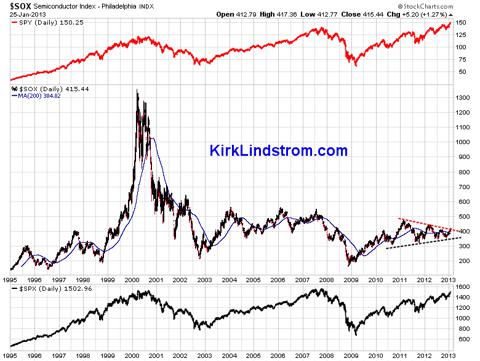 Technically, a break above the dashed red line of the SOX on the chart above with volume would be very bullish. This week is key.
I personally own four stocks in the SOX index, and added shares of them in my newsletter's "Explore Portfolio" when they were all lower. Below are my four favorites in alphabetical order. I'd like to hear from readers about their favorites and why.
#1 Altera: Altera Corporation (NASDAQ:ALTR) is the 13th largest component of the SOX. In my latest newsletter, I wrote the following:
"Altera Corporation engages in the design, manufacture, and marketing of programmable logic devices; hard copy devices; predefined design building blocks; and associated development tools. Altera's products lower the per chip cost since it allows the same silicon integrated circuit to be used in many different applications. Altera's chips are used in a wide range of products such as Internet routers, mobile-phone base stations, flat-panel televisions and DVD players. Companies will use Altera's programmable logic devices rather than pay a million dollars or more for a set of masks before they even build a single, DEDICATED integrated circuit for their new products. With 2011 earnings of $771M on $2.06B revenue meant 37.4¢ from every revenue dollar was net (OTC:REAL) profit compared to 40.1¢ in 2010 on sales of $1.95B. Altera is a money-printing machine even in a slow economy!"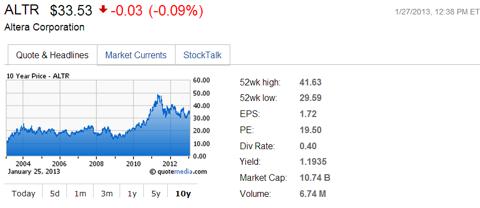 My last trade for Altera was to add shares last year at $32.50 after taking profits in 2011 at $40.25. With dividends reinvested (as shown on the graph below), Altera has outperformed the SOX, but someone who bought at the very peak in 2000 and reinvested dividends is still down almost 50%.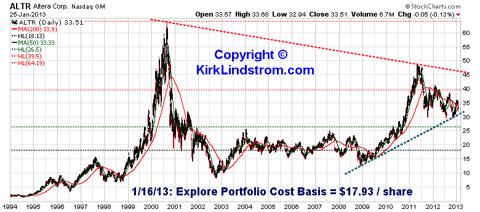 #2 Applied Materials: Applied (AMAT) is the second largest component of the SOX. In my latest newsletter, I wrote the following:
"Applied Materials makes capital equipment (tools) for building wafers containing integrated circuits (chips) and flat panel displays (TVs, cell phones, iPods, etc.) New applications using faster and more powerful chips and higher resolution displays should keep AMAT on a long-term growth trajectory for decades. AMAT is very cyclical as it invests during economic downturns, sometimes losing money, so it can make a lot of money when economies recover. Look at the major downturns as opportunities to accumulate shares to sell later when the news is good and AMAT is making money hand over fist again. After LRCX, AMAT is my next most profitable investment in the portfolio from buying when cheap then taking profits when the stock soars. FY2011 sales were $10.52B and net GAAP income of $1.93B, $1.45/share, or 18% of sales."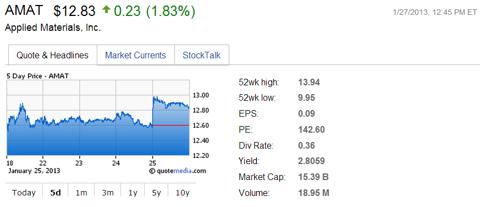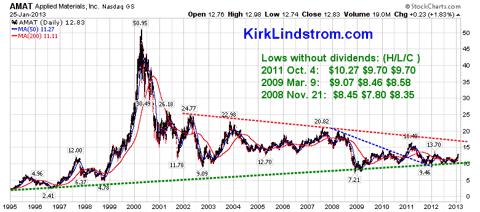 #3 Intel: Intel is the third largest component of the SOX. In my December 5, 2012 Seeking Alpha article, "Why Intel Is A Great Buy", I recommended Intel here at $18.75.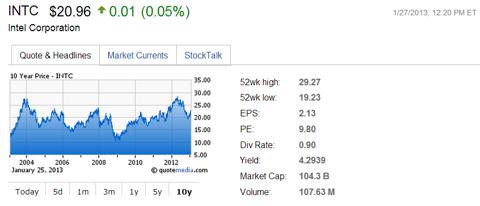 Today, with Intel at $20.96, I still own and like it, especially on pullbacks.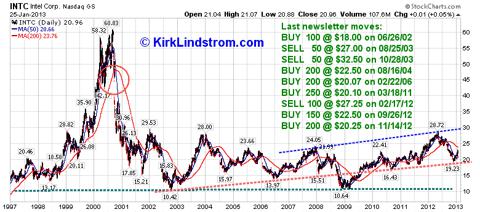 #4 Lam Research: Lam is the10th largest component of the SOX index. In my latest newsletter, I wrote the following about Lam;
"Lam Research is one of the best run companies in the United States. Lam makes machines that etch patterns into semiconductor wafers. As semiconductor chips got more complex, more layers of metal are required for interconnecting the billions of transistors. Each layer requires two etch steps, one to etch the pattern of "wires" and another to etch holes to connect the just etched interconnect layer with the previous layer of circuitry. During 2012, Lam acquired Novellus Systems by issuing stock, which gave Novellus shareholders a premium when NVLS was undervalued and the industry was at a cyclical low. Purchasing Novellus will help Lam grow business at Intel. Novellus deposits material on wafers and Lam etches patterns in it. Cost savings will come from combining redundant support functions. During the last cyclical peak in FY2011, Lam earned $724M ($5.79 per share) on revenue of $3.24B. Every revenue dollar generated 22.4¢ profit. "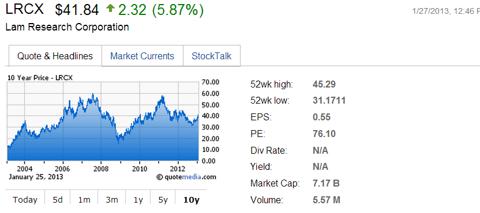 I expect Lam to do even better during the next up cycle for semiconductors with NVLS. If it earns $6 with a PE of 15, that would push the stock to $90. I plan to take profits well before that, as I am on house money from trading shares over the years.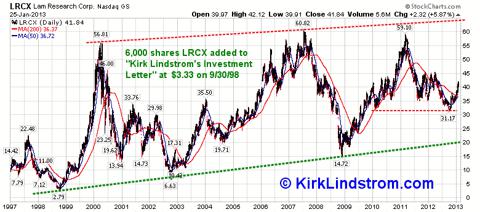 What are your favorites?
I especially like hearing about the smaller companies in the index that have a higher potential for gains. As the chart above shows, I bought Lam in 1998 when it was very cheap at a time some thought it would not survive. I liked its CEO and technology, and thought otherwise.
I took a lot of profits in 1999 and 2000, with huge gains in my semiconductor stocks. I was one of the few paid writers in 2000 that recommended taking profits in technology, and was paid by a local firm as a stock analyst to help the VP convince the president to take profits in clients' technology stocks to buy value stocks. I believe many of the smaller growth stocks found in the SOX are almost as "unloved" by the general public today as they were loved in 2000, so they have great potential. Many of the stocks pay a higher yield than 10-year Treasury bonds.
Disclosure: I am long INTC, AMAT, ALTR, LRCX, HPQ. I wrote this article myself, and it expresses my own opinions. I am not receiving compensation for it (other than from Seeking Alpha). I have no business relationship with any company whose stock is mentioned in this article.