This is the third in a series of articles, which began with Constructing the Core of Your Dividend Growth Portfolio in 2011. This article reviews portfolio strategy and results for 2012, and describes changes made for 2013. This portfolio is a reflection of my personal Dividend Growth Portfolio. It is a real collection of stocks that I own, though the total dollar value is different, and the amounts are rounded in the Seeking Alpha version to make the presentation clearer.
The major change in my approach for 2013 is an equal weighting of all core holdings, rather than an approach that over weighted some. In addition, a collection of satellite holdings supplements the core.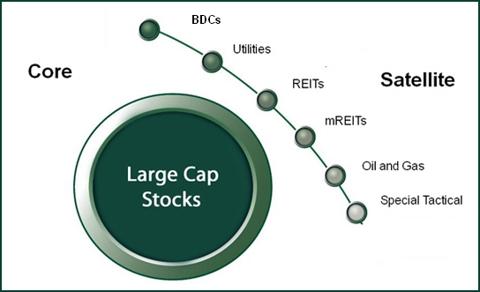 A Concept of Core Holdings
The idea of a portfolio weighted toward a core is the logical outcome of placing your money on your best ideas, on established blue chip companies, on powerful engines of capitalism that have been creating wealth for half a century of longer. The 2012 Dividend Growth Portfolio of nearly $318,000 in starting value consisted of 24 stocks, with larger investments concentrated in 6 of them.
The six stocks I over weighted did not have greater dividend increases or greater capital appreciation than the other stocks in the portfolio. I concluded that there was little difference in this small group of stocks from the others in the portfolio - all were of high quality. In addition, I realized that one year was not necessarily long enough for intrinsic differences to effect results. In addition, I quite obviously do not have Warren Buffett's skill in selecting stocks. Therefore, in 2013, I will move forward with core holdings of equal dollar weighting supplemented by satellite holdings. Before we look at our 2013 portfolio, let us review 2012's performance.
2012 Dividend Growth Portfolio Performance
The largest positions were in BHP Billiton (NYSE:BBL), Intel, Co. (NASDAQ:INTC) and PepsiCo (NYSE:PEP) at $24,000 each. The holdings in Johnson & Johnson (NYSE:JNJ), McDonald's (NYSE:MCD) and Procter & Gamble (NYSE:PG) were $18,000 each. These stocks paid us $4,420 in dividends, a yield of 3.81% on our purchase price. However, while BHP Billiton and Johnson & Johnson made nice gains, Intel and McDonald's had offsetting losses so those key stocks were virtually even for the year.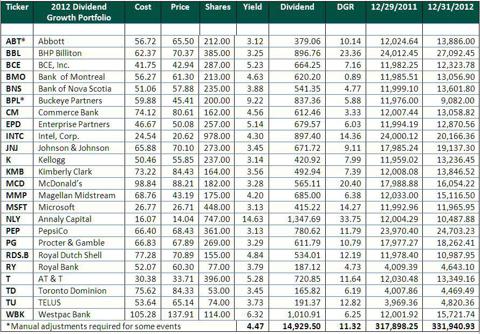 With one exception, the sale of Buckeye Partners (NYSE:BPL) to stop losses, the portfolio was unchanged throughout the year. I believe that the basic nature of Buckeye's overall business changed. Here is Morningstar's recent take, "Buckeye Partners' refined products pipeline business churns out fairly steady cash flows and enjoys favorable regulated rates, but flat to declining volumes will probably restrain growth for this core business. In an effort to drive distribution growth, Buckeye has executed a number of large acquisitions primarily in the crude oil and refined products terminals space. While the jury is still out on the ultimate success of these deals, the high multiples Buckeye paid are crimping distribution growth in the near term, and the increased reliance on terminals adds more uncertainty to Buckeye's cash flow profile than we've seen historically."
The Portfolio Meets Its Goals
The portfolio met its primary goal, which was income in the $15,000 range, with dividends of $14,929.50, a 4.70% yield based on the cost of the portfolio. Incidental to the income produced, the value of the portfolio appreciated $14,042, a 4.42% gain. This means the total return was 9.12%. The tracking software I used had some glitches in it and I have made manual adjustments where I observed them.
Evolving to the 2013 Core Portfolio
While I remain confident that I can select a very good portfolio of sound dividend growth companies, I no longer believe that I can discern which 6 or 8 will outperform or which should be heavily weighted, either short term or long term. Therefore, I have come to believe that I'm better off holding an equal weighting of core stocks rather than concentrating on a few.
In a series of articles in December, I explored using a fixed core of 20 stocks, adding satellite stocks to it to serve special purposes. That four part series starts here. The articles address adding stocks to increase income, to increase the dividend growth rate, to increase stability and yield by adding REITs and by adding utilities.
Therefore, I have begun the process of trimming positions in the stocks I over weighted in 2012 and will move forward with a core of 20 stocks with positions of $12,000 each for a total of $240,000 in core positions. That leaves approximately $90,000, to invest in 15 satellite positions of $6,000 each. At the suggestion of richjoy403, I have added an earnings measurement, a 5-year forward-looking EPS column to the tables. Earnings drive stock prices and make dividends possible.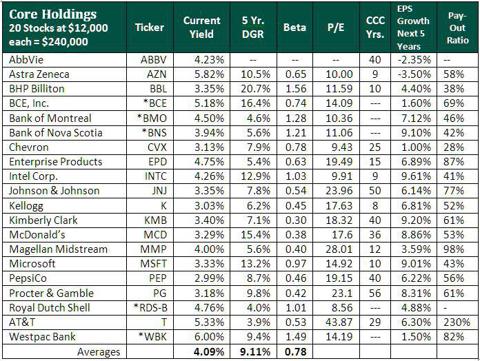 Core holdings are the foundation of a portfolio. They are large and enduring companies, which have an expected holding time of forever. They are steady and reliable, la crème de la crème of world-class firms. They hold little risk for investors.
The satellite holdings, while carefully selected, inherently have more risk. However, they also offer the potential for larger returns. The investments are 72% in core holdings and 28% in the satellite holdings. Portfolios designed like this theoretically offer better returns than those holding only one class of stock, with a very limited amount of additional risk. An alternate method would be to hold an ETF, such as SPY, indexed to the S&P 500, or SDY, which holds Dividend Aristocrats, as the core, and augment it with satellite and tactical holdings. However, David Van Knapp has pointed out that at this time there is not a dividend growth ETF that meets our needs.
I need to mention that since this reflects my personal portfolio, it also is tailored to my personal goals and objectives. My goals have changed over the past year, and this change is reflected in the holdings I go forward with in 2013. Notably, my emphasis is on generating short-term and mid-term income.
*Caution, One Size Does Not Fit All
A younger person would rightly be more concerned with long-term gains and higher dividend growth rates than yield. In addition, some of the stocks above do not have long records of increasing dividends, which might be a deterrent to holding them for some. These five stocks, four of them Canadian, are marked with an asterisk*. You can read more about Canadian Banks here, Bank of Montreal,(BMO) and Bank of Nova Scotia (NYSE:BNS) above and Royal Bank (NYSE:RY) below. Learn about Canadian Telecoms here, BCE, Inc. (NYSE:BCE) above and TELUS (NYSE:TU) below. Alternates I might hold if I wanted US Stocks with long histories of increasing dividends are ADP, Inc. (NASDAQ:ADP), Emerson Electric (NYSE:EMR), General Mills (NYSE:GIS), Coco-Cola (NYSE:KO), Genuine Parts Co. (NYSE:GPC) and Sysco Corp. (NYSE:SYY).
The Rest of the Story
We add these 15 satellite holdings with investments of $6,000 each to the 20 core stocks for diversity, increased yield and more exposure to the domestic shale oil and gas industry.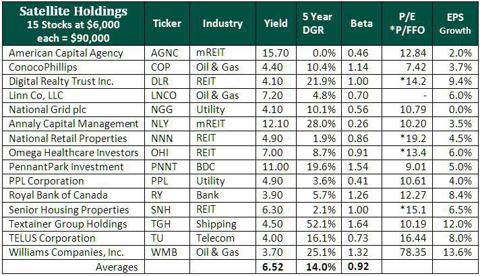 The overall yield on the combined 2013 core and satellite portfolios is just over 4.75%, and the income will be about 5% more than last year.

Concluding Remarks
Perhaps the biggest advantage to being an investor in individual stocks is your ability to tailor a portfolio to your income needs, risk level and a comfortable volatility. You can accomplish this in many different ways, with many different combinations of sound and enduring companies. I thank David Fish for his CCC lists and Chuck Carnevale for FAST Graphs, which were the source of P/FFO and some of the EPS forecast data.
The dialog of readers is always important in this forum and I welcome your comments and contributions.
Good luck!
Disclosure: I am long ABBV, AZN, BBL, BCE, BMO, BNS, CVX, EPD, INTC, JNJ, K, KMB, MCD, MMP, MSFT, PEP, PG, RDS.B, T, WBK, AGNC, COP, DLR, LNCO, NGG, NLY, NNN, OHI, PNNT, PPL, RY, SNH, TGH, TU, WMB, ABT. I wrote this article myself, and it expresses my own opinions. I am not receiving compensation for it (other than from Seeking Alpha). I have no business relationship with any company whose stock is mentioned in this article.