I have liked Ford (NYSE:F) for awhile and was happy to buy the shares at around $10, not that long ago. However, the stock has jumped about 40% since that time. With many challenges remaining, it makes sense to consider selling into this rally and buying in again when a better opportunity arises in the future. Ford shares look very extended now and could be poised for a significant retracement before finding key support levels. Here are a number of points to consider as to why the shares could head lower in the near future.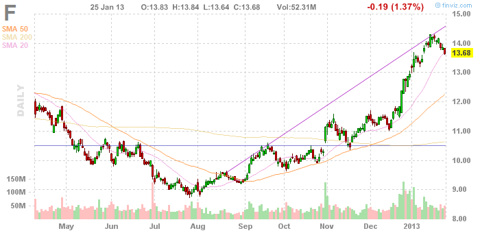 It only takes a quick look at the chart to see that Ford shares look extended and as if a ceiling has been hit. Already the stock has started to weaken and that could mean it is at the beginning of an even larger pullback. The first key support level would be near $12 per share, which is close to the 50-day moving average. The second major support level could be around $10.58 per share which is the 200-day moving average.
On January 25, 2013, an analyst at Barclays (NYSE:BCS) downgraded Ford shares from "over weight" to "equal weight", but kept a $15 price target. The downgrade was partially based on the major gains in the share price. A couple days before, Deutsche Bank (NYSE:DB) also downgraded the stock, from buy to hold. Ford shares already looked "toppy" before these downgrades, but now it seems like the stock could be about to head lower, especially with investors considering the recent analyst downgrades.
Ford continues to face challenges in Europe as the debt crisis has led to very high unemployment levels in many countries. This has caused a price war and margin pressures as auto makers use incentives to push product. It might be years before the European economy recovers.
In the meanwhile, Ford recently announced plans to re-launch the Lincoln brand in an effort to boost sales and distinguish it from the Ford brand. The company plans to invest money in marketing and designs and it will even air Lincoln commercials at the Superbowl. This won't be the first time that Ford has tried to reinvigorate the Lincoln brand, so it might not make sense to be overly optimistic about this endeavor. The Lincoln brand typically appeals to an older crowd, and personally, I find the new designs to be mostly funny looking. I would not bet on a big Lincoln comeback with so many other great luxury brands in the market and this new push could cost a considerable amount of money and reduce profits for the company. It's worth noting that Ford has not always had a lot of success with luxury brands in the past and it ended up selling Jaguar, Land Rover, Aston Martin and Volvo.
Finally, while the U.S. economy has seemingly averted the "Fiscal Cliff" crisis for now, it might not be long before the debt ceiling issue becomes a major concern. While our political leaders have once again kicked the can to avoid painful spending cuts for a couple more months, it won't be long before the debt issues facing this nation returns. The combination of major government spending cuts (perhaps later this year) and the recent payroll tax hike could contribute to reduced consumer confidence and spending. These issues could become major headwinds for many automakers in 2013 and that along with the recent jump in the stock price leads me to believe that selling the stock now could set investors up to take advantage of what might be a much better buying opportunity.
Here are some key points for F:
Current share price: $13.58
The 52 week range is $8.82 to $14.30
Earnings estimates for 2012: $1.34 per share
Earnings estimates for 2013: $1.46 per share
Annual dividend: 40 cents per share which yields about 2.9%
Data is sourced from Yahoo Finance. No guarantees or representations
are made. Hawkinvest is not a registered investment advisor and does
not provide specific investment advice. The information is for
informational purposes only. You should always consult a financial
advisor.
Disclosure: I have no positions in any stocks mentioned, and no plans to initiate any positions within the next 72 hours. I wrote this article myself, and it expresses my own opinions. I am not receiving compensation for it (other than from Seeking Alpha). I have no business relationship with any company whose stock is mentioned in this article.