Buckeye Partners, L.P (NYSE:BPL) seems to be at the moment overvalued. Buckeye paid a rather high multiple when it bought out its general partner in 2010 for over $1.1B. The share price for Buckeye has declined 20% since the buyout, and has yet to recover from its 2010 highs. For 2009 and 2010, Buckeye paid out more in distributions than it actually received in cash flow. For 2011 and 2012, Buckeye has actually paid out 95% of cash flow as distributions, and has had very little left over for growth. Buckeye currently pays a quarterly distribution of $1.04 per share. At current prices, the stock for Buckeye yields nearly 8%.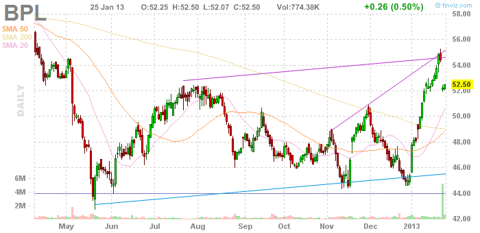 Buckeye can trace its roots back to John D. Rockefeller's Standard Oil Co. The company has a long history, with over 125 years of continuous operations. Buckeye owns and operates approximately 6,100 miles of pipeline and 100 active products terminals that provide aggregate storage capacity of over 41 million barrels of liquid petroleum product. Buckeye also has some international assets, with over 28 million barrels of storage capacity at 2 terminal facilities in the Bahamas (~23 million) and Puerto Rico (~5 million). Buckeye has announced an expansion to add approximately 4.7 million barrels at the Bahamian facility. Buckeye derived about 74% of its 2011 EBITDA from its domestic pipeline operations. About 23% of EBITDA comes from the international segment.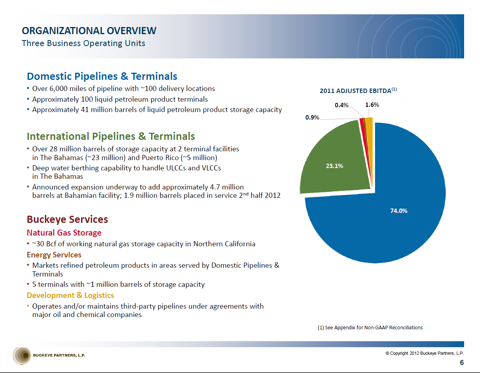 Buckeye has a solid and profitable asset base, mostly centered in the Midwest and Northeast of the US. However, Buckeye has a problem: these assets are not near the major new discoveries of shale oil and gas. Buckeye does have assets near the Utica/Marcellus formations, though this area is not producing near as much as other areas. The vast majority of shale production is coming from the Bakken and Eagle Ford basins.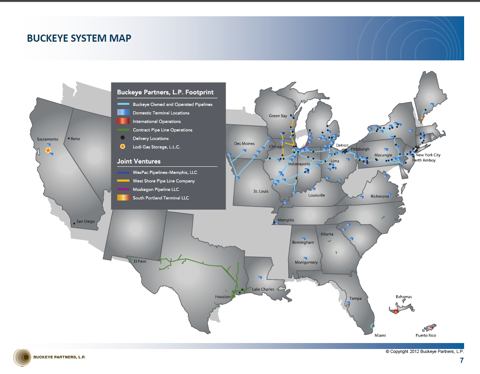 Buckeye has a history of overpaying for assets. Buckeye acquired its general partner in 2010 for $1.14 Billion in order to reduce capital costs. This deal was financed by massively diluting unit-holders. With the additional units being issued, Buckeye's 2011 distributable cash flow per unit dropped 6%. Another blunder for Buckeye was the purchase of the Lodi natural gas storage facility in 2008 for $440M. Buckeye financed this deal by issuing debt and equity. The company took an impairment charge of $169M related to this transaction during Q3 2012. On January 18, 2011, Buckeye completed the purchase of First Reserve's interest in BORCO. On June 1, 2011, Buckeye acquired 33 refined petroleum products terminals with total storage capacity of over 10 million barrels and approximately 650 miles of refined petroleum products pipelines from BP (NYSE:BP). On May 11, 2011, Buckeye sold its 20% interest in the West Texas LPG Pipeline Limited Partnership. In July 2012, it acquired a marine terminal facility for liquid petroleum products in New York Harbor from Chevron (NYSE:CVX).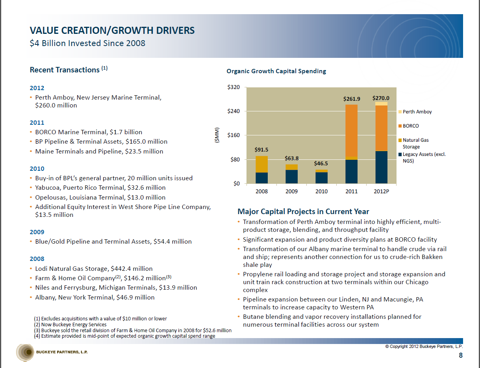 Buckeye has a very high distribution payout ratio, averaging 101% since 2007. For the past 2 years, Buckeye has managed to lower this to a pro forma 95%. This high coverage ratio can be directly correlated to the issuance of shares related to Buckeye's costly acquisitions, especially the buyout of its GP, near the highs of 2010. Buckeye's share price has yet to recover, and is still down from its 2010 highs of over $65 per share. Buckeye has not raised its quarterly distribution for 4 quarters. Buckeye used to provide nearly quarterly increases in the distribution, increasing it nearly every quarter from 2003 to 2011. However, due to the high payout ratio, I would expect very little future distribution growth from Buckeye.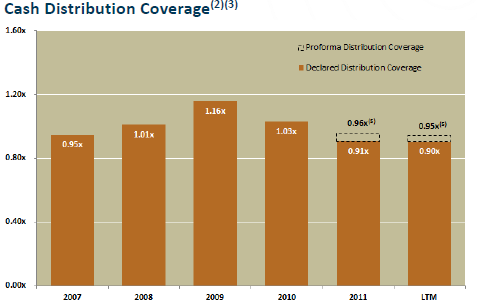 Conclusion
I would avoid owning Buckeye Partners. The high yield is not enough reward for the lack of distribution growth. Buckeye has overpaid for assets while also neglecting to grow near the major new US energy sources. Buckeye's core assets are profitable, and will be for the foreseeable future. However, Buckeye will not be a winner from the Bakken/Canadian/Eagle Ford NGL and thermal oil boom, and may instead be a loser once the transportation bottleneck is solved.
Disclosure: I am long CVX. I wrote this article myself, and it expresses my own opinions. I am not receiving compensation for it (other than from Seeking Alpha). I have no business relationship with any company whose stock is mentioned in this article.