J & J Snack Foods (NASDAQ:JJSF) is a mid-sized processed foods company selling snacks, including SuperPretzels and several other brands. It's a boring, but very steady business.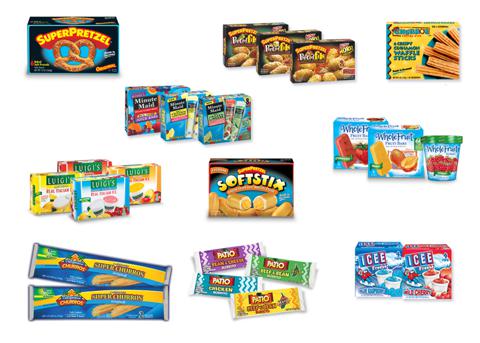 The company has a wide product portfolio with many brands. J&J Snack Foods was started with the assets of a bankrupt soft pretzel maker, and through the acquisitions of many complementary businesses and assets, has transformed into a diversified snack foods company, although the largest product by sales is still soft pretzels.
Segments
J&J Snack Foods is a fairly simple business. It has three segments: sales to external customers, retail supermarket, and frozen beverage. The first two sell largely the same products, but through different distribution channels. The sales to external customers segment sells directly to large customers, whereas retail supermarket sells to grocery stores as intermediaries for small customers.
Growth
A significant portion of J&J Snack Foods' growth has come from acquisitions. In the mature food industry, there is not much room for organic growth. After adjusting for acquisitions and an extra week during the latest quarter, sales were only up 2%.
For J&J Snack Foods, acquisitions have been a significant source of growth. Throughout its history, JJSF has continuously bought companies. It tends to buy cheap companies or assets and fold them into its existing distribution infrastructure. These have generally been small bite-sized acquisitions, which can benefit from the expanded reach of the company's well-developed distribution network.
In the company's fourth quarter conference call, the topic of acquisitions was brought up. Management is not interested in empire building, preferring to stick within the company's area of competence and avoiding potentially problematic targets which could take up too much time and energy:
Mitch Pinheiro [analyst from Janney Montgomery Scott]: Well let me ask you one more question around acquisitions. Almost all of your acquisitions have been in your core competencies and certainly complementing either on the Retail side frozen, like your handhelds or -- and the handhelds being a little different, but certainly fits into your channels. How… Are you still focused on acquisitions within your core competencies and the focus on your core channels or is it… Should we not be surprised by something new, a new channel, a new type of capability, things like that?

Gerald B. Shreiber [Founder, Chairman, President and CEO of J&J Snack Foods]: I'm not… We're not going to run out and do something that's going to be transformational, all right. But to the extent that we've stayed within… Well and we've expanded our playing field over the years. We've gone from pretzels to beverages to juice bar, but we're going to… It would take something significant and/or dramatic that we would have -- that we would do something that would be too far outside of our core competencies.
J&J Snack Foods has seen a fair amount of success with its acquisition strategy. One of the latest purchases was ConAgra's handheld snack business, which was losing revenues at a 20% annual rate. JJSF managed to halt the decline in sales, and the business had become a source of operating income as of the latest quarter.
Growth by acquisitions can be a risky strategy. Integrating operations and turning around businesses can take up a disproportionate amount of management's time, and a bad acquisition can destroy lots of shareholder value. However, there is some evidence that JJSF's strategy of buying small but manageable businesses is by far the least risky acquisition method. Aswath Damodaran, a professor of finance at NYU, recent wrote a blog post on the success of acquisitions based on size:
Acquiring smaller companies seems to provide much better odds of success than mergers of equals. In the graph below, for instance, take a look at the returns to acquirers around acquisition announcements of targets, with the targets classified based upon their size in market cap terms, relative to the acquiring company. Markets are much more welcoming of small deals than big ones, justifiably wary of the integration costs and culture clashes that mergers of equal inevitably bring.
Furthermore, JJSF's acquisition of ConAgra's handheld business fits in the category of public subsidiary targets, which is the most attractive type of acquisition. From Damodaran's blog:
Acquirers who focus on buying privately owned businesses rather than public companies earn much more positive returns, mostly because they don't have to pay premiums over a market price that already incorporates much of what they are paying for. In fact, looking at the figure below, the very best targets are divisions of public companies, often divested at bargain basement prices by CEOs who want to get rid of high profile failures.
Other Growth Opportunities
Organic growth in such a mature industry is tough. One of the faster growing snack categories has been and likely will be healthy snacks. Demand for healthy snacks is hard to measure, but is highly correlated with the demand for organic foods and nutrition foods. According to Partnership Capital Growth, sales of organic food and beverages grew 85% ,or roughly 13% annually from 2005- 2009, and over 5% in 2009, compared to a roughly 2-3% rate for conventional foods and beverages. While that's a bit old, I doubt the trend has reversed recently. The nutritional food industry is also growing much faster than 2-3% a year.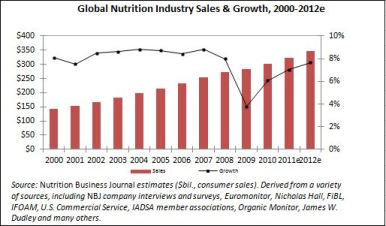 However, J&J Snack Foods does not appear to be participating in this category, apart from being forced to create some healthier versions of its products to maintain market share in the school foods business:
Bob Costello: So what do you anticipate with the new -- with the continuation of this administration? Is there any more changes that you anticipate with the school programs?

Gerald B. Shreiber: Well a lot of the changes have been put in over the past couple years. None of them quite frankly… Well let me just put aside my personal comments. Most of them are designed to provide a healthier product, choices for the children whether it be carrot sticks, all right, or whole wheat pretzel and we have had to reformulate nearly our entire product line for the school system, and we've done that.

Sometimes it's hard to keep up with it and we have to satisfy not only the USDA, but the directors of the school in there and ultimately it gets down to the student there who they have to like the pretzel or the product on there. We still have some challenges left for us. We're real good at reformulating. We're real good at keeping with the standards. We have a dedicated sales team that is on top of that, and we're hopeful that this will improve over the next couple years. But quite frankly the last couple years because of the nutritional changes, the school systems have had a negative impact on our sales and profitability. You wouldn't know it on our overall numbers because we're still running like hard charging horses everywhere else, but we've had to make up the differences.
Management
Gerald Schreiber built the company from a distressed pretzel maker, and his ownership of just over 19% of the company reflects this. This aligns his interests with that of shareholders.
The company is financially conservative. It does not have any long-term debt, preferring to use cash for acquisitions and capital expenditures.
Industry Comparison
First, a quick snapshot of the food processing industry. These are all the companies with a market cap above $1 billion. To ensure comparability, I removed companies that are largely wholesale, meat, and dairy businesses, as the dynamics are somewhat different, and margins in particular are not comparable: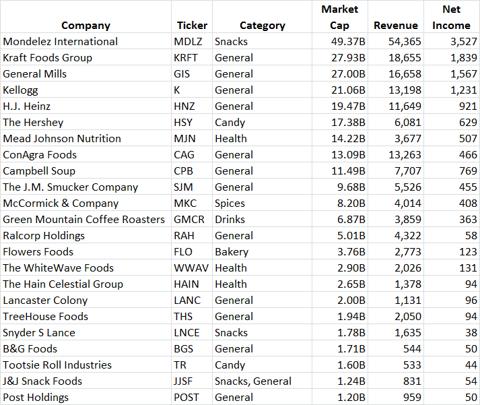 And here is a comparison with various valuation and operating metrics: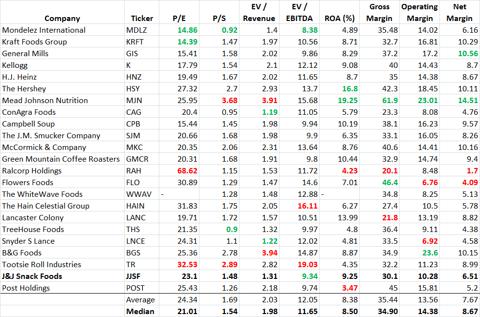 Margins And Operating Metrics
J&J Snack Food's margins are not the best, though they are not bad, either. Gross margin, operating margin, and net margin are slightly below industry average. In terms of return on assets, the company is doing better than average.
Valuations
In terms of valuation, I generally like to use EV/Revenue and EV/EBITDA, as enterprise value metrics penalize debt and rewards cash. When using such metrics, J&J Snack Foods appears to be undervalued by some 20-30%, but in this case, the unadjusted price to earnings and price to sales provide a better comparison. For cyclical industries, debt can be a significant source of risk, but in the highly stable food processing industry, paying off debt is not such an issue. Comparing JJSF using the P/E and P/S multiples indicates that its valuation is roughly in line with the industry.
While the company may be fairly valued relative to its peers, there's a risk that the whole industry is slightly overvalued as the greater consumer staples sector appears to be. When comparing each of the 10 sectors' cyclically adjusted P/E ratios to its history, only the consumer discretionary sector is further above its average. The 10 sectors' P/E ratios are, on average, 1% above their historical averages, while the consumer staples sector's is 15% above average.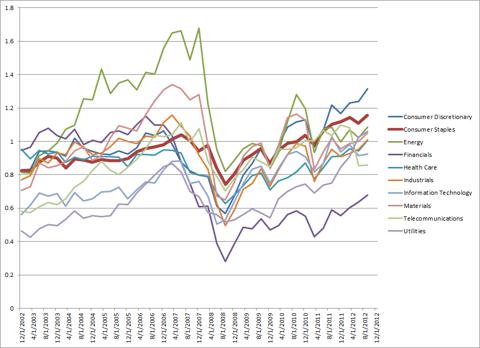 Dividend
J&J Snack Foods has consistently raised its dividend for seven years in a row. The company's low payout ratio of 18.2% and its consistently positive free cash flow indicates that it will likely continue to raise its dividend for the foreseeable future. Its dividend yield, however, is uninspiring at only 0.96%.
Conclusion
I really like J&J Snack Foods as a company, with its conservative management and its disciplined, opportunistic acquisitions, but I don't see a good reason to buy its stock. The stock appears to be fully priced, maybe a bit overpriced. The company is not pursuing higher growth markets such as the health foods category, and does not deserve an above average valuation. Ideally, I'd like to see this company trading below $50 a share before I buy.
Disclosure: I have no positions in any stocks mentioned, and no plans to initiate any positions within the next 72 hours. I wrote this article myself, and it expresses my own opinions. I am not receiving compensation for it (other than from Seeking Alpha). I have no business relationship with any company whose stock is mentioned in this article.