There is a popular saying, "Those who fail to learn from the past are doomed to repeat it." I have heard a lot of commentary around Apple (NASDAQ:AAPL) recently. Many people are describing what is happening to the stock analogous to Microsoft (NASDAQ:MSFT) in 2000. I set out to test that theory with my own analysis and more importantly, understand when the knife may stop falling on AAPL.
First, let's take a walk back through time with Microsoft. Back in the 1990s, Microsoft's stock could do no harm. The stock finished the decade +9562%! But the stock had reached its peak. It never saw levels as high as December 27, 1999, and still has not to this day. The stock dropped a little to start 2000 and then fell sharply with the market as the dot-com bubble burst.
In the decade leading up to Apple's peak above $700, the stock was up +9531% - pretty close to the MSFT run. Coincidence? Probably. But more importantly, I think this run up and subsequent fall out tells us about the market psychology in these stocks.
The chart below shows the performance of AAPL relative to MSFT scaled to their respective peaks in both quantity and timing.

The path on the way up for AAPL relative to MSFT is not a perfect match by any means. But what it does imply is that we still might not be anywhere near a bottom in the stock. Based on my model, a near term rally may kick in around 52% of the peak value which would imply a price around the $365 level and could occur in the next 20 trading days.
The bad news for those that are long AAPL is the stock maybe on a downward cycle for a while. MSFT did not see a real bottom till around a year after it peaked at only 35% of peak value. If APPL found itself in a similar trajectory the stock would bottom at $245 per share around September, 2013.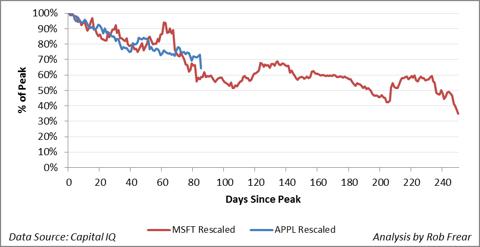 Now before you go out and trade off of history repeating itself I believe there is one key difference to point out: Valuations.
At its stock price peak in 1999, MSFT was trading at an Enterprise Value to EBITDA multiple of 50.2x. To any value investor over 50x EBITDA seems crazy, if not downright reckless. But those were the days of the tech bubble era and it is important to put that into perspective. The S&P 500 during that same time was at 15.3x EV/EBITDA. Scaling the multiple relative to the S&P 500, MSFT traded over 225% above the market multiple.
Compare that with AAPL and you get a very different picture. At the AAPL peak, the stock traded at an Enterprise Value to EBITDA multiple of 11.3x vs. the S&P 500 multiple of 8.6x, only 32% above the market multiple.
The chart below shows this value relative to peak for both companies. A couple of key takeaways:
The general trend prior to the peak was upward sloping for MSFT and downward sloping for AAPL. This indicates that while AAPL's price moved higher towards its peak the stock actually got cheaper relative to the market. Compare that with MSFT where valuations were moving away from the market prior to its peak and thus contributing to the bubble.
Apple now trades at a discount to the market; it took Microsoft over 8 years to reach that mark. In other words, when it peaked, MSFT's correction was a story about over-valuation. At valuations near and now cheaper than the market, that is just not the case for AAPL.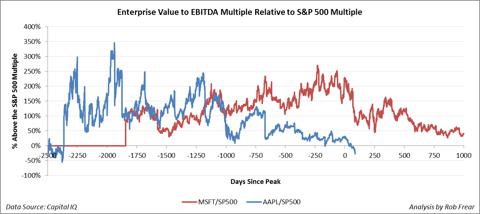 Conclusion
There may be some lessons we can take from the history books on MSFT. We may even be able to apply those lessons to APPL going forward if investor psychology plays out the same way. It could be simple; we would see AAPL bottom by October 2013 and several bounces between now and then. However I would caution to believe that history would so blindly repeat itself as valuations do not line up the same way they did back at the turn of the century.
Disclosure: I am long AAPL. I may alter my position in AAPL in the next 72 hours. I wrote this article myself, and it expresses my own opinions. I am not receiving compensation for it (other than from Seeking Alpha). I have no business relationship with any company whose stock is mentioned in this article.