Are defense companies good investments? I am an impatient reader, so let's start with the conclusions:
The industry earns lower margins than most others. It is concentrated in few (budget-constrained) customers, with limited opportunity for growth - in the U.S. or globally.
The sector funds have reasonable performance and low yields.
Investment in individual Defense Sector companies is a stock-picking game. Some companies are conglomerates, and others can provide a more diversified manufacturing investment than their specialized counterparts. The funds and less specialized defense companies seem to deliver the best investment results over the long term.
A few defense company securities can provide the investor attractive and growing dividend yields, but the sustainability of the dividends are questionable given that lower sales are expected as a result of government spending cuts.
The Defense Sector can provide investors an avenue to hedge the risk of war, or even profit from a global crisis, but is not as flexible as gold.
Defense Sector Status and Outlook
At this juncture, the Defense Sector needs a significant, sustained, war or global crisis to make it an outperformer. The risk of war is discussed in my Instablog, and which types of gold investments provide the best hedge in the event of a global war or crisis is here. The next-most-likely "defensive" investment area is probably companies that specialize in armaments.
A positive aspect of investing in this industry is that the participants are manufacturers and innovators. Investing in this sector may benefit investors in the same ways as owning shares in high-tech manufacturers who innovate. For example, the Global Positioning System (GPS) technologies, and many others, emerged from aerospace and defense. Charles River Associates covers this topic, among others, here. Therefore, investors in the defense industry are the beneficiaries of the innovations that flow to non-military use. Moreover, for those who seek to have more manufacturing and/or more aerospace and defense exposure, investment in this sector may meet diversification goals.
An important issue that we will face when investing in the defense industry is whether this would be a good investment in the event that there is sustained peace. Gold investors do not face this conundrum, as gold is a hedge for many situations; the defense sector has limitations, as it benefits from military risks only. In other words, if peace prevails, is this sector "lost money," or does it have potential to provide a reasonable return?
According to a report (pdf) titled "Defense Industry Access to Capital Markets," published in April 2011 (a little dated, but a great document), we can anticipate stable returns; I have extracted a few pertinent paragraphs from the extensive report:
... While the CSIS Defense Index's operating margin is higher today than at any point in the past 20 years, it has consistently been lower than those of the commercial indices.

... The consensus among Aerospace & Defense equity research teams at the large investment banks is that operating profit margins for most defense contractors, and specifically for prime contractors, peaked in 2008. While it is unlikely that margins will fall back to their 1990s levels, they are likely to stabilize at the 8 to 9 percent range for the foreseeable future.

... From 2001 until the stock-market peak in 2007, the Aerospace & Defense indices outperformed the S&P 500 Index. This trend was particularly pronounced from March 2003 until late 2007, the period that saw the most intense fighting in Iraq. From 2007 to 2008, the indices have traded closely together, as investors began anticipating the end of U.S. involvement in Iraq and slower growth in the defense budget. The plunge in the Spade Defense Index in 2008 likely reflects broader investor flight from equity rather than a fundamental change in the financial health of the defense sector.
Based on this, one can conclude that this sector is not a great near-term investment, but perhaps an adequate one for the long term.
An analysis of a Deloitte report titled "US Aerospace and Defense Industry Financial Performance Sluggish In 2011" suggests that there are risks and opportunities in this sub-sector:
Over the past year we've started to see the effects of anticipated cuts in defense spending as outlined in the Budget Control Act, as well as uncertainty over the potential for defense industry funding due to the planned budget sequestration," said Tom Captain, vice chairman, Deloitte LLP and U.S. aerospace and defense leader.

... the report suggests that companies remain cautious as the DoD enacts $487 billion in budget cuts over the next decade. Additionally, recent industry announcements call for a shift in strategic focus for the sector, bringing new challenges and increased competition to defense contractors, while expanding markets and M&A transactions offer new opportunities for firms.
The risks may outweigh the opportunities in the U.S. Aerospace and Defense sub-sector; they do not seem to have alternatives in the face of Department of Defense (aka DoD) budget cuts.
Both U.S. and global spending on military budgets do not inspire confidence that the defense sector can grow. There is an excellent, big-picture summary in "Defense Spending and the Global Economic Downturn":
Military budgets have proven buoyant over the past few years, driven by the wars in Iraq and Afghanistan, and higher spending by developing countries. However, the global downturn was sufficiently severe to cause a slowdown in world military expenditure through 2010, according to the latest figures available from the Stockholm-based peace institute, SIPRI. "World military expenditure is estimated to have been US$1630 billion in 2010, an increase of 1.3% in real terms. This represents the slowest annual rate of increase since the surge in global military expenditure that began after 2001. Between 2001 and 2009, the annual increase averaged 5.1% in real terms," SIPRI says.

The increase in 2010 is almost entirely down to the United States, which accounted for US$19.6 billion of the US$20.6 billion real-terms increase. Excluding that, the total in the "rest of the world" barely changed in 2010, increasing by a statistically insignificant 0.1%. SIPRI points out, however, that there were wide regional variations. Military spending in South America increased by 5.8% and in Africa by 5%, while Europe actually saw a decrease in military spending of 2.8%. Increases in the Middle East, Asia, and Oceania were modest at around 1.4%.

SIPRI points out that in many cases the falls (or slower increases) represent a delayed reaction to the crisis, with central and eastern Europe making substantial cuts in their military spending and the United Kingdom cutting billions off its defense budget. The United States and China still top the spending league tables, with the United States spending US$698 billion on defense in 2010, up 2.8% on the 2009 figure, and China spending an estimated US$119 million, an increase of 3.8%. France, the fourth-highest spender in the SIPRI league table, actually cut its military budget by a whopping 8.4%.

In early June the US House of Representatives voted through a US$649 billion defense spending bill for fiscal 2012, which begins on October 1, 2011. This constitutes an increase over 2011 levels of US$17 billion. According to Reuters, the House cut some US$8 billion from President Obama's overall defense spending request as part of the hunt to find ways of slashing the US$1.4 trillion deficit. It voted through US$530 billion as the primary budget for the Pentagon, with a further US$119 billion earmarked for the wars in Afghanistan and Iraq. The House bill does not cover funds for the US nuclear weapons programs or military construction, which adds a further US$33 billion to overall military spending.
Therefore, even with a global perspective, the defense industry seems to provide an investor with limited growth potential.
Defense Funds
Whether they manufacture fighter jets, aircraft carriers, tanks, missiles, bullets or uniforms, there will be a huge demand for military equipment should there be a global military crisis. Non-participants will supply fighting countries or update/stockpile their own arsenals. After all, it is a survival instinct to prepare to defend yourself after a threat to your well-being is exposed (anecdotal evidence is the increase in gun sales - including assault rifles - after the Newtown killings). Just clothing and providing basic weaponry to an expanded army would be a major financial transaction, and at $50M per aircraft, war can be very profitable for companies in the defense sector.
The big question for investors is which defense security to buy, as there are many choices. For those who prefer to buy the entire sector through Exchange Traded Funds, I have identified two candidates for your consideration:
| | | |
| --- | --- | --- |
| ETF Name (Ticker) | Yield (%) | Investment Goals |
| Aerospace & Defense Powershares (NYSEARCA:PPA) | 1.6% | Seeks to replicate the SPADE Defense Index: companies involved in the development, manufacturing, operations and support of U.S. defense, homeland security and aerospace operations |
| SPDR S&P Aerospace & Defense (NYSEARCA:XAR) | 1.1% | Aerospace and Defense sector of S&P Total Market Index (S&P TMI) |
The two funds behave in a very similar manner, as can be seen from this three-month chart: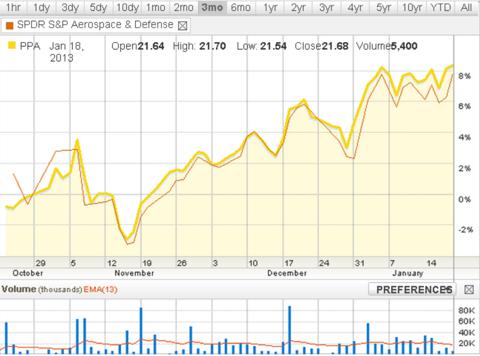 In the graph below, XAR is compared with SPDR S&P 500 ETF (NYSEARCA:SPY) for the past year; one can see that the Defense ETF underperformed for most of the year, but has matched SPY at the end: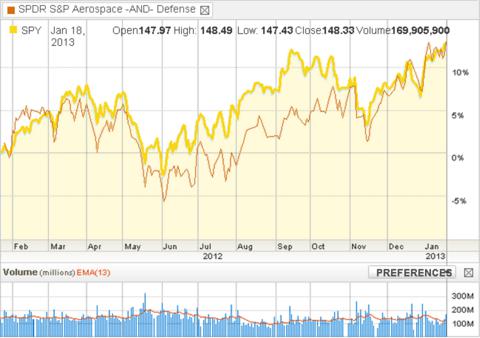 To summarize, the sector funds have provided a similar return as the S&P over the last year. The challenge is one of future growth and return.
Defense Companies
Let's examine some individual stock choices in the defense sector, and see if certain types and names outperform others. First, let's identify the main American and European stock listings. The best known in the industry, in North America, are the first 8 - the CNN Defense Stocks of U.S. companies; the remainder is what I could cull from other sources. Bloomberg has what seems to be a comprehensive list of worldwide Aerospace/Defense companies here. I have attempted to identify the dividend-paying ones, excluded those from undeveloped and/or countries that are perceived as very corrupt, and included a few from which I would have expected dividends. In other words, this list is overwhelmingly dividend-payers based in the U.S. and Western Europe:
| | | |
| --- | --- | --- |
| Company (Ticker) | Yield (%) | What They are Supplying |
| Alliant Techsystems (ATK) | 1.5% | Ammunition used in rifles and machine guns |
| Boeing (NYSE:BA) | 2.4% | Apache helicopters; Lancer jets |
| General Dynamics (NYSE:GD) | 3.1% | M-1 Abrams tank |
| L-3 Communications (NYSE:LLL) | 2.9% | Communications systems; reconnaissance and detection technology |
| Lockheed Martin (NYSE:LMT) | 4.9% | Nighthawk stealth fighters |
| Northrop Grumman (NYSE:NOC) | 3.2% | B-2 Spirit stealth bomber; Global Hawk spy plane, Tomcat fighter jets |
| Raytheon (NYSE:RTN) | 3.5% | Tomahawk cruise missiles |
| United Technologies (NYSE:UTX) | 2.4% | Black Hawk helicopter |
| Other Companies | Yield (%) | What They are Supplying |
| BAE Systems (OTCPK:BAESY) | 5.3% | Range of products and services for air, land and naval forces; advanced electronics, security, IT, support services. |
| Dassault Aviation (OTCPK:DUAVF) | 1.0% | Manufactures the Mirage and Rafale military jets |
| Embraer SA (NYSE:ERJ) | 0.0% | Military aircraft |
| European Aeronautic - EADS (OTCPK:EADSY) | 0.9% | Aircrafts, helicopters, missiles, defense systems and defense electronics, and offers services related to these activities. |
| Finmeccanica (OTCPK:FINMY) | 0.0% | Military aircraft, satellites, defense systems, small arms/ammunition |
| National Presto Ind (NYSE:NPK)* | 1.3% | Precision mechanical and electro-mechanical products |
| Oshkosh (NYSE:OSK) | 0.0% | Mine Resistant Ambush Protected (MRAP) vehicles |
| Rolls Royce (OTCPK:RYCEY) | 1.9% | Aircraft engines and related services |
| Thales SA (OTCPK:THLEY) | 2.2% | Onboard and ground electronic systems, security systems |
* Note: NPK is a small-cap conglomerate (e.g., military arms, adult diapers, and small cooking appliances), with about 50% of revenue from military equipment. Also, it often distributes large, annual, special (one-time) dividends, so the yield is substantially understated. Details are discussed in this article "National Presto: Value Play Or Value Trap?" (and comments).
Choosing the right company in this industry is critical to your investment success. The defense sector is a "one-trick pony." There are some exceptions; we have defense companies, which have other significant businesses:
For example, United Technologies Corporation is a diversified conglomerate, with six operating segments. The returns from Otis (elevators), Carrier (air conditioning), and some of the other name-brand operations, balance the defense exposure. Investments in defense conglomerates provide a degree of participation in this industry, with a larger footprint in less-cyclical and less-government-dependent areas.
Other armament companies are diversified manufacturers; an example is Boeing . It has a large product portfolio of commercial aircraft (which it describes as a growing business), and the 2011 Annual Report advised that $32B of $67B revenue is from defense. In other words, if the defense business "goes south," over half of the revenue remains untouched in the commercial aircraft line of business.
For single-purpose defense companies, growth opportunities are solely associated with increased defense spending by governments - they need a major technological break-through, or increased spending on armaments when there is a war; there does not appear to be another purpose to support stock price appreciation or distribution growth. Lockheed Martin's 2011 Annual Report identifies this defense spending dependency:
We serve both domestic and international customers with products and services that have defense, civil, and commercial applications, with our principal customers being agencies of the U.S. Government. In 2011, 82% of our $46.5 billion in net sales were from the U.S. Government, either as a prime contractor or as a subcontractor (including 61% from the Department of Defense (DOD), 17% were from international customers (including foreign military sales (FMS) funded, in whole or in part, by the U.S. Government), and 1% were from U.S. commercial and other customers. Our main areas of focus are in defense, space, intelligence, homeland security, and information technology, including cyber security.
Let's compare alternative defense investments: a fund, UK company, American conglomerate, American diversified manufacturer and American non-diversified defense company . Here is the five-year chart of this small sample, courtesy of CIBC Investors Edge: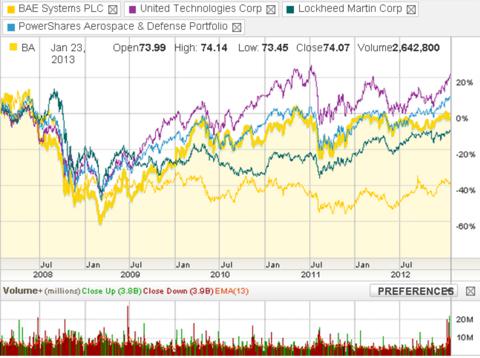 Based on the five-year chart, one must conclude that the best returns seem to be obtained through a fund or conglomerate:
The thin-purple top line - United Technologies - is the best performer. To generalize, conglomerates are probably a good vehicle to gain exposure to the Defense Sector, but still protect your investment from government defense spending cuts and "the risk of peace" :)
Aerospace & Defense Powershares - the light-blue second-from-top line is typically the second-best price performer. Buying a fund spreads the risk and seems to provide investors with more optimistic anticipated returns.
The thick-gold line - Boeing - is a diversified manufacturer. This provides what appears to be an average return. Since 2010, it seems to trade within a range. If this is your choice, wait for a dip to buy low.
Lockheed Martin is the thin-green line. Although it appears to be competing for the middle of the chart, and consistently underperforms Boeing, it provides the yield-oriented investor double the Boeing dividend yield, so the return is not solely the price appreciation.
BAE Systems is the bottom, thin-gold line - in other words, the worst price-performer. I chose this as one of the UK and European sample, but with further research, learned that it is a large and geographically-diverse defense company, with over $30B sales in 2011, according to its Annual Report. It has a +5% dividend yield - in other words, the investor is substantially rewarded via dividends instead of capital appreciation (and the UK has no withholding tax). With the Western European governments cutting defense spending, one would expect these companies to be casualties. Export markets, geographic diversification (including the Middle East and Australia), and its cyber-security business may be its future saving grace.
If you are investing for the short term, you may reach a different conclusion. Investors with shorter-term time horizons could have realized the best price performance from a single non-diversified defense company - it would have more volatility, and present windows of opportunity for significant gains (or losses). As the Powershares fund is a basket of funds, a good stock pick would outperform the average. Another example is BAE Systems - an outlier in the last year, with its very-high volatility and price gain explained by a (rejected) buyout offer from EADS. Investors with longer-term horizons should seek more diversified Defense Sector investments. Those with shorter-term objectives may be better-rewarded (depending upon timing and the stock picked) with more specialized companies.
If you are a yield-oriented investor, there can be a steady income stream from dividends. Some defense companies have a long history of dividends and dividend increases. United Technologies , Lockheed Martin , and General Dynamics are Dividend Contenders (stocks that raised dividends over a period of more than 10 years but less than 25 in a row), and Raytheon and Northrop Grumman are Dividend Challengers (stocks with a history of rising dividends of more than five years but less than 10 years in a row). David Fish has many pertinent articles - an example is here - and he avails a tracking spreadsheet to assist with dividend-growth investment decisions.
The previous table identified the yield on common stocks. In addition, you may want to review these SA articles, if you are targeting yield in the Defense Sector:
"Dividend Opportunities In The Defense Sector, Despite Budgetary Austerity". The author explains the dividend-growth, pay-out ratios, and other factors for GD, LMT, NOC, RTN, and UTX.
Again, for dividend-oriented investors, UTX also has a Mandatory Convertible Share issue - an analysis is documented in "United Technologies Convertible Preferred: 7% Yield But Gains Are Capped."
For those interested in LMT, "Explosive Growth Of Dividends At Lockheed Martin" is a SA article worth reading. A contrasting point-of-view can be read in "How Long Can Lockheed Martin Keep The Yield Up?"
The conclusions from the authors is that it is possible to generate a (sometimes growing) stream of dividends from armament company investments, but each security/company has its own characteristics and trade-offs. Moreover, there is no consensus opinion on whether dividend yield and/or growth is sustainable. The benefit of the dividend yield presents dividend-income investors with a mechanism of investing in a business which would benefit from war, and provide an income stream while you wait.
Conclusion
The Defense Sector and companies are stable, but not likely excellent long-term investments. Defense is, and will be, a tough investment space. It is characterized by customer concentration, many competitors relative to the number of clients, low growth, and low margins. It is an obvious industry to profit from war and lose from peace and government spending cuts. If you choose to invest for the long term, you can mitigate your risk by buying a sector fund - for example, Aerospace & Defense Powershares ; a conglomerate - such as United Technologies ; or diversified manufacturer - such as Boeing . You would probably need a shorter investment time horizon, and would need to research the products, services and sales forecasts of the specialized defense companies, before making that investment decision. That said, in either case, get paid to wait for a war by choosing a company with a high (and/or growing) dividend yield.
Although I tend to think about investing in terms of equities, one can buy or sell options to take an optimistic or pessimistic (and leveraged) position on securities in the Defense Sector. For example, if you believe that a price drop is likely in the next six months, you can buy a put (buy the right to sell a security at a defined price by a specific date). For example, if you believe that General Dynamics will drop from its $70.00 price, you can buy an August, 2013, $70.00 put for around $4.00. In other words, for a payment of $4.00/share (one contract = 100 shares), the purchaser of this put can oblige the seller to buy GD for $70.00 between today and August 13. If the price of GD drops below $70.00 - to say $50.00 - the buyer of the put will make money by obliging the seller of the put to buy GD for $70.00, although the then-current price may be only $50.00. Unlike an equity, options expire (often worthless), so the risk is to have accurately predicted the price direction and volatility of the underlying security to be able to profitably exercise it before the expiry date. If pessimistic, investors may also take short positions (borrow a stock, sell it at the current price, and promise to buy-back and repay the shares at a point in the future - when the short-investor hopes that the price is lower) in order to profit from declining share prices.
The question of when to buy is difficult. Probably, one should buy during peaceful times (and tough economic times), when the share prices are low (relative to Price/Earnings and historic trends). I currently have no holdings in the defense industry, but have a few on my watch list; I am unlikely to "pull the trigger" (pun intended) on defense sector shares any time in the near future. The end of the Iraq and Afghanistan wars, exhaustion from the U.S. Fiscal Cliff negotiations, impending Debt Ceiling deadline, high global government indebtedness, and government-customer concentration of the industry, may impair the long-term revenue and profitability of this sector - that said, "all bets are off" if there is a major conflict.
We have now expanded our list of sectors that can hedge our portfolios against a major military crisis - gold (and commodities) and defense. Gold seems to provide investors with more flexibility - it hedges for more types of risk than just war - but the defense industry provides an opportunity to diversify into the manufacturing sector, benefit from innovations, and generate a (perhaps growing) dividend yield.
There is one other sector that appears defensive in the event of a war or major crisis - certain oil and gas companies (and the commodity) would likely appreciate. A future article (still work in progress) will explore which O&G investment choices would be best to hedge for a war or major crisis.
Disclosure: I have no positions in any stocks mentioned, and no plans to initiate any positions within the next 72 hours. I wrote this article myself, and it expresses my own opinions. I am not receiving compensation for it (other than from Seeking Alpha). I have no business relationship with any company whose stock is mentioned in this article.