Market Recap:
The market was fairly flat on Monday, with the Dow closing in the red, while the Nasdaq closed in the green. It was a fairly quiet day for the market before data starts to really rev up this week. Earnings came out from Caterpillar (NYSE:CAT) very solid with an EPS beat. The company reported EPS at 1.91 versus 1.72 expectations. Revenue was down, as inventory levels continue to dwindle for dealers that are dealing with extra machines. The good news was that the company seemed fairly optimistic about 2013. It reported 2013 outlook of 7.00-9.00 EPS, and said it could be a record setting year. The company said that China should remain strong as well. Overall, it was a positive report that set a nice tone to start the week. Yet the market got some weakness in the way of disappointing Pending Home Sales. Those were down 4.6% year/year, while expectations were for 0.00%. It was still a fairly light day as the market prepares for employment week (ADP Employment and Non-Farm Payrolls).
The Dow Jones finished the day down 14 points. Crude oil finished up 0.7%. Gold finished down 3 points.
Stocks To Trade:
Today, we are looking at a bullish earnings trade in Goldman Sachs (NYSE:GS) and a short in Visa (NYSE:V).
For an earnings trade, we like the looks of GS right now as a post-earnings play. Goldman Sachs flexed its muscles in its last report and showed the investment community just how strong of a company it is. The company reported nearly 3x larger earnings and easily beat estimates. The company reported earnings nearing on $3B at 5.60 EPS. Expectations were for earnings around 3.70, beating estimates by over 45%. The company cited better market conditions and lower compensation costs on its way to over 50% gain in revenue. Yet can Goldman keep it going into next earnings season? We believe so. Right now, the company is trading for a sub-10 future PE ratio, which is well below the 15 level we look at for value. Further, we believe 2013 expectations are very soft for the company. Analysts are mostly estimating for flat growth in revenue and some decline in earnings year/year. We disagree. We believe that the early gains in Q1 in the stock market have helped the company's investing and lending division, which is strongly tied to GS' own stock, as well as a general market push higher. GS stock is up 13% already YTD, while the market has charged ahead for 5.5% in gains. Those types of conditions will be very profitable for the company, and we believe the EPS estimates for the beginning of the year anticipated a more bearish market in the aftermath of the potential fiscal cliff as well as debt ceiling. Both issues have been avoided for now. For that reason, we like to play GS through its next earnings report, which is due out in mid-April. We see very solid support for the stock existing at 125, and then again at 115. For that reason, we like going long the stock for more upside into and out of those earnings, along with an April 2013 125/115 options spread to hedge our long. The stock has lots of value, underestimated 2013 potential, and has had a recent pullback from highs that provide a nice entry opportunity.
Trade: GS, Long / GS, Apr20, 125/115 Bull Put Spread
Buy Point: 144.00 and up / Max Gain: 7.5% on spread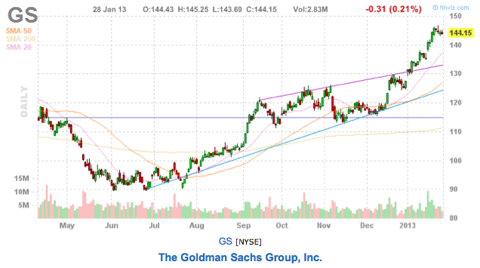 For shorts, we believe the upside in Visa may be waning here. The company had a fairly severe correction on Monday as it dropped fairly significantly on strong volume. After a move of over 30% in gains over the past six months, some correcting should be in store at some point. The question is now will it bounce back, flatten out, or see more correcting? The big moment for the stock will likely be its earnings on February 6. We are not as bullish on the company as we were last year because of some weak results from Capital One (NYSE:COF), as well as from overall retail sales in the holiday season. COF missed earnings expectations earlier in January on the back of some margin compression that the company was seeing, which has definitely put a halt to upside for V and other credit card companies. COF looked weak due to revenue compression domestically for credit cards and lower yield securities weighing down its asset yield. The part that translates for Visa is worry about domestic cards. COF has a much larger loan operation than Visa, but the card weakness is definitely something to take note of. Retail sales, additionally, were disappointing to us, with only a 0.7% increase in sales between the end of October 2012 and Christmas Eve. While online spending was much greater, that mixture does not help V and, in fact, might hurt it as well, as customers can more easily use Paypal from eBay (NASDAQ:EBAY) and other online financing sources. Expectations for the company are that it will report a 20% increase in earnings and a 10% increase in revenue. At this point, though, we believe a lot of those expectations may be priced into Visa. We like a bear call spread on Visa through February expiration as a solid way to play this weakness and potential top in V. We can still make 8% on the Feb16 165/170 bear call spread. 165 has been a resistance point for Visa thus far.
Bear Play: Visa Feb16 165/170 Bear Call Spread
Max Gain: 8%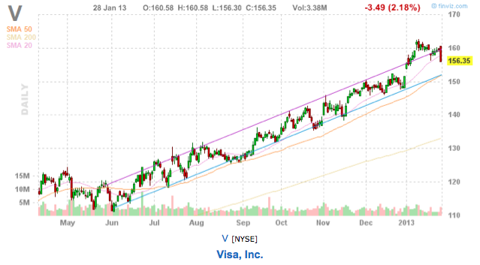 Tomorrow's Outlook:
The market will be reacting to a mixture of key earnings and a strong slate of economic data tomorrow. For earnings, the key reports to watch will be VMWare (NYSE:VMW) and Yahoo (YHOO) on Monday after hours. For Tuesday morning, the key reports to watch are AK Steel (NYSE:AKS), DR Horton (NYSE:DHI), Ford (NYSE:F), Nucor (NYSE:NUE), Pfizer (NYSE:PFE), and several others. Earnings season has gotten a thumbs up of approval, so it's hard to imagine these stocks having the type of reports to provide stronger upside. Rather, their meeting what other companies have already said would likely mean a flat day. A miss would be much more devastating now. For data, we have Consumer Confidence and the Case-Shiller Home Price Index. Both reports are important to the market. Some recent housing data has shown weakness, which has hurt the market's upside. Consumer Confidence is also in for January, and we expect a bounce due to the alleviation of the fiscal cliff. Overall expectations are for a 65.1 reading. A solid report there would help. The market is so high right now, though, that we doubt a ton of upside can occur, even with good earnings and data.
Charts courtesy of finviz.com
Disclosure: I have no positions in any stocks mentioned, and no plans to initiate any positions within the next 72 hours.
Business relationship disclosure: The Oxen Group is a team of analysts. This article was written by David Ristau, one of our writers. We did not receive compensation for this article (other than from Seeking Alpha), and we have no business relationship with any company whose stock is mentioned in this article.