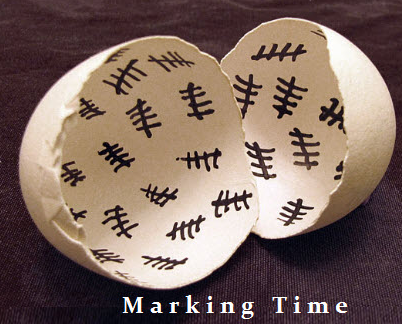 Durable Goods Orders were up (4.6% vs. 1.6% expected and prior 0.7%), with the gain attributed primarily to aircraft orders. Ex-Aircraft orders were modestly higher (1.3% vs. 0.4% expected and prior 1.2%). Pending Home Sales fell 4.3%, with the National Association of Realtors explaining the decline attributed to a lack of house inventory under $100K. Seriously? Where do you find typical inventory like that beyond the REOs of certain banks? The Dallas Fed Mfg Survey was stronger after revisions (5.5 vs. 4.0 expected and prior revised from 6.8 to 2.5).
Earnings from Yahoo (Breaking news: YHOO earnings beat estimates), Facebook (NASDAQ:FB) and Amazon (NASDAQ:AMZN) will be featured in the next few days, affecting tech (NASDAQ:QQEW) and (NYSEARCA:XLK). Caterpillar (NYSE:CAT) suggested future earnings between $7-$9 per share, which is in the mid-range of analysts' forecasts of $8.54. This is primarily due to tepid U.S. growth, while hopes for Chinese demand continue.
The dollar (NYSEARCA:UUP) was modestly higher, and gold (NYSEARCA:GLD) continues to see selling of risk assets. The commodity tracking ETF (NYSEARCA:DBC) continued hold its own due to heavy energy weightings with oil (NYSEARCA:USO) and gasoline (NYSEARCA:UGA). Meanwhile, grains rallied (NYSEARCA:JJG). Bonds (NYSEARCA:TLT) are still much weaker.
Stocks were led higher by technology, while homebuilders (NYSEARCA:ITB) saw profit-taking on the weaker housing data. The most meaningful story I noted from Monday was from Bloomberg, noting that high global stock correlations are retreating, making sector choice more important than it's been in years.
Volatility could increase, as this is a heavy week for earnings, economic data, and throw in a Fed meeting for good measure. Remember, the Fed remains busy, adding more liquidity via POMO activity, with another $5.8 billion and change given to primary dealers.
Volume still light, and breadth per Yahoo Finance was mixed.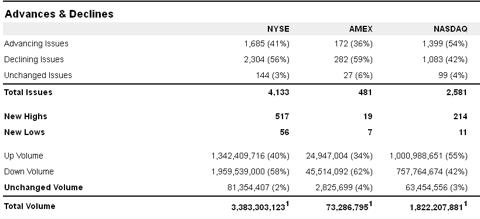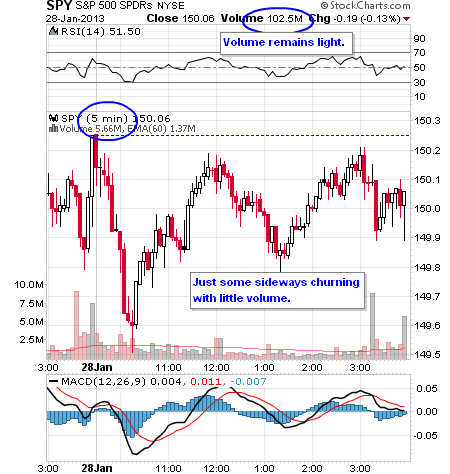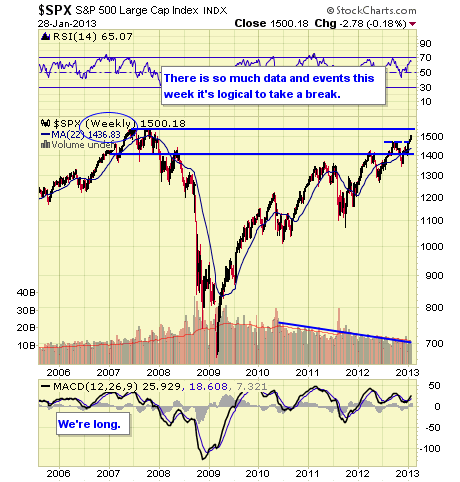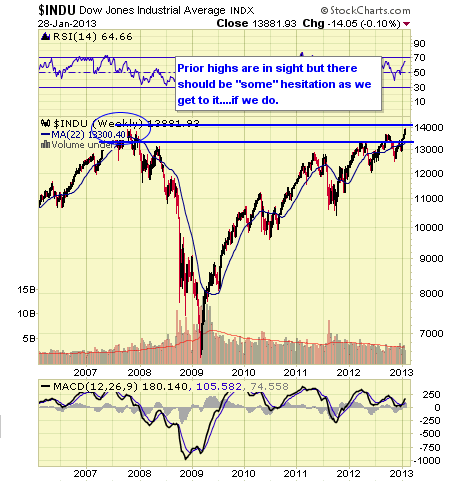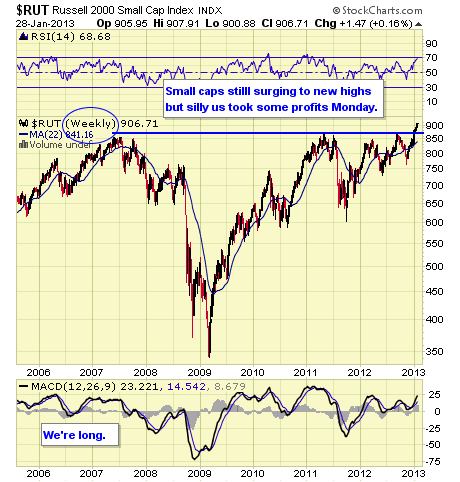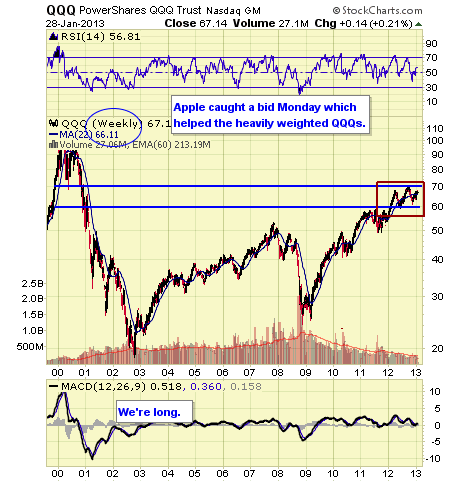 Continue to U.S. Sector, Stocks & Bond ETFs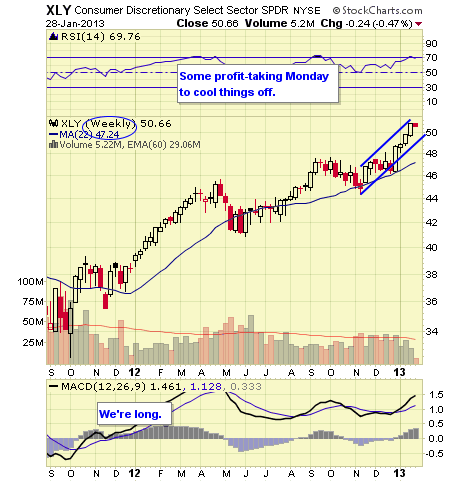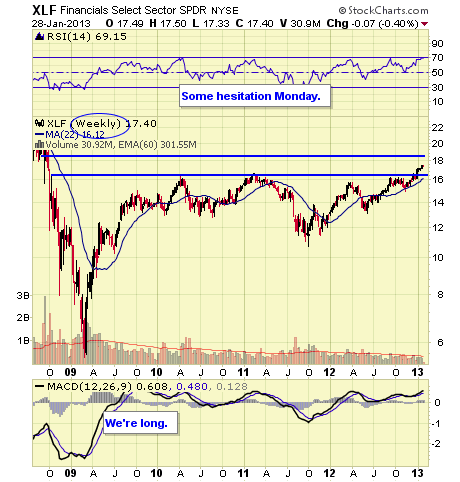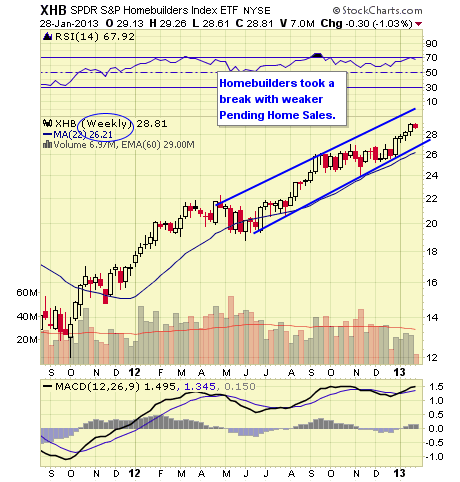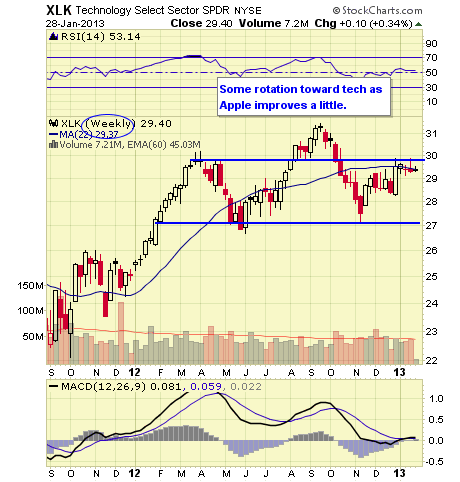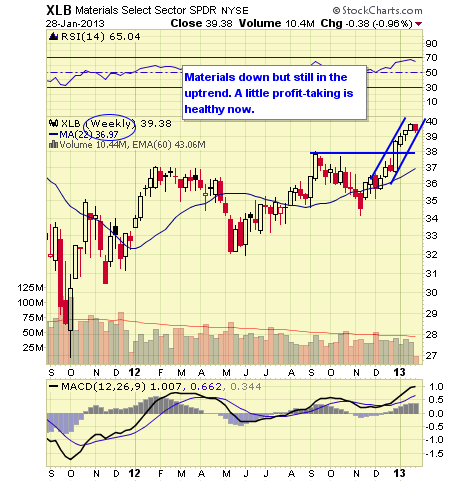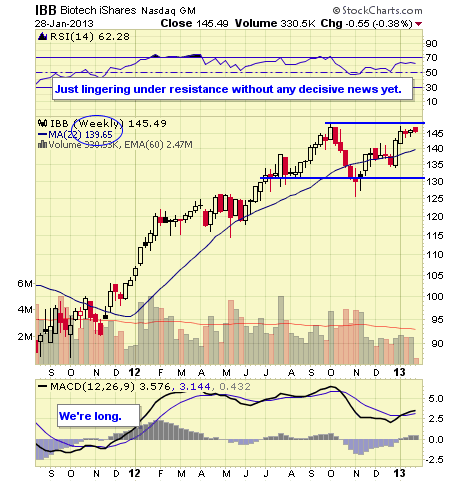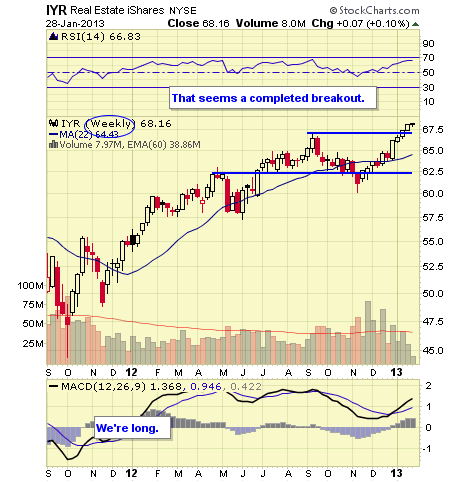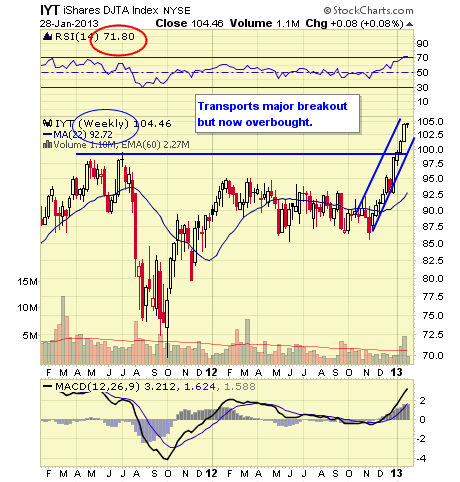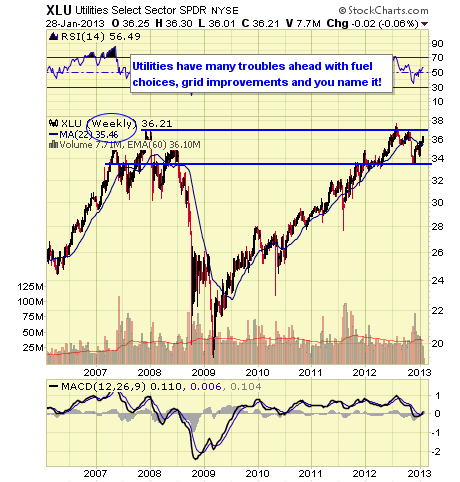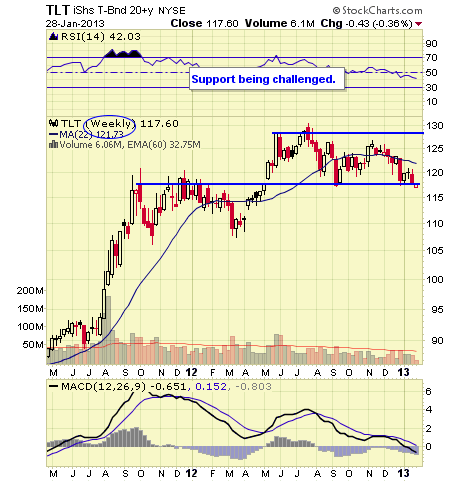 Continue to Currency & Commodity Market ETFs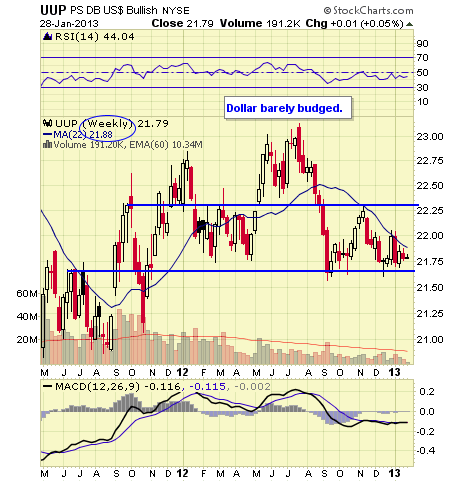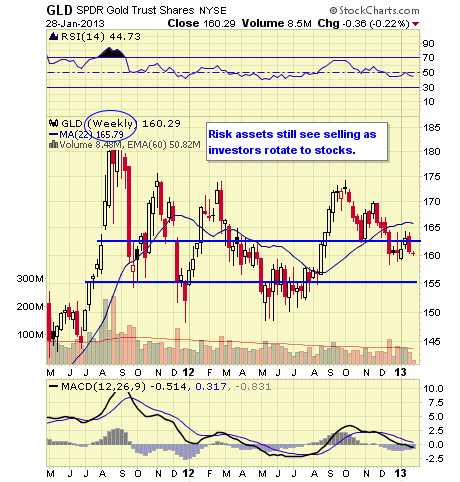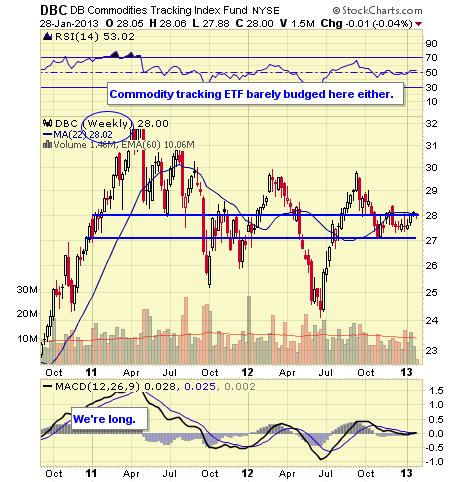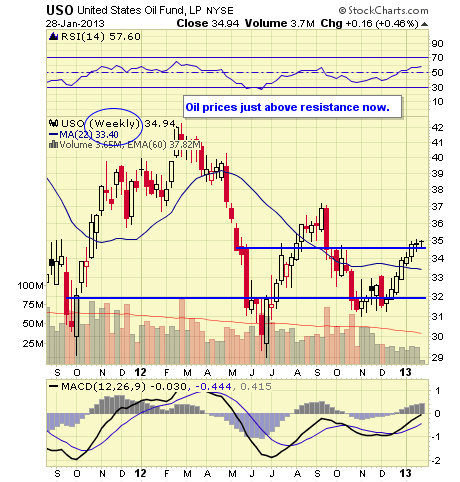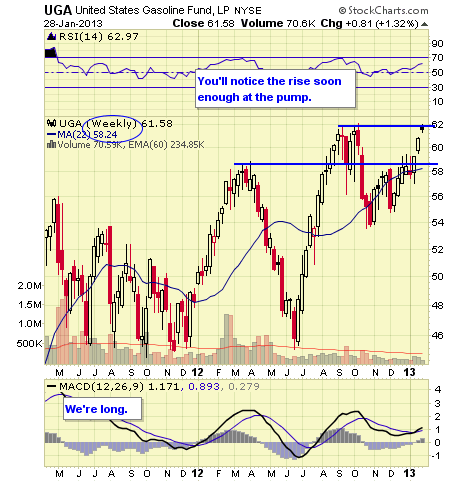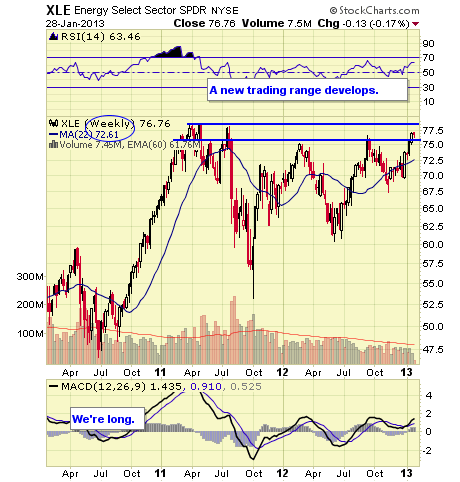 Continue to Overseas Sectors & ETFs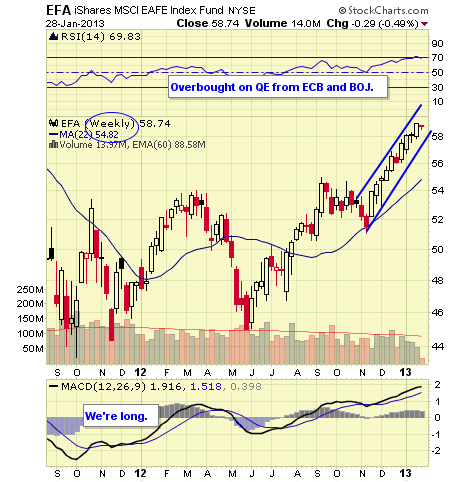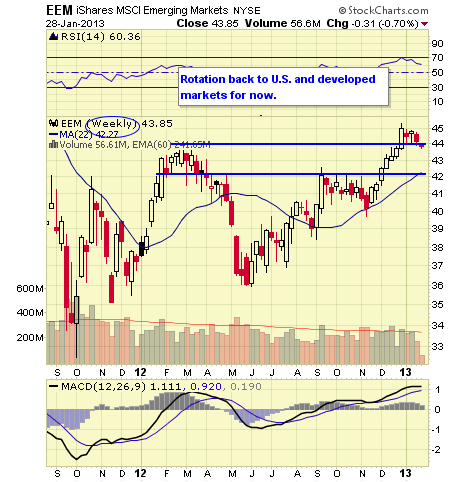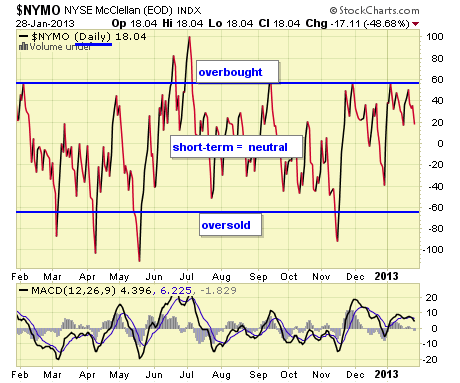 The NYMO is a market breadth indicator that is based on the difference between the number of advancing and declining issues on the NYSE. When readings are +60/-60, markets are extended short term.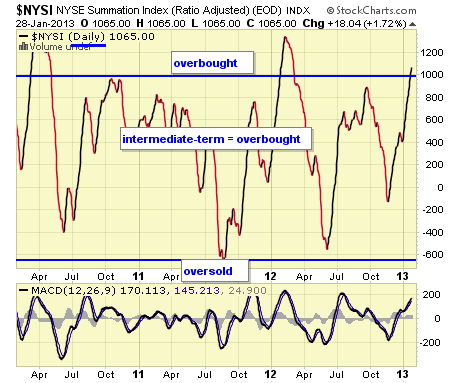 The McClellan Summation Index is a long-term version of the McClellan Oscillator. It is a market breadth indicator, and interpretation is similar to that of the McClellan Oscillator, except that it is more suited to major trends. I believe readings of +1000/-1000 reveal markets as much extended.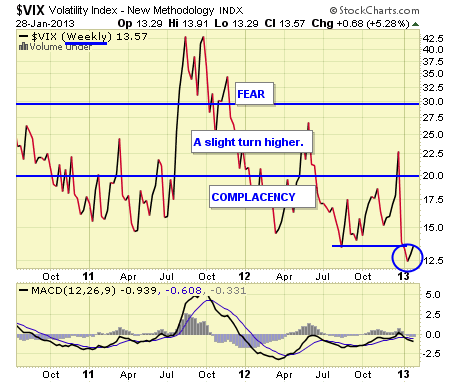 The VIX is a widely used measure of market risk, and is often referred to as the "investor fear gauge." Our own interpretation is highlighted in the chart above. The VIX measures the level of put option activity over a 30-day period. Greater buying of put options (protection) causes the index to rise.
Concluding Remarks
Monday was a quiet affair, but I'd expect much more action throughout the week, as a heavy dose of economic data, earnings and the Fed meeting news will dominate trading.
Buckle up!
Disclaimer: The ETF Digest maintains an active ETF trading portfolio and a wide selection of ETFs away from portfolios in an independent listing. Current "trading" positions in active portfolios, if any, are embedded within charts: Lazy & Hedged Lazy Portfolios maintain the follow positions: VT, MGV, BND, BSV, VGT, VWO, VNO, IAU, DJCI, DJP, VMBS, VIG, ILF, EWA, IEV, EWC, EWJ, EWG, & EWU.
The charts and comments are only the author's view of market activity and aren't recommendations to buy or sell any security. Market sectors and related ETFs are selected based on his opinion as to their importance in providing the viewer a comprehensive summary of market conditions for the featured period. Chart annotations aren't predictive of any future market action rather, they only demonstrate the author's opinion as to a range of possibilities going forward.
Disclosure: I have no positions in any stocks mentioned, and no plans to initiate any positions within the next 72 hours. I wrote this article myself, and it expresses my own opinions. I am not receiving compensation for it. I have no business relationship with any company whose stock is mentioned in this article.