Volatility has been high for mining stocks, especially in the junior sector, and particularly for junior precious metal miners. Streaming companies offer some protection from volatility and have established themselves as an attractive alternative for investors seeking exposure to precious metals away from physical possession and ETFs.
Sandstorm Gold (NYSEMKT:SAND) is an up-and-coming streaming company that has enjoyed great success in recent times. SAND distinguishes itself from other streaming companies by supporting junior companies very early on in their project development. On the one hand this increases the risk for SAND compared to their peers, but also promises greater rewards if they manage to pick the right projects to provide the financing for.
For those unfamiliar with the streaming business model, here is a description stolen straight from the horse's mouth: 'Sandstorm provides upfront financing for gold mining companies that are looking for capital and in return, receives a gold streaming agreement. This agreement gives Sandstorm the right to purchase a percentage of the life of mine gold produced, at a fixed price. Sandstorm is a non-operating gold mining company …' .
Sounds simple; and profitable if executed diligently. With financing currently extremely hard to obtain for junior miners SAND can pick and choose the very best of a large bunch of projects seeking to raise money for mine development. It can be safely assumed that SAND will perform a level of due diligence before closing a deal that is impossible to achieve by ordinary retail investors. Investment in SAND therefore presents an opportunity for investors to gain exposure to the junior gold mining sector with a certain safety net provided by SAND's expertise. Comparison of the SAND share price with the Market Vectors Junior Gold Miners ETF (NYSEARCA:GDXJ) and the Sprott Physical Gold Trust (NYSEARCA:PHYS) over the past two years strongly suggests that the selective approach of SAND has worked.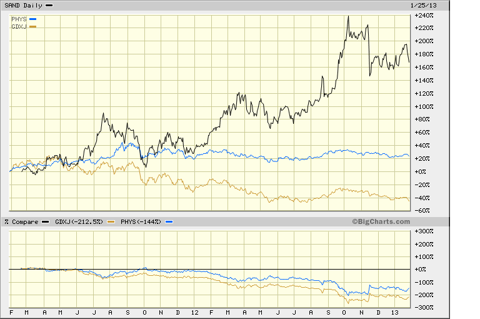 (chart generated using bigcharts.com)
Another way to benefit from SAND's due diligence would be to use their stable of junior gold miners as a starting point when searching for promising junior gold miners for direct investment. The thesis being, that the tick of approval from SAND distinguishes a company from its peers. However, it is important to note that individual investment goals might differ from the goals pursued by SAND when providing funding for a particular project. SAND will earn their money for as long as a mine they fund is developed and is kept in production regardless of the overall success of the company operating the mine. In fact, by selling the streaming portion of the production for a rather nominal price a mining company forfeits a portion of their profits. In this context, the profitability of a company in later years is reduced in exchange for a reduction in capital expenditure during development.
Keeping all this in mind we have sifted through SAND's stable of junior gold miners in search for junior gold producers (we will deal with the developers some other time) that promise significant growth within a two-year time frame and have picked three stocks that we think deserve consideration by risk-tolerant growth investors. We are giving brief company overviews and a short summary below including some key points underpinning our recommendations.
1) Silvercrest Mines (NYSEMKT:SVLC) has a market capitalisation of $283M, a very healthy balance sheet and no debt. SVLC announced commercial production at the Santa Elena mine in Mexico on July 13 2011. The open cut mine is a technically simple and robust heap leach operation producing gold and silver dore. SVLC reports production in silver equivalent ounces (oz Ag-eq) even though about three quarters of the production value is in gold. Production of 2.37M ounces (oz) Ag-eq was reported for 2012 exceeding the market guidance by 5%. At the start of 2012 SVLC retired their bank debt ahead of schedule, and a few months later closed out the gold hedge also ahead of schedule.
SVLC are planning to expand the Santa Elena mine underground, add additional crushing capacity and upgrade the facilities to re-process the heap leach material for a capital expenditure of $65M by 2014. Presumably this expansion could be mostly financed from cash flow (apart from a contribution that SAND may elect to make in exchange for a further gold stream from the underground mine) and take production from currently 2.37M oz Ag-eq to 3.5M - 4.5M oz Ag-eq by 2014 at a cash cost of $9.7 per ounce. The PFS for a satellite deposit at Cruz de Mayo is also due towards the end of 2013. Additionally, SVLC are exploring the La Joya property with a PEA expected for 2013.
Given the catalysts anticipated in the near future, and extrapolating the production performance SVLC should be poised for a successful couple of years with a re-rating of the share price a strong possibility.
2) Luna Gold (OTCPK:LGCUF) has a market capitalisation of $339M and owns the Aurizona mine in Brazil. In 2012 they exceeded their target production by 5% producing 74,000 oz of gold ( Au) continually lowering their production cost to $749 per oz in the fourth quarter. In September 2012 plans were approved to increase production to 100,000 oz Au in 2013 and 125,000 oz Au in 2014. A PEA to double this production to 250,000 oz Au is expected in 2013. This increase in production will also lead to a further decrease in cash cost per ounce bolstering the revenue which was reported at $67.4M for the first 9 months in 2012.
The total resource at the Aurizona mine currently stands at close to 4M oz and the reserve is reported at 731,000 oz. The area around the Aurizona mine is described as highly prospective and under-explored. This gives rise to expectations of further discoveries on the substantial land package of 220,000 hectares that Luna Gold is holding.
Considering the anticipated growth in production combined with decreasing cash cost and the healthy balance sheet we believe that Luna Gold is a very interesting company with much potential for growth in the near- to mid-term.
3) Brigus Gold (BRD) is a Canadian gold miner operating the Black Fox mine and mill near Timmins with a market capitalisation of $220M. Reference is made to a recent article discussing the prospects of this company, and a piece on our instablog giving updates on the technical analysis of the BRD chart.
We reiterate our opinion that BRD is poised for a couple of years of growth driven by increasing production at the Black Fox mine and the development of the Grey Fox mine.
As a parting shot we would like to share the following pearl of wisdom: Investment in any junior gold miner is risky business and we would like to encourage everyone interested in this sector to study these risks thoroughly before committing funds. Rather than re-iterating the nature of these risks we would like to recommend this article which gives a good summary.
Disclosure: I am long SVLC. I wrote this article myself, and it expresses my own opinions. I am not receiving compensation for it (other than from Seeking Alpha). I have no business relationship with any company whose stock is mentioned in this article.